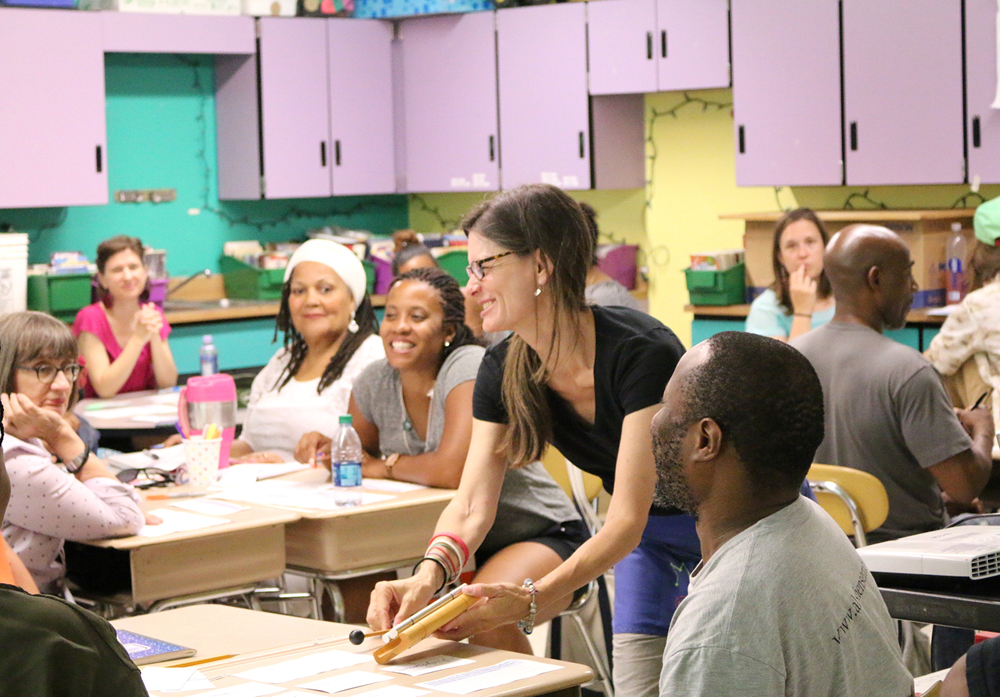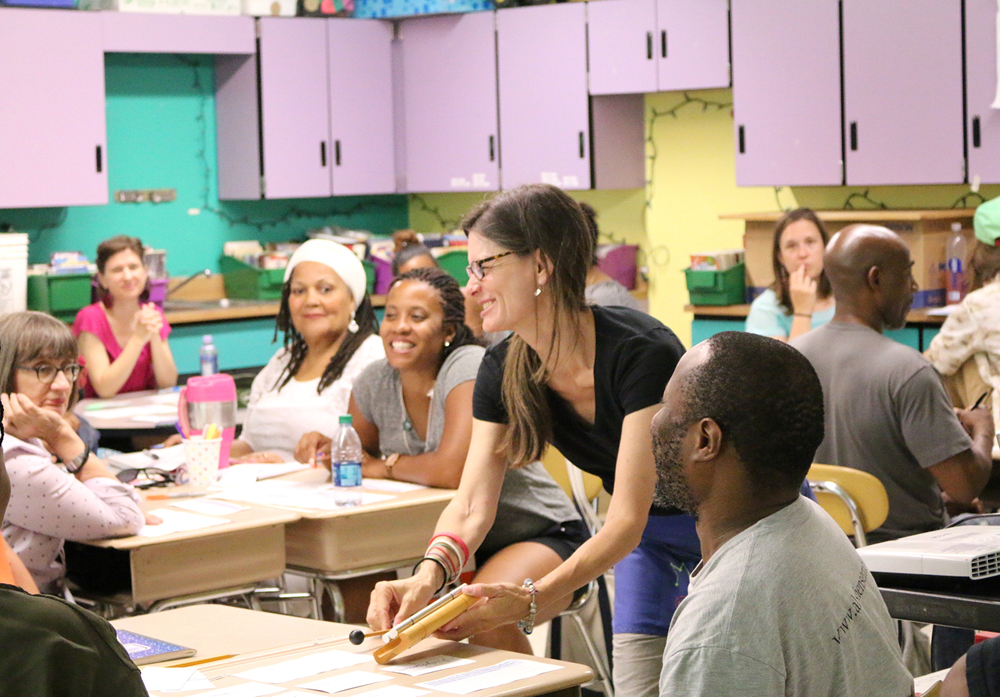 How our teachers and artists get ready for Young Audiences' Summer Arts and Learning Academy
If you were a school teacher and had just spent the last ten months in the classroom, where would you be on the 7th morning of your vacation? In bed? In your PJs on the couch? Perhaps in Ocean City? Anywhere, but a school building participating in 35 hours of professional development and gearing up for 5 weeks of summer school, right?
On the 7th morning of their summer break, 36 of our amazing Baltimore City Public Schools teachers were with Young Audiences and their 36 teaching artist partners participating in a week of professional development and preparation to teach in Young Audiences' Summer Arts and Learning Academy, which kicks off at four sites July 5. We're talking true dedication!
Whether Young Audiences is working with kids or adults, we believe learning should be creative and fun. That goes for these 36 teachers! Thankfully, Kristina Berdan, who designed this week-long training, is Young Audiences' Queen of Fun! But not just your normal fun — the intense, laugh-out-loud, creative, hard fun — that comes with joyful learning through the arts.
Let the summer fun begin: the Young Audiences at TJEMS team is stellar! @arts4learning @BaltCitySchools #BeArtSmart pic.twitter.com/HjiHEcwhex

— Eryn Lessard Sherman (@LitLeadrLessard) June 27, 2016
Case in point: Kristina wrote, sang and recruited backup dancers to perform a parody of the classic, "Summertime" by DJ Jazzy Jeff & The Fresh Prince (lyrics shared at the bottom) to welcome our teachers to the training.
When asked what inspired her to create and perform this song, Kristina said she wanted to do something special for the teachers and teaching artists. After all, they are giving up their summer break (and the rare opportunity to sleep in!) for the next five weeks to make a difference in the lives of hundreds of children who normally would not be able to afford this opportunity.
Young Audiences is asking a lot of our teachers and artists. We expect them to challenge our students AND themselves to take creative risks, try something new, and put themselves and their powerful ideas "out there," regardless of who is watching.
Some examples of how that happens: Teachers who have never tried incorporating vocal percussion into math lessons will be doing so with help from their partner musician. And dancers who have never connected dance to literacy units will be doing just that with their partner teacher. Through this training, we help all teachers and artists take risks, learn and actively collaborate to develop their craft.
Dawn Johnson, a fourth-grade teacher, said the difference in how Young Audiences develops teachers lies in creativity. "When you are creative about it, people are going to remember what you are teaching them. That is why I love this training and love arts integration. In many trainings I go to as a teacher, instructors sit and present information. They tell us what to do but don't model and show us how to do it. If you expect the world out of us, then show us what you want it to look like by modeling it. That's why arts integrated trainings are so incredible."
The training that Kristina has designed is filled with intense, thoughtful, collaborative sessions, including:
How to create a learning environment that impacts the social emotional learning of students
How to use portfolios to give students a voice in sharing work that is important to them
How to connect reading and writing exercises to students' lives
How to intentionally build community
How to create authentic opportunities for students to reflect on their work and their own creative processes
How to integrate the art authentically into literacy and math
Kristina and her team modeled how to do all of this through the arts and through powerful partnerships between artists and teachers in classrooms.
After the 35 hours of arts integration training wrapped up on June 30, our 72 Academy teachers and teaching artists walked away inspired and prepared to create a world for their students filled with creativity, meaning, connections, joy and — of course, learning! Here are some final thoughts shared by both teachers and artists on our Graffiti Reflection Wall:
To see Kristina in action, performing this song (lyrics below!) at the training, click here!
Summer summer summertime
Time to stop the summer slide
Here it is the school
Greatly transformed
Just a bit of a break from the norm
Just a little somethin' to break the monotony
Of all that hardcore school that has gotten to be
A little bit out of control it's cool to learn —
But what about the arts that soothe and move our kids
Math and literacy in the mix
Cuz we know it works so let's put on the fix
And think of the schooling of the past
Adjust the stress — let creativity blast
Artists and teachers together in time
Just put them in classrooms and lay back
and this is summertime
Chorus
School is out and it's a sort of a buzz
And back then I didn't really know what it was
But now I see what have of this
The way that kids respond to these artists
The classroom — it rocks and kids are singing tunes
And sculpting with clay and dancing through rooms
Rapping to their beats and acting on their feets
Filming and recording — all out of their seats
Here in BMore we are in four schools
All filled with arts cuz we know that's cool
Kids are reading and writing through the arts
Doing math, making art, reflecting, showing their hearts
Being assessed in many different ways
Celebrating learning each and every day
And with a pen and pad we composed this rhyme
To hit you and get you equipped for the summertime
Chorus 
Stay Connected!
Follow us throughout the next five weeks as we share daily inspiration from Summer Arts and Learning Academy classrooms!
The Nancy Peery Marriott Foundation, Inc. was established with the mission to help support organizations to increase arts, music, and culture in the community, as well as education and human services. For thirteen years, the Foundation has impacted the Southern Maryland and Greater DC area thanks to founder and President Nancy Peery Marriott, who is fueled not only by the area's needs but by her own passion for the arts.
Originally from Palo Alto, California, Mrs. Marriott is an accomplished lyric soprano who received her B.A. from the University of Utah and continued her vocal studies at the LONGY School of Music and the University of Maryland. Mrs. Marriott has performed at the highest level in some of the most prestigious venues across the United States, including the John F. Kennedy Center for the Performing Arts, Boston's Symphony Hall and Carnegie Hall in New York. Young Audiences is both grateful and excited to work with Mrs. Marriott and the Nancy Peery Marriott Foundation.
In 1950, Young Audiences' founder Nina Collier hosted a well-known violinist, Yehudi Menuhin, to play for and talk with a group of children in her Baltimore home. Noticing how much the children enjoyed the experience, she organized a series of 20 chamber music concerts for Baltimore City elementary students, launching an organization that now provides diverse and inspiring arts experiences to over 183,000 students throughout the state. Like the Nancy Peery Marriott Foundation, Young Audiences was founded on a belief in the power of music. This has made the Foundation an ideal partner as we work to give all children the opportunity to learn in, through, and about the arts.
During the first year of partnership with the Foundation nearly a decade ago, Young Audiences reached 20,809 students in southern Maryland's Montgomery and Prince George's counties. Since that time, the number of students reached has grown by over 40%, and we now annually give nearly 30,000 Montgomery and Prince George's County students opportunities for artful learning. Young Audiences is deeply grateful for the support of the Nancy Peery Marriott Foundation.
"Arts Every Day; Not Just Tuesday." What a novel idea, right? That statement was made on May 25th, when we convened 8-12-year-old students from Belle Grove Elementary and Brooklyn Park Middle School, at the Chesapeake Arts Center for a conversation around what they wanted to experience in school.
This conversation was one of six conversations we convened as part of Arts Empowered Minds, a new initiative focused on getting students in Northern Anne Arundel County access to high-quality arts education opportunities. 52 people, including students, parents, police, artists, educators, and members of faith organizations and the business community joined us to learn about Arts Empowered Minds and to tell us what matters to them.
Here is what they learned: We believe, and research studies show, that arts-rich schools and communities thrive. Arts Empowered Minds aims to improve educational opportunities and outcomes by increasing student access to the arts and arts integrated learning in Northern Anne Arundel County.
Here is what we learned: There is a desire for Arts Empowered Minds to do this work, there are incredible assets that we can leverage, and —while there are potential barriers to success— the public will is there. The will is there to use the arts to fully engage kids in all classes, not just the art room. We heard this desire loud and clear from students: "I wish we could move around more in class," "I wish our teachers could make us like school," and classes that keep "my mind active."
The desire is not limited to the classroom. Participants want the arts to be used beyond the "academic" benefit and as part of the everyday routine, helping kids become great citizens in their schools and communities– with empathy, creative problem solving and communication. Teachers dreamed of a more respectable classroom and our kids dreamed of safe places with no bullying.
To learn more, see our communication plan HERE
Are you interested in Arts Empowered Minds or do you know someone in Northern Anne Arundel County — a business, a government agency, a resident, who would want to connect to our initiative? If so, please forward them this article and have them contact Emily Norris at [email protected]. Arts Empowered Minds is still in its planning phase and is looking for input and volunteers.
Arts Empowered Minds is "powered" by its partners: Young Audiences/Arts for Learning of Maryland (YA), Anne Arundel County Public Schools (AACPS), Chesapeake Arts Center (CAC), Arts Education in Maryland Schools Alliance (AEMS), and University of Maryland – Baltimore County (UMBC). We are grateful that Arts Empowered Minds was one of seven collective initiatives to be funded by the National Endowment for the Arts.
Principals have TIGHT budgets. We strive to make our arts experiences as inexpensive as possible so we can bring them to as many schools and children as we can. And thanks to generous support from donors, Baltimore City Public Schools and the Baltimore Office of Promotion and The Arts, our Access For All grants make Young Audiences artists and programs available to city public schools at up to 80% off.
The Spring 2016 Access For All Awardees are…
Rognel Heights Elementary/Middle
George McMechen High School
Coldstream Park Elementary/Middle
Empowerment Academy
Medfield Heights Elementary
Dickey Hill Elementary/Middle
Wolfe Street Academy
Creative City Public Charter School
Thomas Johnson Elementary/Middle
Arundel Elementary/Middle
Franklin Square Elementary/Middle
Armistead Gardens Elementary/Middle
Rosemont Elementary/Middle
Why is this grant is so important?
Last year we were given the opportunity to have an assembly about the history of hip hop dance. It was incredible. Our students left this assembly empowered, talking for days about the things they learned."

– Anne Barron, (title), Rognel Heights Elementary-Middle

I love drawing and creating images of mystical characters. My teacher allows me to be as expressive as I want to be."

"I'm more focused and calm when I am drawing a picture or working on an art project. All of the distractions around me don't exist at that time."

– 5th and 7th grade students, Coldstream Park Elementary-Middle

At MHES, we fully believe in the power of the arts to enhance and even transform young lives. Grant programs like this help us provide essential enrichment programs for our students, which we might not otherwise be able to offer."

– Erin Jakkowski & Tony Tsendeas, PTO Representatives, Medfield Heights Elementary-Middle

If you believe that all kids in Baltimore City deserve arts programming, your donation will help us award even MORE grants in the Fall! Contact Jennifer Andiorio at [email protected] to talk about the possibilities!

Learn how your school can apply for an Access for All grant.
Since 1950, Young Audiences of Maryland (YA) has significantly expanded the availability of educational and culturally diverse art programs for Baltimore City youth. YA's programs are delivered in multiple settings including schools, libraries, and community centers. In 2013, YA grew its capacity to serve our youngest students by becoming the sole Maryland affiliate of the Wolf Trap Institute for Early Learning Through the Arts. Wolf Trap, the National Park for the Performing Arts, has spent the last 30 years developing the 16-session arts-based residency model, which supports improved literacy and STEM (Science, Technology, Engineering, and Math) skills in early learners.
During the residency, trained teaching artists work with classroom teachers through a comprehensive modeling and collaborative co-teaching approach to build teachers' arts-integration knowledge and skills and enable them to incorporate new practices in their classrooms. A 2006 Wolf Trap study¹, supported by funding from the U.S. Department of Education, showed that preschool students whose teachers participated in Wolf Trap residencies grew in every measured area and strengthened their math, literacy, creativity, and social and emotional skills.
In 2014-15 alone, Young Audiences served 52 teachers—and 1,163 Baltimore City pre-k and kindergarten students—through the Wolf Trap residency program. The T. Rowe Price Foundation has been a longstanding supporter of YA and, more recently, the Wolf Trap Early Learning classroom residency program. Since its founding in 1981, the T. Rowe Price Foundation has worked closely with nonprofits to identify innovative solutions that improve educational outcomes for youth and enrich community life. YA is grateful to the T. Rowe Price Foundation for supporting our work for nearly 20 years and for helping to launch the Wolf Trap initiative in Baltimore.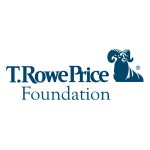 According to John Brothers, the Foundation's president, "We have been pleased to support YA and its mission of integrating arts into the educational process, particularly for children who have limited exposure to the arts. The classroom residency program is backed by research and the Wolf Trap Institute's ongoing commitment, and it aligns with the Foundation's desire to support innovative practices that enhance educational opportunities and outcomes for youth."
Through the combined efforts of YA and the T. Rowe Price Foundation, Baltimore City's youngest low-income students have a greater opportunity to gain the skills and knowledge that they need to succeed in school and in life.
Learn more about how our Wolf Trap classroom residencies can motivate and empower early learning teachers and their students!
For more information about the T. Rowe Price Foundation, please visit their website.
¹Klayman, D. (2006). Executive summary of the final evaluation report for Fairfax pages professional development project: An effective strategy for improving school readiness. Potomac, MD: Social Dynamics.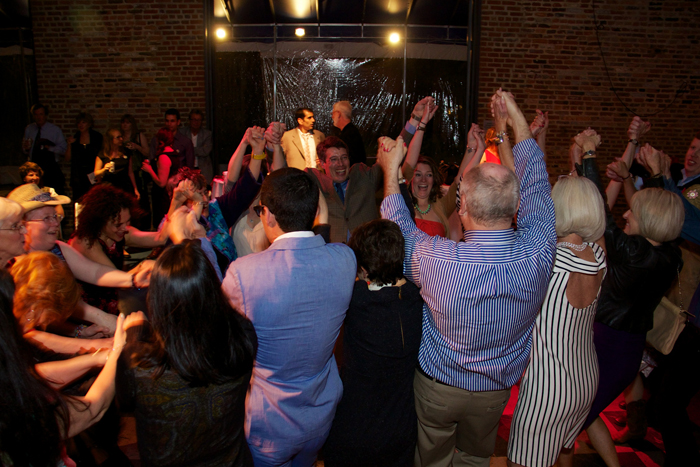 Taste the Arts X:
An evening of performance and culinary art!
Friday, May 6 at the Hippodrome Theatre in Baltimore
The lineup for our 10th annual Taste the Arts Fundraising Gala is set! We've put together another fantastic evening featuring award-winning artists and top culinary talent in Baltimore.
The best part? When you buy your ticket, you support Young Audiences' programs and mission to bring high quality, low-cost arts experiences to Maryland schoolchildren! Last year we delivered arts experiences to 183,153 students in Maryland. With your ticket purchase, we can keep it up – and do even more.
At Taste the Arts, we'll transform all three levels of The Hippodrome Theatre into a celebration of the arts through live performances and interactive arts experiences, with food and drink served on all three floors. Here's a taste of what to expect:
Taste delicacies from 25 restaurants:
Absolutely Perfect Catering
Alma Cocina Latina
Argosy Café
Baltimore Waffle Company
Blackwater Distilling
Blue Pit BBQ
Brio Tuscan Grille
Charm City Cakes
Charmington's
Chiapparelli's
Clavel
Gertrude's
Golden West Café
Heavy Seas Alehouse
La Cuchara
Maggie's Farm
Mother's
Teavolve
The Charmery
The Food Market
The Hipp Cafe
The Local Oyster
The Oceanaire
The Scratch Mill Kitchen
Tio Pepe
Wine from Noble Vintners
Beer from Union Craft Brewing
On the menu from Clavel is Cochinita Pibil, a traditional Mexican slow-roasted pork dish, with a side of Hex Ferments special slaw. The tapas-inspired menu from La Cuchara features Charred Broccoli Pintxo and Pickled Mushroom Pintxo. The Local Oyster will be shucking out sustainably farm-raised raw oysters. Maggie's Farm is serving chicken liver pate with fig jam on baguette and Heavy Seas Alehouse brings it home with Smoked Brisket Mac & Cheese. On the sweet side, Baltimore Waffle Co. will serve up Belgian Liege Waffles and Gertrude's presents a twist on a Baltimore classic with its Berger Cookie Cheesecake. Local winery, Noble Vintners, has graciously donated wine, and Union Craft will be on hand, offering their award-winning brews!
Don't miss 9 live performances and interactive art demonstrations, including: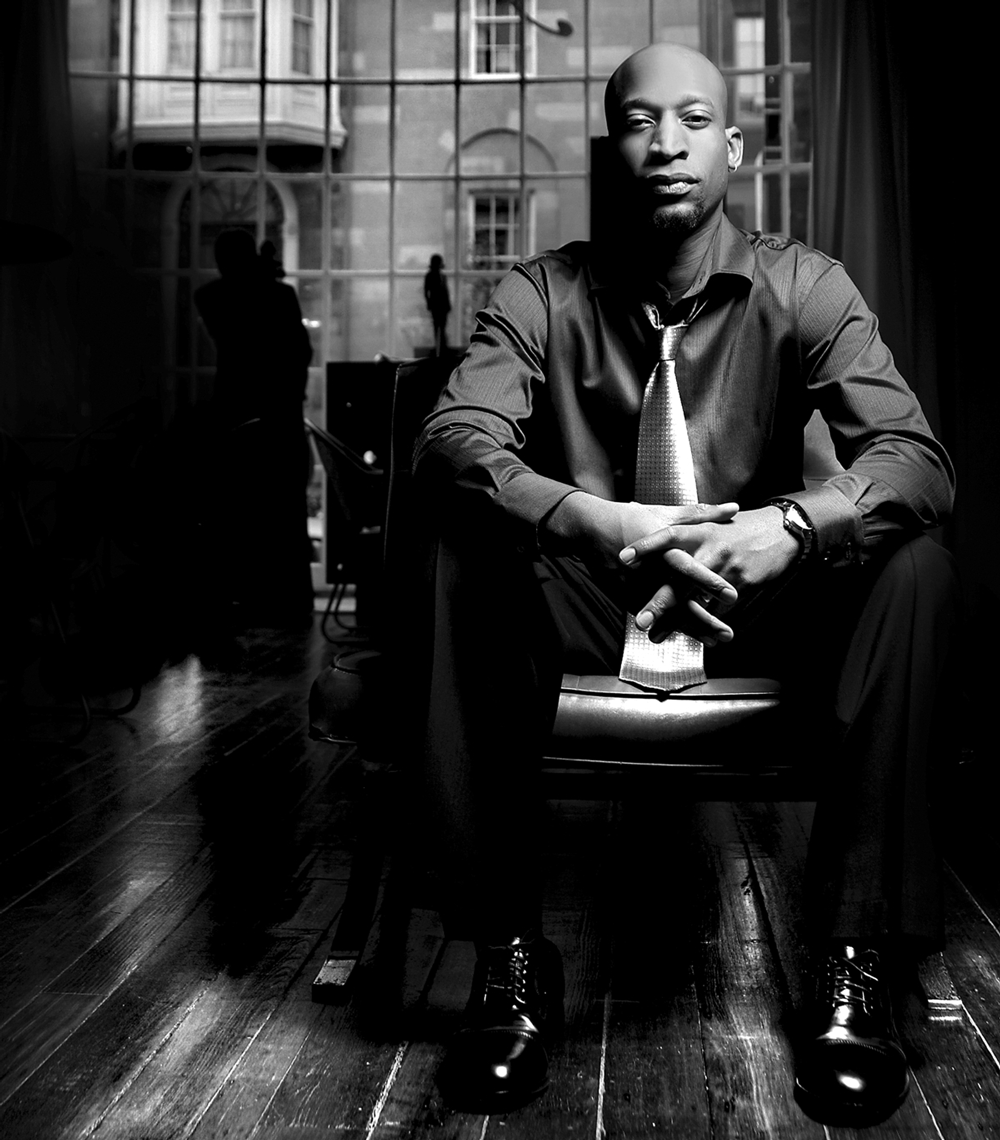 A collaborative music production composed and directed by Wendel Patrick, YA Artist and 2015 Baker Artist Award Winner, and performed by Peabody Institute musicians Jahi Alexander, Blair Skinner, Louna Dekker-Vargas, and Yoshi Horiguchi and YA artists Max Bent, Wendel Patrick, and Jamaal Collier—2016 Artist of the Year.
I don't want to give away TOO much. But at Taste the Arts, I'll be working with an arrangement from one of my favorite hip hop producers." —Wendel Patrick, 2015 Baker Artist Award Winner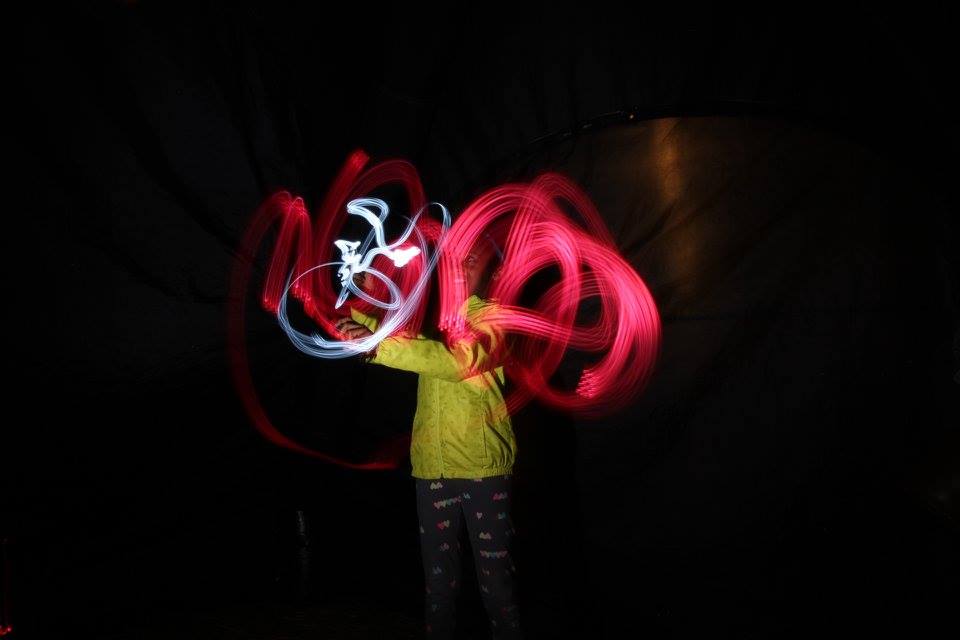 Interactive "light painting" with maker-educators FutureMakers (fresh from Light City!)
Get ready for light painting with LED brushes at Taste the Arts! You'll even be able to email your creation home!" —Matt Barinholtz, FutureMakers

Indian classical dance performance by NRITYA
I have had the opportunity to be a performer at several Taste the Arts over the years, and I am excited to be a part of the 10th Taste the Arts gala," she said. "When my students perform with me at the gala, it is a wonderful experience for them as they get to showcase their talent and culture through their performance to the guests. It is almost as if they are cultural ambassadors." —Lakshmi Swaminathan, NRITYA, as quoted in the article "Tasty fundraiser hits the Hippodrome" on Avenue News.com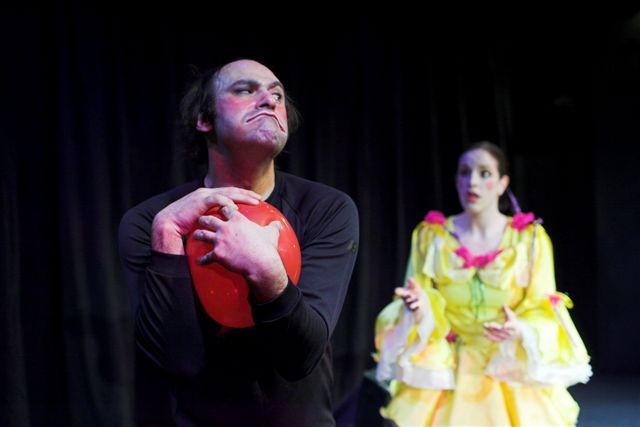 Pantomime theatre from DC's award-winning Synetic Theater
The Magic Balloon is a series of hilarious sketches synthesizing music, ballet, clowning, and audience participation. At Taste the Arts, you'll discover the art of acting without words and open the door to your imagination. 'Balloon' tells a wonderful story of a traveling actor and his magical trunk of tricks and toys." —Tori Bertocci, Synetic Theater
Plus:
Acoustic roots and blues music by Curtis Blues
Screen painting with John Iampieri
Performances by Thomas Jefferson Elementary/Middle School's String Ensemble and Kindergarten ballet dancers
Kevin Martin of Rockcreek Steel Drums performing with students from the Holistic Life Afterschool Program at Robert W. Coleman Elementary School
Taste the Arts also includes a live and silent auction with one-of-a-kind items and experiences and an awards ceremony honoring Maryland's arts-in-education leaders, including 2016 Artist of the Year Jamaal Collier, who has more than a decade of professional experience facilitating Hip Hop workshops and live performances across the state.
"I'm thankful to have an effect on kids' lives and for the effect they have on me. Every human has talent. YA helped me to build skill within that talent. I have become a better artist because of YA." —Jamaal Collier, 2016 Artist of the Year
Tickets are only $100 and ensure high-quality art experiences for Maryland schoolchildren. We're expecting hundreds of artists, educators, and arts supporters in attendance and hope to raise $150,000. Get your tickets now!
—
Can't make it to Taste the Arts?
You can still be part of our fundraising efforts by bidding on some fantastic items in our online auction—happening now through Thursday, May 5. There are still a bunch of great items available with low or no bids, and several new items were just added this week!
Categorized:

News

Tagged:

Baltimore City, Curtis Blues, dance, FutureMakers, Hip Hop, Jamaal Collier, John Iampieri, Kevin Gift, Kevin Martin, Max Bent, Music, NRITYA, Peabody Institute, percussion, Rockcreek Steel Drums, steel drum, Synetic Theater, Taste the Arts, theatre, Thomas Jefferson Elementary Middle, visual art, Wendel Patrick
Growing Up Green: Teaching Our Youngest Learners Environmental Citizenship Through the Arts
Part One: The Life Cycle of Plants
We think with our hands, and when students are immersed in a lesson together, they begin to make their own connections."
We are in the midst of pilot programming for Prince George's County Public School's new arts integration initiative—Growing Up Green, a Kindergarten-level, environmental literacy program. The initiative, part of an exciting new partnership between Young Audiences/Arts for Learning, the Chesapeake Bay Trust, and Prince George's County Public Schools, is funded in part by a BGE Green Grant and the Chesapeake Bay Trust.
The program engages kindergartners in meaningful and authentic outdoor experiences that connect them to their local ecosystems and inspire them to protect our environment. The arts provide the vehicle that the students use to demonstrate and communicate their learning to the greater learning community of their school.
Growing Up Green residencies are divided into four major themes—Habitats, Local Ecosystems, The Life Cycle of Animals, and The Life Cycle of Plants.
One of the first YA teaching artists to pilot this program was textile artist Pam Negrin. Pam chose "The Life Cycle of Plants" for her residency with the Kindergarten class at Rockledge Elementary School. "One of the tenants of this initiative is just getting kids outside!" With cuts to recess, these residencies provide purposeful outdoor experiences that directly engage students with their surroundings and sharpen their observation skills.
Along with being outside, one of Pam's favorite things about Growing Up Green is "giving students a chance to experience wonder." She and the students had several surprises while exploring the hidden parts of plants everyone gathers at the beginning of the residency. After reading about what constitutes a "fruit," students sort their treasures—dandelion, sweet gum fruit, crepe myrtle seed, milkweed—into the appropriate plant life phase: seed, seedling, mature plant, flower, or fruit. The students loved playing a game where they had to accurately categorize collected plant life alongside familiar food found in a grocery store by exclaiming "fruit!" or "not fruit!"
Early on in the pilot program, students gathered an assortment of "fruits" resembling spiky balls that fall from sweet gum trees. Even though most attempt to avoid these prickly pods, the students gave no hesitation in cracking them open to find hundreds of seeds! Once the plants were sorted, the students began to observe and draw each part. Using their original drawings as a visual guide, and after learning some basic embroidery stitches, they collectively stitched a large-scale embroidery depicting the life cycle of plants. "Kids are stitching around the table with each other, working in groups, exploring together. Really, collaboration is another strong aspect of Growing Up Green," says Pam. "We think with our hands, and when students are immersed in a lesson together, they begin to make their own connections."
Ultimately, Growing Up Green can naturally make children stewards of the environment, "not because we taught them preservation is important in a textbook, but because they were outside experiencing it for themselves." Pam adds, "this residency reminded me that the more immersed I can be in what the students are learning in their core curriculum, and the more I experience the wonder and excitement of that learning, the more I have to share with my students and the stronger the arts integration."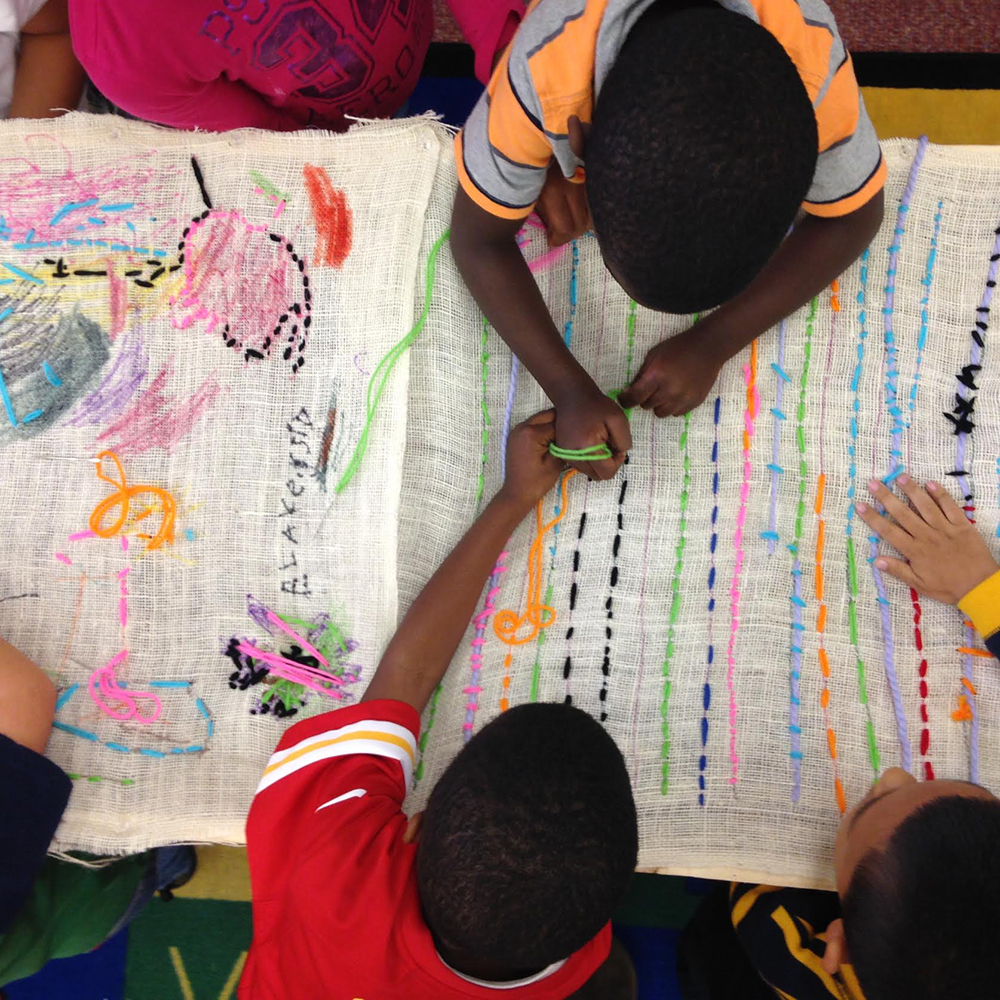 The program also provides teachers the tools to creatively engage students in curriculum-based learning through arts integration long after the residency has ended. In fact, one of Growing Up Green's primary missions is to ensure the program's long-term sustainability in the classroom. Once the residency ends, the arts integration techniques that were taught during the residency help teachers to more accurately and confidently employ environmentally based learning strategies into their current lesson plans. Ideally, once the piloting phase of the program is complete, Growing Up Green will become embedded into the core science and social studies curriculum of Prince George's County Public Schools.
By partnering with the Chesapeake Bay Trust to arm schools with relevant, local environmental data to meet district-level standards, and by doing our part to provide teaching artists and professional development in arts integration, this program could not be more equipped to succeed.
Video: Growing Up Green @ Rockledge Elementary
Growing Up Green aligns with Environmental Literacy Standards, Next Generation Science Standards, Common Core State Standards, and Visual Arts Standards.
Categorized:

News

Tagged:

21st Century Skills, artist-in-residence, arts ed, arts integration, BGE, Chesapeake Bay Foundation, Chesapeake Bay Trust, Common Core Standards, creative learning, early learning, environmental literacy, environmentalism, Growing Up Green, kindergarten, Meaningful Watershed Educational Experiences, Next Generation Science Standards, Pam Negrin, PGCPS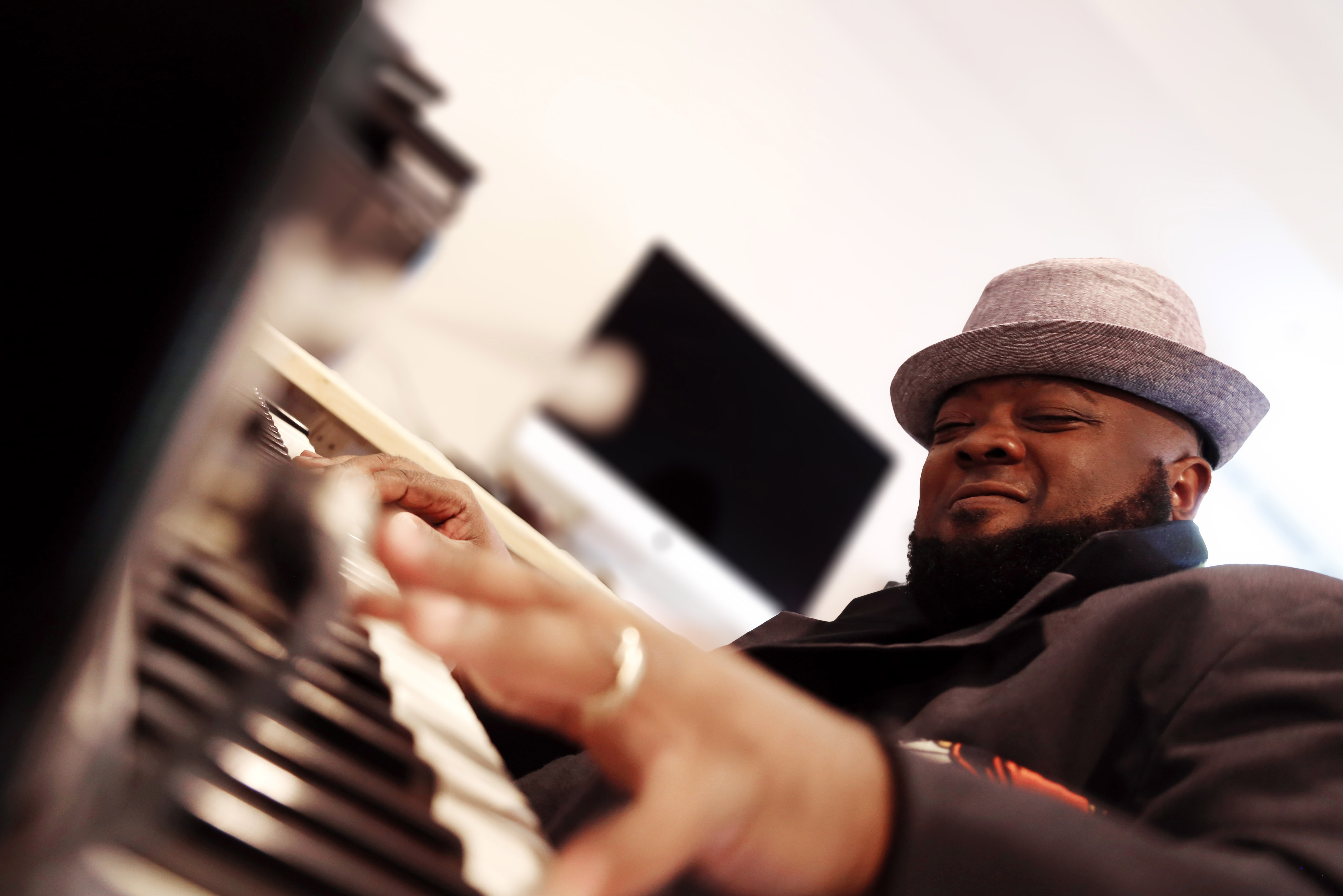 Young Audiences' roster of artists continues to grow to encompass new artists, ensembles, and art forms, from slam poets to improvisers to Capoeira masters. We'll be regularly posting interviews with our artists, giving them a chance to share more about themselves and their experiences bringing their Young Audiences programs to schools.
How did you first hear about Young Audiences? What made you decide to become a roster artist?

A colleague told me about the Arts Education in Maryland Schools (AEMS) Alliance, and I found information about Young Audiences on the AEMS website. My reasons for deciding to become a roster artist are twofold. First, I have fond memories of the school assemblies I attended as a child. Whether the assembly was about public safety or a performance, the message always stuck with me. Assemblies were presented as something special, a time to get out of the classroom and see information presented in a fun and interesting way. It is my hope that Outer Space Improvisations leaves the same kind of positive impression on students as the assemblies I attended as a child. Second, I place a high value on professional development, and when I learned about the Teaching Artist Institute (TAI), I realized that Young Audiences does too.
How does your art form help connect students to what they are learning in school?

When composing music I utilize basic math concepts. Additionally, I rely on my skills as a writer to create song lyrics and devise hypotheses. As I experiment with new sounds, I recall historical events and scan my current environment for inspiration.
Through music, I encourage students to see the convergence of academic disciplines, rather than single out one in particular. In using improvisation activities, I invite students to pull from what they know about math, literature, science, and history to create something entirely new and unique.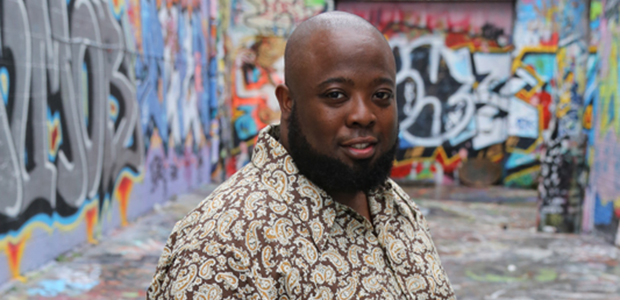 We love your concept of connecting live, improvisational music with the theme of space exploration. Can you tell us more about your program "Outer Space Improvisations"?

"Outer Space Improvisations" is a program designed to stoke students' imaginations. The students and I take a musical space journey, leaving our day-to-day existence on Earth to travel to far and distant places, both charted and uncharted. It is the uncharted place that most excites me because students have to use their imagination to create what these places look, feel, sound, taste, and smell like; this is where the improvisational aspect of the program comes into play.
Through sound design, I welcome students into the performance with the sounds of space. When I play, students are immersed in original space-themed compositions inspired by composers and musicians like Beethoven, Franz Liszt, Earth, Wind & Fire, Led Zeppelin, Jimi Hendrix, and Thundercat. Facts about space are woven into the program to deepen their intergalactic experience, and improvisation activities connect students to the infiniteness of their imagination.
How do the lessons/skills you teach students about or through your art form apply to and affect their everyday life outside of the classroom?

An important aspect of my work as a composer is improvisation; however, it is through my imagination that I can improvise. The ability to create something that has never existed before is an essential skill that all people must have. Without it, the ability to solve the simple and complex problems that pop up in everyday life would be impossible.
It is important to me that students feel confident in their capacity to think through and learn how to present a new idea. The problems children are solving today and those they will address in the future require a strong imagination, critical thinking, and courage.
Why do you believe it is important for every student to have access to the arts?

I am committed to arts education. It was through the arts that I learned how to improvise, communicate, and imagine. The arts education I received as a child helped shape the person I am today. Seeing that I had a passion for music, my parents enrolled me in arts programs. In high school, I attended a performing arts magnet program where I had the opportunity to interact daily with teaching artists. They challenged me to think creatively and critically about how to contribute to the world around me through my art.
What is the most rewarding aspect of becoming a Young Audiences roster artist?

Performing in front of students who at first don't know what to expect when they see me, and then seeing the impact my music has on them as their imaginations light up is exciting. I believe the ability to use imagination, to see beyond one's circumstance or everyday reality is not a privilege, but a necessity. To see students grasp this concept, and then watch them use it to do something that has never been done before is my greatest joy.
Learn more about Scott Patterson's assembly "Outer Space Improvisations"