Articles by Month:
September 2016
 
A reflection from Valerie Branch, professional dancer, master teaching artist, and YA roster artist, on the triumphs (and challenges) of teaching Summer Arts and Learning Academy kindergarteners math and literature through dance with her teacher partner, Sara Myers.
"If we stay true to our art form, and what we know about our art form, then the students have an active and engaging educational experience where they are learning, processing, and applying information.
At this year's Summer Arts and Learning Academy, I was partnered with elementary school teacher, Sara Myers, at William Pinderhughes Elementary/Middle School in West Baltimore. Together, we taught kindergarteners math and literacy through dance and movement. I love working with this age group because it reminds me that we are all multi-sensory learners, it doesn't just take one mode of teaching/instruction to help students learn.
In our arts-integrated math lessons, we created Number Bonds in motion to help the students gain a higher understanding of addition and subtraction. Students were able to break the number apart to figure out what two numbers it would take to create / get to that number; they were also able to put two numbers together and process the final product.
It's a fun and magical thing to watch the brain work and watch the students process and apply information learned. I saw students raise their hands for an answer – give the wrong answer – and not be afraid to use their brains to ultimately find the correct answer. I saw students learn about and apply their knowledge of contrasting words in their physical bodies, and they created dances that were a representation of these words.
Working with Ms. Myers was an awesome experience for me as a Teaching Artist. I loved that she always had new fresh ideas, and wasn't afraid to try new things with our students. It's so important to trust your teacher partner and build a strong collaborative relationship. If the students sense that you are not able to work together and respect one another, they will continually challenge that relationship. Be open, but also don't be afraid to give your ideas and to take risks.
"When we're fully engaging with the students, moving throughout the room, using all of our resources and allowing the students to take ownership of their learning — that is when we are having the best time together, and when the students are learning the most.
When we're fully engaging with the students, moving throughout the room, using all of our resources and allowing the students to take ownership of their learning — that is when we are having the best time together, and when the students are learning the most. I appreciated that Ms. Myers was open and willing to have those experiences with us! However, it was important for us to be in tune with the needs of our students, to challenge them to push beyond their comfort zone, but also to know when they simply needed a break.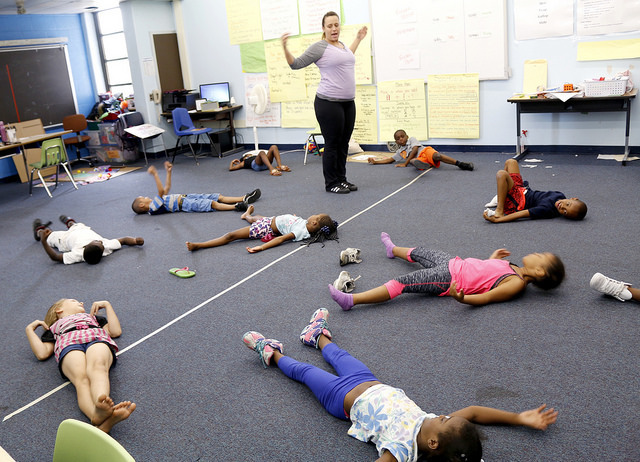 In the afternoon, Academy teaching artists have the opportunity to share their art form with students during artist-led Arts Explorations classes. These daily classes gave students the chance to delve deeper into dance and movement.
Zoe, a student from my last Arts Exploration class, came to me very shy and almost afraid to shine. I challenged her to push past her comfort zone and be proud of her individuality. There were times during class when she would simply shut down. However, I continued to work with and encourage her, and it was amazing to see her classmates also supporting her.
Our ultimate goal in this Arts Exploration class was to create a dance about friendship, a dance we would later perform during a culminating event on the last day of the Academy. Through perseverance and her ability to trust herself, she was able to obtain a starring role in the dance, working together with another student to create a duet that began the whole dance.
As with any live performance, even though you make a plan, you simply do not know what is going to happen on the day of the show. On the day of our culminating performance —and in front of dozens of other students, parents, teachers, and artists — Zoe truly rose to the occasion and was a star performer. I was so proud of what she was able to accomplish and to see all our young students working together to create dances. They collaborated, engaged in meaningful discussion with one another, and were able to activate their short-term and long-term memory skills to process information and produce work.
"As with anything we do in life, in our careers as artists, etc., we face challenges. It's how we deal with those challenges that define the person we are and are striving to be."
Every day there was a challenge at the Academy, whether it was too hot in the building, students having a difficult time adjusting, creating an effective lesson structure that engages all students, or making sure that I remained as neutral and open as possible. I think what was remarkable about this whole experience is that we — myself, my teacher partner, and our students — always started each day with a fresh, clean slate. We continually found ways to improve the course of our day and the success of each child.
We encouraged our students to continue to rise above the challenges and try their best in all things. It was simply an awesome experience walking into or leaving the building and have students call out to say "Good Morning" or "Goodbye," and run up to you to give a hug. You know you've positively impacted a child simply by the way they engage with you — even if the events of the day brought some challenges.
Learn more about Valerie Branch or schedule a program
——–
The mission of  Young Audiences' Summer Arts and Learning Academy is to provide Baltimore City Public School students with an opportunity to spend a summer learning from the best teachers and teaching artists in Maryland. Through a dynamic and supportive environment, students developed an understanding of the creative process and 21st Century Skills with an exploration into arts integration that focused on math and literacy. Students had a fabulous culminating event, showcasing their skills in visual art, songwriting, spoken word poetry, dance, piano, drumming, playwriting, fiber art, and filmmaking.
The Academy is funded by Baltimore City Public Schools, The Abell Foundation, The Family League of Baltimore with the support of the Mayor and the City Council of Baltimore, The Alvin and Fanny B. Thalheimer Foundation and individual contributions to Young Audiences. All participants are students at a Title I Baltimore City Public School.
We spoke with several parents of Young Audiences Summer Arts and Learning Academy students for their take on the experience.
What a summer! As we head back into classrooms for this school year, we can't help but reminisce about such a wonderful Young Audiences Summer Arts and Learning Academy. July's free, five week program encouraged 800+ Baltimore City students grades K-5 to explore creation and expression through arts like painting, poetry, dance, filmmaking, songwriting and visual art. Students used arts integration to build skills in language arts and math while exploring and developing their artistic interests.  

Not only did we and our students love the experience, but their parents did too! We spoke with parents to get their take on the Summer Arts and Learning Academy and its benefits for their children:


Albert Fluker, Father of Uriah, incoming 5th grader: A big fan of Summer Arts and Learning Academy, Albert would recommend the program to any parent, highlighting how it encourages free self-expression in public while also allowing for parent-child bonding.

The children get to partake in something they really enjoy and parents have the opportunity to bond  with them while doing it. Together, Uriah and I learned to build a walking robot and attended  a workshop with dancers. It was awesome. I even attended the Artscape performance, where kids had the flexibility to express themselves. They overcame fear and shyness and build confidence to perform in public."


Nikia Smith, Mother of Bailey, incoming 1st grader: Nikia liked the arts-integration and visual approach to teaching at Summer Arts Academy. It helped her daughter open up and focus on topics she was less excited about.
I really like the way the arts were integrated into the academics like math and reading. Bailey is a visual  learner, and she was very excited knowing something fun was coming up at the end of the day. It helped  her focus and practice her math and reading. Additionally, the collective style of teaching and  learning – lots of dancing and singing – had Bailey opening up more throughout the year. I think that's  because of the arts. It really opens the mind!"  
Lorna Ajala, Mother of Tiffini, incoming 6th grader: Lorna and her daughter Tiffini can't get enough of the Summer Arts Academy. She praised how integrating the arts opened her daughter's mind to new possibilities and built confidence.

Summer Arts Academy truly brings out and introduces new possibilities to a child. Tiffini has always  enjoyed artsy things, but she would constantly say she wanted to be a lawyer. Then, when she  experienced Summer Arts Academy and was introduced to various art forms, it really sparked something in her. Now, she wants to be a designer. She was so amazed that she could have these opportunities. I am so glad this program came about!"
Hearing this amazing feedback is why we do what we do. The arts can have a life-changing effect on a child, and integrating them with education has benefits in and out of the classroom. It builds confidence, encourages expression, and introduces kids to new possibilities.
See more photos from the Summer Arts and Learning Academy on our Flickr!
To learn more about the Summer Arts Academy or how Young Audiences can reach your child or classroom, click here. 
Young Audiences of Maryland is excited to offer a new and innovative program from one of our roster artists, Alden Phelps, called Singing, Reading & Writing Songs: an Interactive Assembly. Alden Phelps' new assembly combines the inspiration and fun of a live concert with an extended hands-on time for students to participate in songwriting.
It's a show and it's a workshop: Silly Songster Alden Phelps plays guitar and sings his original children's songs, then leads students step by step as they design their own musical couplets in teams. This hands-on experience is designed for an entire school grade to enjoy together.
Why is this program so special?
Not only does this program combine the best aspects of an assembly and a classroom workshop, but it also uses a thoroughly engaging inspiration for writing: magnetic words. By physically manipulating magnetic words, roadblocks that inhibit participation (spelling, handwriting, etc.) are removed; new vocabulary is expanded and stimulated; students at different levels can engage meaningfully and achieve writing success in activities that build language skills. Guided exercises, along with teacher support, help students try their hand at lyric writing. Most importantly, it's a whole lot of fun! The assembly ends as students transform Alden's opening song into their own original creation. This Interactive Assembly is designed for up to 100 students or one full grade. The assembly is 45 minutes long and is suited for grades 3-5.
How does it work?
Alden sets up 25 magnetic easels in your gym (or suitable space) and 50 of his original boxes of magnetic nouns, verbs, adjectives, prepositions, and rhymes. The program begins with Alden singing an original silly song for the students. He then explains his songwriting technique and breaks down the lyrics to the songs' chorus on two large magnetic boards. Students are invited up to get creative and rewrite Alden's rhyming couplet.
In the second half of the program, all the students move to the magnetic easels and continue to get creative, rewriting Alden's lyrics. Alden circulates through the room, helping students and celebrating their successes by singing along with their newly created lyrics.
The differentiation is built in: basic & special needs students succeed by plugging in verbs, nouns, and rhymes, and the supplied dry-erase magnets allow advanced students to push their writing beyond Alden's selection of words.
Common Core Connections: CCSS.ELA-Literacy.L   CCSS.ELA-Literacy.RF
100% Participation!
Alden has spent months developing this new Interactive Assembly, and in its initial performances, every single student in the room participated every time! And not just participated, but gleefully dove in to write their own song lyrics!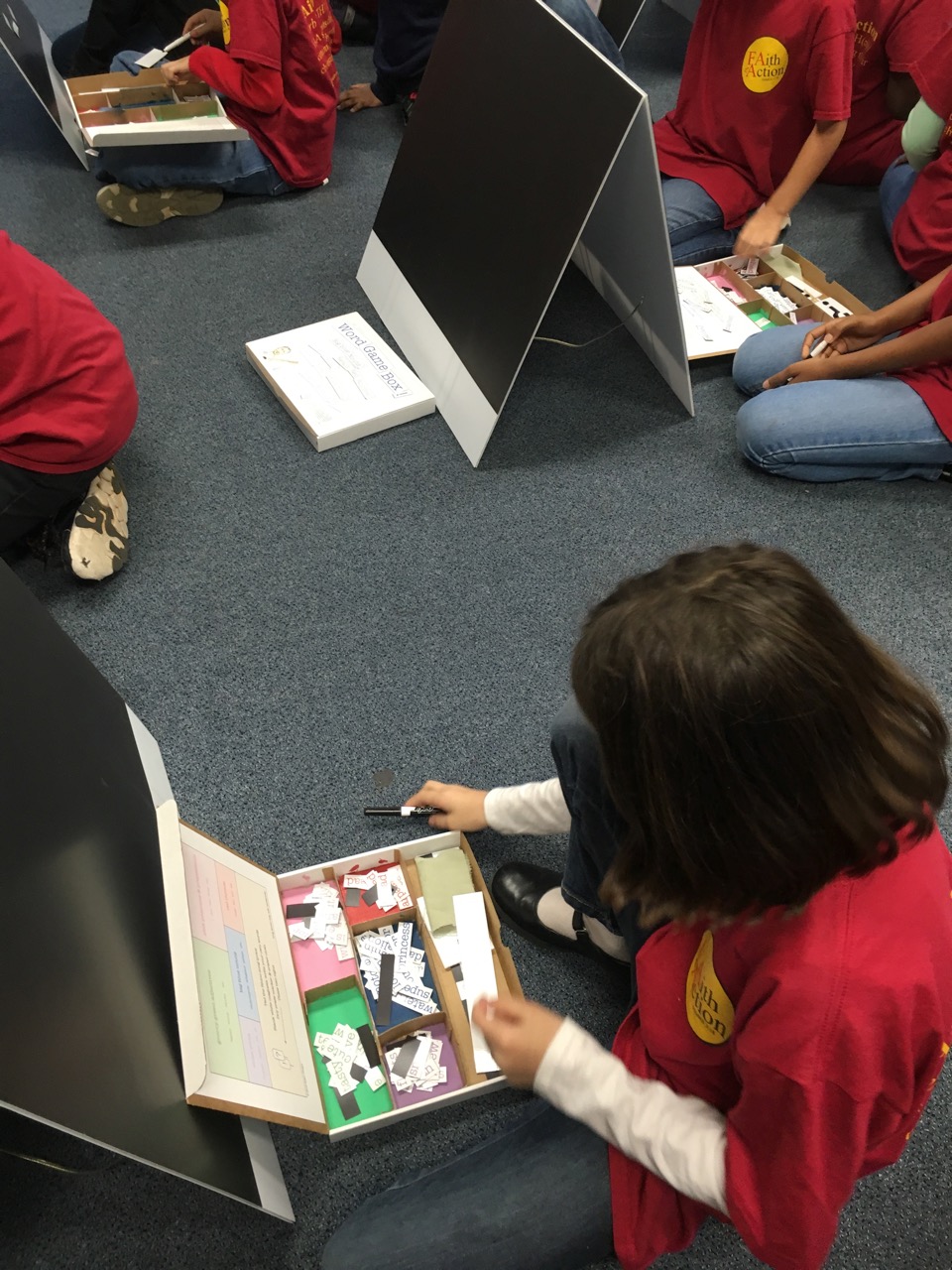 Mr. Phelps did an excellent job getting even my least interested students involved in this program!  Some of my students who hate to sing REALLY enjoyed this program!! The students were singing their song lyrics for the rest of the day. I highly recommend this program at any school!!"   –Frederick Adventist Academy, March 2016
Every single kid that participated LOVED IT!"   –Sandymount Elementary School

Alden's rapport with the kids and level of enthusiasm is contagious! It all channels our students' focus and involvement in the content he delivers."   –Thunder Hill Elementary School
Q: Who is this Interactive Assembly for?
A: Singing, Reading & Writing Songs: an Interactive Assembly is designed for grades: 3-5, up to 100 students, or one whole grade.
 Q: What about K – grade 2?
A: I'm working on adapting this for beginning readers using magnetic rebus. I think it's a great idea!
 Q: What about a longer version of this like a residency?
A: I'm working on it! I hope very soon this will be a multi-day residency too!
Arts Integration in Action! Young Audiences' Summer Arts & Learning Academy 2nd graders learned math and multiplication through the arts with teaching artist Mama Rashida of Wombwork Productions.
The Art of Science Learning (AoSL), a National Science Foundation (NSF)-funded initiative, spearheaded by its Principal Investigator, Harvey Seifter, has released its newest report, titled The Impact of Arts-Based Innovation Training on the Creative Thinking Skills, Collaborative Behaviors and Innovation Outcomes of Adolescents and Adults. The report was written by Audience Viewpoints Consulting, the independent research firm AoSL retained to conduct the study. The effort compared the impacts and outcomes of arts-based innovation training with more traditional innovation training that does not incorporate the arts.
"With this research, we now have clear evidence that arts-based learning sparks creativity, collaboration, emotionally intelligent behavior and innovation in both adolescents and adults," Seifter said. "The implications for 21st Century learning and workforce development are profound."
Working with Worcester, MA high school students and early career STEM (Science, Technology, Engineering and Math) professionals from San Diego, the results were compiled through a series of experimental studies testing AoSL's hypothesis: that integrating the arts into STEM innovation training results in enhanced individual creative thinking skills, increased collaborative behaviors, and more robust team innovation outcomes.
The research yielded compelling results; a strong causal relationship does indeed exist between arts-based learning and improved creative thinking skills and innovation outcomes in adolescents, and between arts-based learning and increased emotionally intelligent and collaborative behavior in adults.
The study divided participants into control and treatment groups. Both groups used a hands-on project based approach to learning innovation. The treatment curriculum replaced 9 hours of the traditional innovation pedagogy used in the control curriculum with 9 hours of arts-based activities designed to achieve the same learning objectives. The study lasted five weeks.
"Our research provides quantitative evidence that validates what artists, inventors, scientists, technologists, educators, entrepreneurs and humanists have known for thousands of years," Seifter said: "discovery and innovation happen at the intersection of art, science and learning."
The research demonstrates that arts-based learning directly strengthens many key 21st Century learning and workforce skills, a finding with numerous immediate and longer-term practical applications for K-12 and post-secondary education, informal learning and workforce development.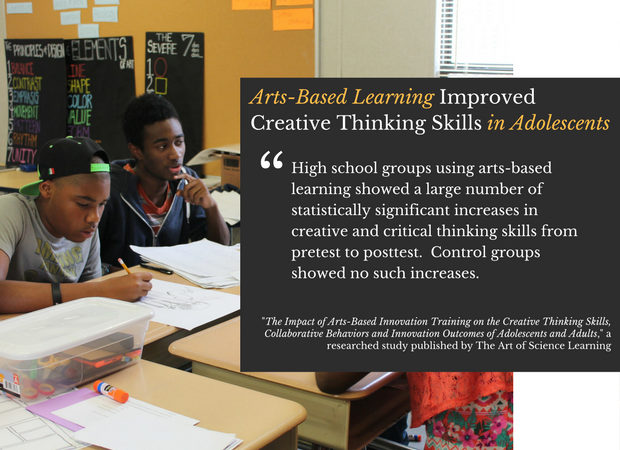 The data strongly suggests that arts-based learning can help STEM companies to spark high performance innovation teams among a new generation of professionals, and that schools, museums and science centers can create environments that foster creativity, collaboration, innovation and engagement by integrating the arts into STEM learning.
Read the full report and its key findings
——–
About Harvey Seifter
Art of Science Learning was founded by Harvey Seifter 2008, and grows out of his decades of work at the intersection of art, science and learning. In addition to his research work, Seifter brings his arts-based approaches to innovation, leadership development and high performance teamwork to dozens of global corporations, and serves as Visiting Associate Professor of Design, Arts and Cultural Management at Pratt Institute in New York City. He is also a classically trained musician with a 25-year career at the helm of several distinguished arts organizations including Orpheus Chamber Orchestra and the Magic Theatre of San Francisco. During his tenure these organizations garnered 5 Grammy Awards, 24 Obie and Critics Circle Awards, and the Kennedy Center Award.
About The Art of Science Learning
The Art of Science Learning (AoSL) is a National Science Foundation (NSF)-funded initiative, founded and directed by Harvey Seifter, that uses the arts to spark creativity in science education and the development of an innovative 21st Century STEM (Science, Technology, Engineering and Math) workforce. AoSL's national partners include The American Association for the Advancement of Science, Americans for the Arts and The Association of Science-Technology Centers.
All text Republished with permission from the Art of Science Learning (AoSL)