Articles by Month:
August 2016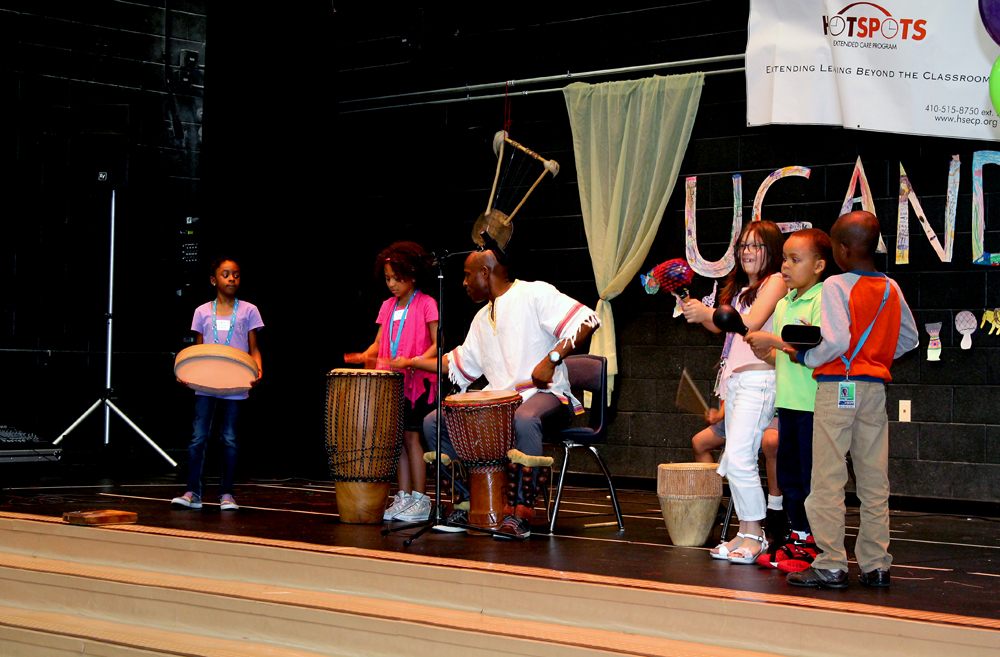 At Young Audiences, we're always building partnerships with great organizations to help enrich our children's lives through arts and culture. Hot Spots, a before and after school extended care cultural enrichment program, was a perfect match to do just that. This past spring, Young Audiences partnered with Hot Spots to bring Ugandan culture into the hands and hearts of the entire student body at Lyons Mills Elementary for a special performance dubbed "culminating".
Traditionally, Hot Spots offers artist residencies for students after school. For this partnership, an effort was led by Hot Spots Executive Director, Emily Gordon, to bring in-depth knowledge and meaningful craft-making to every student and teacher in the school for an entire day of culminating activities!
To facilitate this huge endeavor, Hot Spots chose Young Audiences Teaching Artist and Ugandan native, Ssuuna, a dancer, drummer, singer, and songwriter, to share significant cultural aspects of his home country with the entire school community. Hot Spots' ultimate goal with YA for the next year is to make these kinds of culminating performances an access point that will reach far beyond a school.
We spoke with Emily Gordon about this unique experience:
"We chose Ssuuna because he is an artist and performer who brings these experiences to life. He shares such enthusiasm and energy and encourages our students to be active learners, not passive. It's really important that we continue to work with artists who understand how to connect with children at their individual levels as opposed to simply teaching to the masses."
More from our interview with Emily:
"This partnership is different from how we've worked with Young Audiences in the past. The majority of our past work has been for students who participate in after-school programs and residencies. A culminating performance typically happens only with the students in the program. We are thrilled to be expanding that reach.
For this residency, we sent out lesson plans to every educator in the school with pre-assembly activities to support the experience with Ssuuna. Students memorized Ugandan vocabulary, researched facts about Ugandan every-day life, and learned about the musical instruments they would build in tandem with the performance later that day.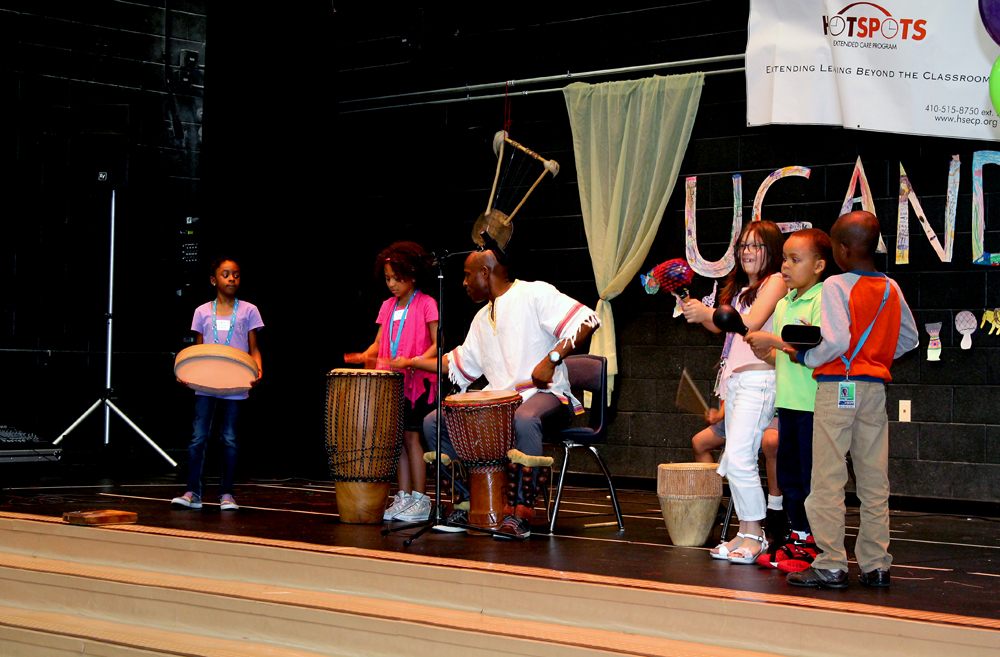 "This wasn't a 'come drop off your students at an assembly' type of day."
Teachers made sure they understood what the assembly was about and prepared questions for Ssuuna to answer. We didn't only focus on Ugandan music and dance; while grades third through fifth began the assembly watching a solo dance performance by Ssuuna and preparing questions, students K-2 sat down in small groups with Hot Spots teachers to create an Ensaasi, a Ugandan shaker. Rather than having them simply color in a pattern, Ssuuna identified forms of tribal art with cultural significance for design inspiration. From there, third through fifth-grade classes went back to the classroom and created Ugandan jewelry from different types of tribal wooden and plastic beads.
The success of this culminating day of activities reflects a desire to engage students differently with Teaching Artists. With assemblies, students are not able to stop and ask questions during a performance, and later they get forgotten. After Ssuuna had performed for 30 minutes, there was a fantastic Q & A session! Kids could ask Ssuuna anything based on what they had seen or read earlier in the day. We wanted to give them that forum, letting them express what they didn't understand. Ssuuna is such an amazing artist who can explain and relate to students not only his experience in America but his roots in Uganda. That unique connection helps reveal why his story is so relevant and compelling for students.
Another big part of this new model is encouraging not only our students, but the parents, families, and neighborhood to get involved. How do we make sure this experience can be expanded into the home? To extend our outreach, we shared photos and videos of the performance and activities in a short newsletter blast to every parent in the school. Included in the newsletter were extension activities and follow-up questions like this social media challenge:
Teach your family how to make Ugandan jewelry and take a picture of you and your family wearing it! Then, take a video of you and your family playing your shakers!
We really appreciate this unique opportunity to partner with Young Audiences. YA is a critical component of our efforts and we are excited to replicate and improve this program next year!"
 
Growing Up Green: Hip-Hop Poetry and Composting
Teaching Our Youngest Learners Environmental Citizenship Through the Arts
Part 2: Local Ecosystems
This Spring, Young Audiences wrapped up the initial phase of its pilot programming for Prince George's County Public School District's new arts integration initiative, Growing Up Green. We introduced the program in an earlier blog post, but here is a refresher for those who missed it:
The initiative is part of an exciting new partnership between Young Audiences/Arts for Learning and Prince George's County Public Schools and is funded in part by a BGE Green Grant and the Chesapeake Bay Trust. The program engages kindergarteners in meaningful and authentic outdoor experiences that help connect them to their local ecosystems and inspire them to learn more about protecting our environment. The arts provide the vehicle that the students use to demonstrate and communicate their understanding to the greater learning community of their school.
Bomani, a Young Audiences Teaching Artist, began his pilot program by using poetry to investigate the process of composting with five groups of Kindergarten classes at three different schools: John Hanson Montessori, Oxon Hill Elementary, and Benjamin Foulois Creative and Performing Arts Academy. Over 80 kindergarteners had the opportunity to literally get their hands dirty in hands-on learning while understanding everything from what type of trash can be composted to why we need to grow food. Read on to hear more about Poetry and Composting from Bomani:
"Growing Up Green was a learning experience for me. I had done residences with kindergarteners before, but never where the final project had to narrate a sequence. Usually, when I'm working with kindergarteners, we are having fun working with rhyming words, and we can make up definitions for them and write like Dr. Seuss, creating an imaginary world.
This workshop offered something new, a tangible, in-your-hands experience that's different from my usual history- or social studies-based residencies. But what is the root of this imaginary world for this particular workshop? We start with a shared experience.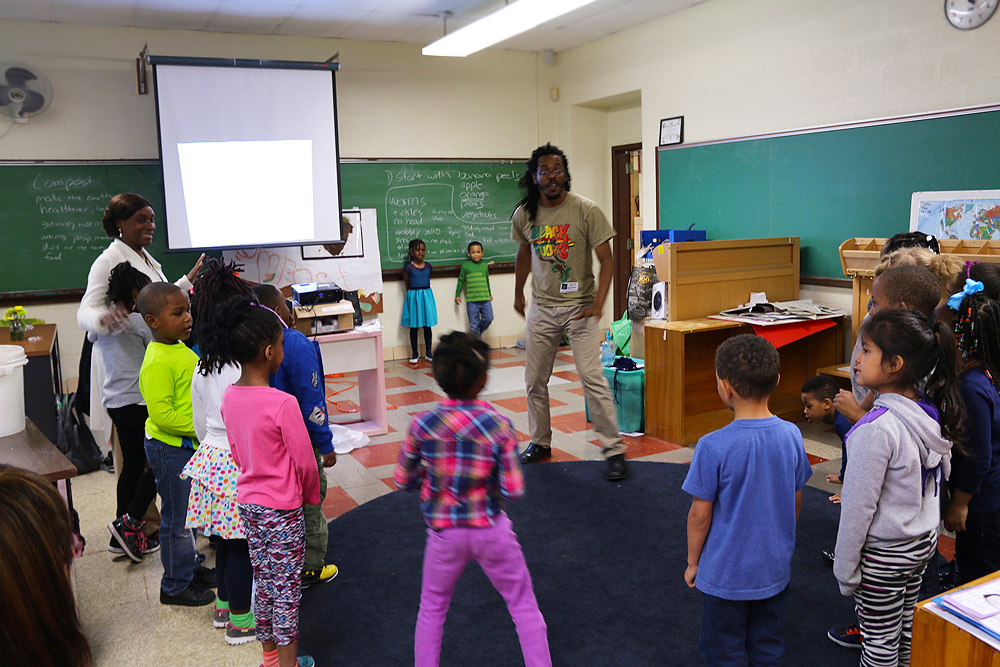 Students learn the ingredients and components to the composting process. I asked the students what they already knew, and then we would question and discuss the most important things. It doesn't really matter what the subject is, as long as kids have a shared experience to draw from, all getting to feel, touch, smell, discuss; when we start throwing out ideas, we can better interact with each other.
One of the reasons I love group creative-writing sessions is because the conversations that go on in a group setting are the same internal conversations that go on in a writer's head. Showing that process to young people in a physical way, where they are acting out how ideas are communicated — 'what about this idea, what about that idea, we should take this back, we should add that in there!' — helps them to better understand complicated topics like composting.
One student would forget one part, and another would remember and say, 'Oh you forgot the part about adding the paper!' And they would all respond 'oh yeah!' and a conversation about the process of composting would develop further, which would inevitably lead to other discussions surrounding composting, like 'Why do we need more trees? Why do we compost in the first place? Why and where do we grow food?"
The writing process began with the teachers and I adding the "odd" lines — the first line — and then students brainstormed the second line for the couplet, coming up with the rhyming components. At first, I was worried about how heavy-handed the adults in the room would need to be for it to make sense, but the students came up with some amazing things! Here's a great example:
"Put holes in the bin so the worms get air,
Holes in the bin show worms you care,
Put strips of paper and some leaves,
Paper and leaves come from trees,
Add food scraps and coffee grinds,
You just need some time
Put the top back on, they don't like sun,
Composting is very fun!"
Usually, there's one student in every class that starts off really nervous about moving their body, using their voice or raising their hand. One young lady at John Hanson Montessori was very quiet at first but over the course of the class, her teacher came up to me and said, "She's completely opened up!" With younger students, they typically have less fear than older kids, but for many of these children, English is a second language so it's sometimes hard to communicate quickly or expressively.
This one student was able to open up because I kept repeating, 'someone tell me a bad idea' or 'someone say something that's not exactly right yet, but you think it's almost there.' Giving the young lady that freedom made it easier for her to open up. She would raise her hand and say something, and I would say 'Oh! That's not quite right, but please keep trying, I love where you are going with that! Rethink that, talk to your neighbor and come back to me.' She got used to the idea of not being afraid of the wrong answer because we are all collectively looking for the right set of words.
There's a line in one of the songs where they rhymed the word "word' with "serve" as a near-rhyme. The teachers all agreed that "serve" was not the easiest to rhyme with, but when we asked the kids to vote, they picked "serve," so we went with it! I prepped the kids for this more difficult rhyme, saying 'you know, if it doesn't work out, it's okay, we can always back-track, but since you all voted on it, we'll try it out and see how it works.' I let them huddle up, and I got back a whole bunch of excellent ideas about how to use the word 'serve'! Below is the final line we used in the poem:
Composting is how we serve, and we use this rap to spread the word!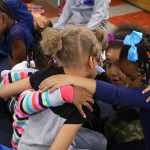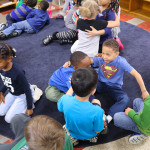 One of the side effects of this workshop, let alone the main idea of composting, is that it gets kids really excited about words and about articulating thoughts. Kindergarteners were constantly trying to find ways to tie in words to create new ideas, really stretching themselves and questioning the meaning of words.
In all honestly we probably did underestimate the ability of one 6-year-old to use 'serve' in a rhyme, but with 30 of them together all talking about it, they figured it out! Each rap came out really well!
——
Teaching Children Not to Be Afraid of Giving the Wrong Answers
Ever wondered why kids say they're bored at school, or why they stop trying when the work gets harder? In this essential video on Fixed vs. Growth mindsets, Educationalist Carol Dweck explains how the wrong kind of praise actually *harms* young people. This short video is essential viewing for everyone — from teachers and education workers to relatives and friends — which promotes GROWTH rather than "fixed" mindsets in students.
——
Help Fund This Program!
Your tax-deductible donation will help support programs like Growing Up Green.