Articles by Month:
June 2016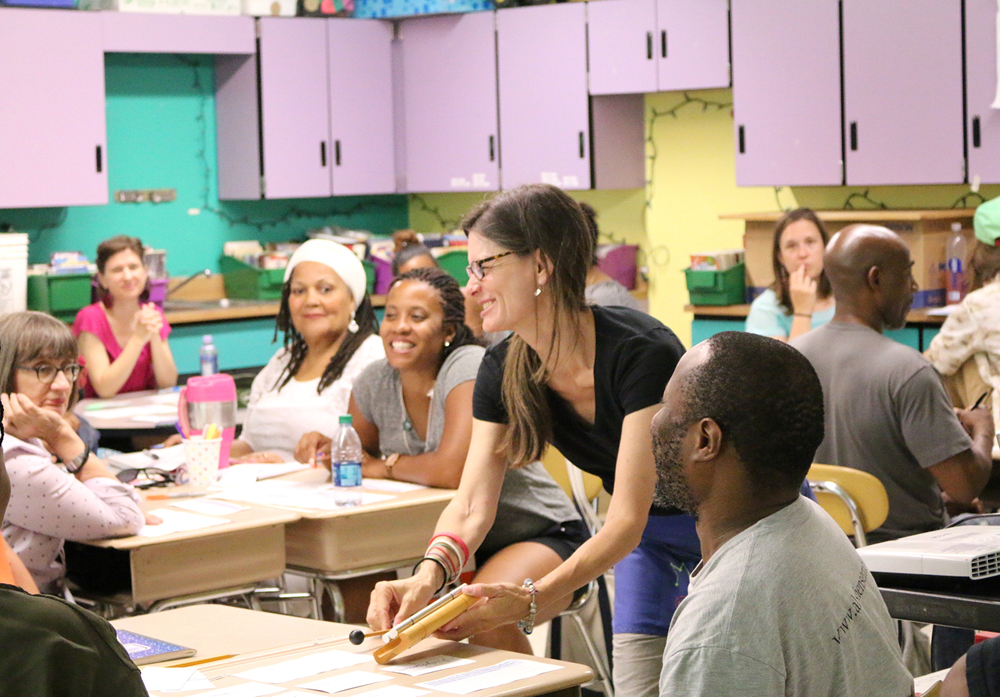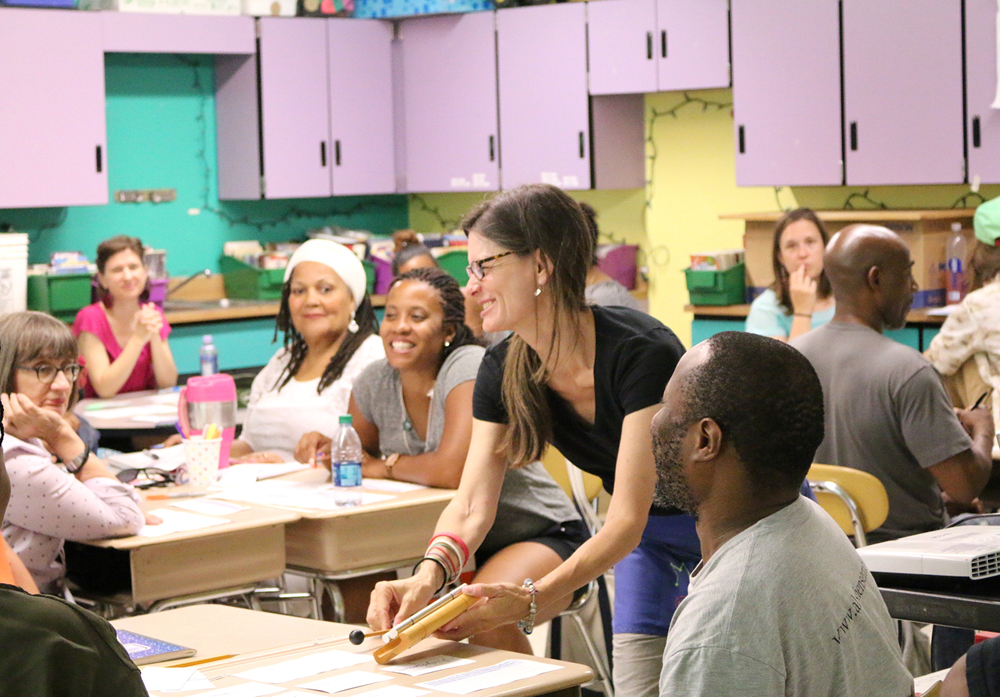 How our teachers and artists get ready for Young Audiences' Summer Arts and Learning Academy
If you were a school teacher and had just spent the last ten months in the classroom, where would you be on the 7th morning of your vacation? In bed? In your PJs on the couch? Perhaps in Ocean City? Anywhere, but a school building participating in 35 hours of professional development and gearing up for 5 weeks of summer school, right?
On the 7th morning of their summer break, 36 of our amazing Baltimore City Public Schools teachers were with Young Audiences and their 36 teaching artist partners participating in a week of professional development and preparation to teach in Young Audiences' Summer Arts and Learning Academy, which kicks off at four sites July 5. We're talking true dedication!
Whether Young Audiences is working with kids or adults, we believe learning should be creative and fun. That goes for these 36 teachers! Thankfully, Kristina Berdan, who designed this week-long training, is Young Audiences' Queen of Fun! But not just your normal fun — the intense, laugh-out-loud, creative, hard fun — that comes with joyful learning through the arts.
Let the summer fun begin: the Young Audiences at TJEMS team is stellar! @arts4learning @BaltCitySchools #BeArtSmart pic.twitter.com/HjiHEcwhex

— Eryn Lessard Sherman (@LitLeadrLessard) June 27, 2016
Case in point: Kristina wrote, sang and recruited backup dancers to perform a parody of the classic, "Summertime" by DJ Jazzy Jeff & The Fresh Prince (lyrics shared at the bottom) to welcome our teachers to the training.
When asked what inspired her to create and perform this song, Kristina said she wanted to do something special for the teachers and teaching artists. After all, they are giving up their summer break (and the rare opportunity to sleep in!) for the next five weeks to make a difference in the lives of hundreds of children who normally would not be able to afford this opportunity.
Young Audiences is asking a lot of our teachers and artists. We expect them to challenge our students AND themselves to take creative risks, try something new, and put themselves and their powerful ideas "out there," regardless of who is watching.
Some examples of how that happens: Teachers who have never tried incorporating vocal percussion into math lessons will be doing so with help from their partner musician. And dancers who have never connected dance to literacy units will be doing just that with their partner teacher. Through this training, we help all teachers and artists take risks, learn and actively collaborate to develop their craft.
Dawn Johnson, a fourth-grade teacher, said the difference in how Young Audiences develops teachers lies in creativity. "When you are creative about it, people are going to remember what you are teaching them. That is why I love this training and love arts integration. In many trainings I go to as a teacher, instructors sit and present information. They tell us what to do but don't model and show us how to do it. If you expect the world out of us, then show us what you want it to look like by modeling it. That's why arts integrated trainings are so incredible."
The training that Kristina has designed is filled with intense, thoughtful, collaborative sessions, including:
How to create a learning environment that impacts the social emotional learning of students
How to use portfolios to give students a voice in sharing work that is important to them
How to connect reading and writing exercises to students' lives
How to intentionally build community
How to create authentic opportunities for students to reflect on their work and their own creative processes
How to integrate the art authentically into literacy and math
Kristina and her team modeled how to do all of this through the arts and through powerful partnerships between artists and teachers in classrooms.
After the 35 hours of arts integration training wrapped up on June 30, our 72 Academy teachers and teaching artists walked away inspired and prepared to create a world for their students filled with creativity, meaning, connections, joy and — of course, learning! Here are some final thoughts shared by both teachers and artists on our Graffiti Reflection Wall:
To see Kristina in action, performing this song (lyrics below!) at the training, click here!
Summer summer summertime
Time to stop the summer slide
Here it is the school
Greatly transformed
Just a bit of a break from the norm
Just a little somethin' to break the monotony
Of all that hardcore school that has gotten to be
A little bit out of control it's cool to learn —
But what about the arts that soothe and move our kids
Math and literacy in the mix
Cuz we know it works so let's put on the fix
And think of the schooling of the past
Adjust the stress — let creativity blast
Artists and teachers together in time
Just put them in classrooms and lay back
and this is summertime
Chorus
School is out and it's a sort of a buzz
And back then I didn't really know what it was
But now I see what have of this
The way that kids respond to these artists
The classroom — it rocks and kids are singing tunes
And sculpting with clay and dancing through rooms
Rapping to their beats and acting on their feets
Filming and recording — all out of their seats
Here in BMore we are in four schools
All filled with arts cuz we know that's cool
Kids are reading and writing through the arts
Doing math, making art, reflecting, showing their hearts
Being assessed in many different ways
Celebrating learning each and every day
And with a pen and pad we composed this rhyme
To hit you and get you equipped for the summertime
Chorus 
Stay Connected!
Follow us throughout the next five weeks as we share daily inspiration from Summer Arts and Learning Academy classrooms!
The Nancy Peery Marriott Foundation, Inc. was established with the mission to help support organizations to increase arts, music, and culture in the community, as well as education and human services. For thirteen years, the Foundation has impacted the Southern Maryland and Greater DC area thanks to founder and President Nancy Peery Marriott, who is fueled not only by the area's needs but by her own passion for the arts.
Originally from Palo Alto, California, Mrs. Marriott is an accomplished lyric soprano who received her B.A. from the University of Utah and continued her vocal studies at the LONGY School of Music and the University of Maryland. Mrs. Marriott has performed at the highest level in some of the most prestigious venues across the United States, including the John F. Kennedy Center for the Performing Arts, Boston's Symphony Hall and Carnegie Hall in New York. Young Audiences is both grateful and excited to work with Mrs. Marriott and the Nancy Peery Marriott Foundation.
In 1950, Young Audiences' founder Nina Collier hosted a well-known violinist, Yehudi Menuhin, to play for and talk with a group of children in her Baltimore home. Noticing how much the children enjoyed the experience, she organized a series of 20 chamber music concerts for Baltimore City elementary students, launching an organization that now provides diverse and inspiring arts experiences to over 183,000 students throughout the state. Like the Nancy Peery Marriott Foundation, Young Audiences was founded on a belief in the power of music. This has made the Foundation an ideal partner as we work to give all children the opportunity to learn in, through, and about the arts.
During the first year of partnership with the Foundation nearly a decade ago, Young Audiences reached 20,809 students in southern Maryland's Montgomery and Prince George's counties. Since that time, the number of students reached has grown by over 40%, and we now annually give nearly 30,000 Montgomery and Prince George's County students opportunities for artful learning. Young Audiences is deeply grateful for the support of the Nancy Peery Marriott Foundation.
"Arts Every Day; Not Just Tuesday." What a novel idea, right? That statement was made on May 25th, when we convened 8-12-year-old students from Belle Grove Elementary and Brooklyn Park Middle School, at the Chesapeake Arts Center for a conversation around what they wanted to experience in school.
This conversation was one of six conversations we convened as part of Arts Empowered Minds, a new initiative focused on getting students in Northern Anne Arundel County access to high-quality arts education opportunities. 52 people, including students, parents, police, artists, educators, and members of faith organizations and the business community joined us to learn about Arts Empowered Minds and to tell us what matters to them.
Here is what they learned: We believe, and research studies show, that arts-rich schools and communities thrive. Arts Empowered Minds aims to improve educational opportunities and outcomes by increasing student access to the arts and arts integrated learning in Northern Anne Arundel County.
Here is what we learned: There is a desire for Arts Empowered Minds to do this work, there are incredible assets that we can leverage, and —while there are potential barriers to success— the public will is there. The will is there to use the arts to fully engage kids in all classes, not just the art room. We heard this desire loud and clear from students: "I wish we could move around more in class," "I wish our teachers could make us like school," and classes that keep "my mind active."
The desire is not limited to the classroom. Participants want the arts to be used beyond the "academic" benefit and as part of the everyday routine, helping kids become great citizens in their schools and communities– with empathy, creative problem solving and communication. Teachers dreamed of a more respectable classroom and our kids dreamed of safe places with no bullying.
To learn more, see our communication plan HERE
Are you interested in Arts Empowered Minds or do you know someone in Northern Anne Arundel County — a business, a government agency, a resident, who would want to connect to our initiative? If so, please forward them this article and have them contact Emily Norris at emily@yamd.org. Arts Empowered Minds is still in its planning phase and is looking for input and volunteers.
Arts Empowered Minds is "powered" by its partners: Young Audiences/Arts for Learning of Maryland (YA), Anne Arundel County Public Schools (AACPS), Chesapeake Arts Center (CAC), Arts Education in Maryland Schools Alliance (AEMS), and University of Maryland – Baltimore County (UMBC). We are grateful that Arts Empowered Minds was one of seven collective initiatives to be funded by the National Endowment for the Arts.
Principals have TIGHT budgets. We strive to make our arts experiences as inexpensive as possible so we can bring them to as many schools and children as we can. And thanks to generous support from donors, Baltimore City Public Schools and the Baltimore Office of Promotion and The Arts, our Access For All grants make Young Audiences artists and programs available to city public schools at up to 80% off.
The Spring 2016 Access For All Awardees are…
Rognel Heights Elementary/Middle
George McMechen High School
Coldstream Park Elementary/Middle
Empowerment Academy
Medfield Heights Elementary
Dickey Hill Elementary/Middle
Wolfe Street Academy
Creative City Public Charter School
Thomas Johnson Elementary/Middle
Arundel Elementary/Middle
Franklin Square Elementary/Middle
Armistead Gardens Elementary/Middle
Rosemont Elementary/Middle
Why is this grant is so important?
Last year we were given the opportunity to have an assembly about the history of hip hop dance. It was incredible. Our students left this assembly empowered, talking for days about the things they learned."

– Anne Barron, (title), Rognel Heights Elementary-Middle

I love drawing and creating images of mystical characters. My teacher allows me to be as expressive as I want to be."

"I'm more focused and calm when I am drawing a picture or working on an art project. All of the distractions around me don't exist at that time."

– 5th and 7th grade students, Coldstream Park Elementary-Middle

At MHES, we fully believe in the power of the arts to enhance and even transform young lives. Grant programs like this help us provide essential enrichment programs for our students, which we might not otherwise be able to offer."

– Erin Jakkowski & Tony Tsendeas, PTO Representatives, Medfield Heights Elementary-Middle

If you believe that all kids in Baltimore City deserve arts programming, your donation will help us award even MORE grants in the Fall! Contact Jennifer Andiorio at jennifer@yamd.org to talk about the possibilities!

Learn how your school can apply for an Access for All grant.