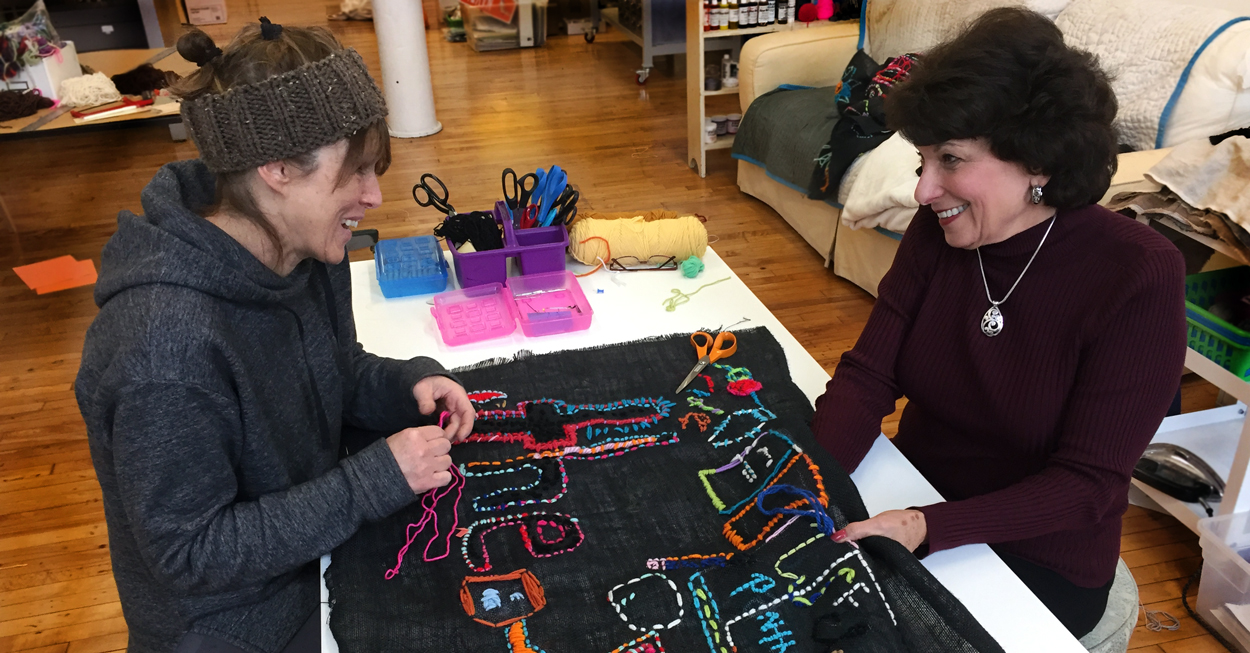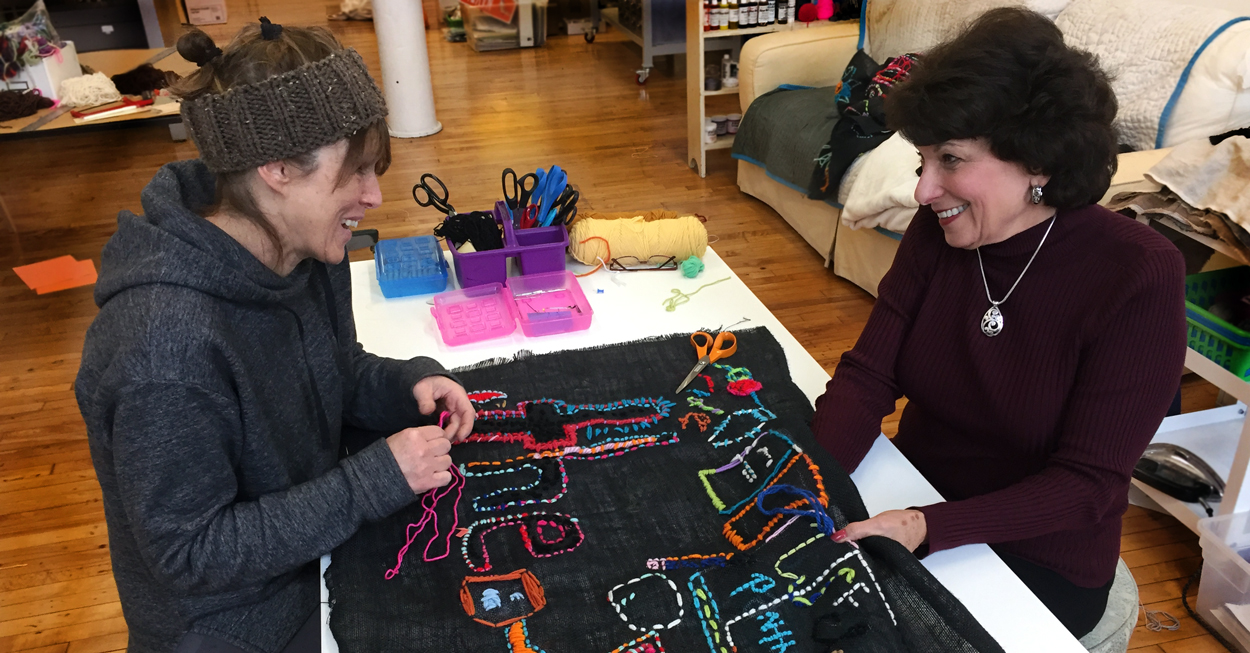 Co-written by Barbara Kesler, an active Young Audiences board member, volunteer, and retired Baltimore County Public Schools teacher and YA Visual Artist Pam Negrin. During Barbara's 39-year teaching career, she instructed third through sixth-grade students and spent the last 23 years at Franklin Elementary where she taught fifth graders in all subjects.
After attending a Young Audiences informational "Impact Breakfast," six of my friends and I were intrigued by visual artist Pam Negrin's embroidery and weaving with students. Pam's residencies transform classrooms into collaborative handwork studios, with countless ways to connect textile art with core subjects.
We learned that Pam's hours of preparation, finishing work, and providing one-on-one attention in a classroom of 25-30 students was challenging. With just one teacher and one teaching artist, the need for more hands, heads, and hearts presented a natural opportunity for volunteering with Pam.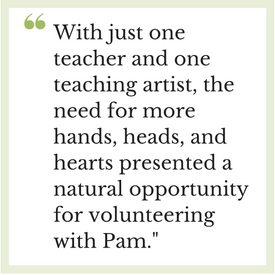 Our volunteering experience happened both in the classrooms and at Pam's studio. Throughout the experience, new friendships have developed and inspirations shared. Meeting at Pam's studio, we help while learning; rolling yarn, threading needles, and helping finish collaborative projects. In the classroom, our presence helps individual children feel successful in their completed works—sometimes by giving extra help with a new skill, sometimes by organizing materials, and other times just by listening while they work!
During a Spring residency at Commodore John Rodgers Elementary in Baltimore City, two English Language Arts third-grade classes were exploring character traits of a recently read Judy Blume novel. Expanding this textual element to their own character traits, the children designed self-portraits. The designs started on paper and were then embroidered onto fabric. Pam instructed them to explore color values, textures, and shapes.
Three volunteers accompanied Pam to the school to assist the very enthusiastic children in creating their self-portraits. The results were amazing.
One particularly shy boy proudly presented his self-portrait and said, "I did it!" Another told us how he was teaching his poorly behaved six-year-old cousin to 'draw with yarn.' "It calms him down, and we all need that!" he proclaimed. Another student told us that he had taken over the household chore of mending torn clothing for his brothers and sister. "No one else in my house knows how to use a needle like me."
Children were working together at sewing tables, chatting amicably about the novel that they were reading in class, their sports activities, and their weekend plans. All were engaged in a very peaceful and friendly manner, helping each other when necessary. No doubt presenting their finished projects to their families on Mother's Day was a beautiful culmination of this artistic endeavor. And it left three very happy volunteers with a feeling of purpose in assisting these youngsters in a meaningful project that will surely be an unforgettable experience.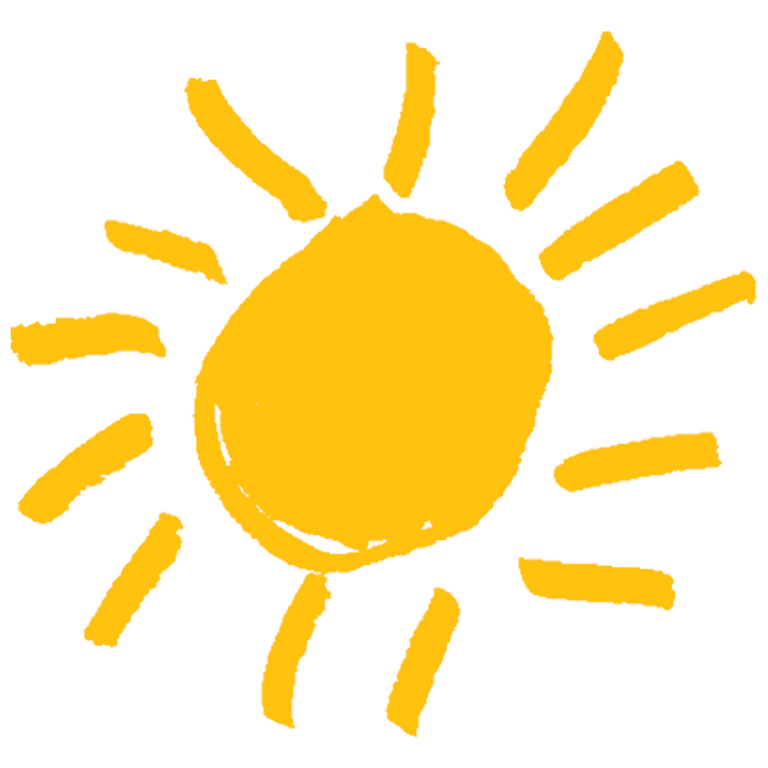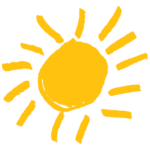 You can get involved, too!
At Young Audiences, we constantly see the arts inspire, engage and change lives. We are reminded of this power every day through our work providing more than 7,000 arts learning experiences a year to children in Maryland classrooms. And the benefit extends beyond the children, impacting the providers, observers, supporters and, yes, volunteers.  Learn more about how you can get involved with Young Audiences through volunteering.
A reflection from Stacie Sanders Evans, Young Audiences' Executive Director, and Kristina Berdan, Young Audiences' Arts Integration Specialist.
One thing that people consistently say that they love about being a part of Young Audiences is that we welcome different perspectives and opinions. We, as a team, love that too. We have staff members and board members who may have voted for different Presidential candidates for different reasons, yet we can all come together around this mission. The thing we can unite around, and find comfort and resolve in, is our shared values and vision around what we want for children and for education.
Our teaching artists are doing essential work in schools and are critical at a time when our young people need to feel valued, loved, and part of an authentic classroom community, with the freedom to express their knowledge, values, beliefs, and opinions through all art forms.
Teaching artists bring humanity into classrooms — it is who they are, it is what they do. Our artists use their talents, gifts, spirit, and humanity to lift up and engage the voices of young people. And to provide them with opportunities to explore our world, determine who they are, how they fit into it, and to feel like a part of a community — one that honors and celebrates differences. This is what happens when a teaching artist is in the classroom.
If you were to walk through Young Audiences' office today, you'd find the hopes and dreams of some of our teachings artists, written out and on display. These hopes and dreams remind us of who we are as a community, what we are doing collectively, and why it is so important that we keep striving to realize our vision that one day, every student in Maryland will have the opportunity to imagine, create, and realize their full potential through the arts.
Today, one artist's dream, in particular, spoke to us:
"As a teaching artist, I hope to bring more peace
and listening opportunities to students."
Let's get behind that! The actions we take on behalf of this mission every day matter. Today more than any other day, we know this to be true.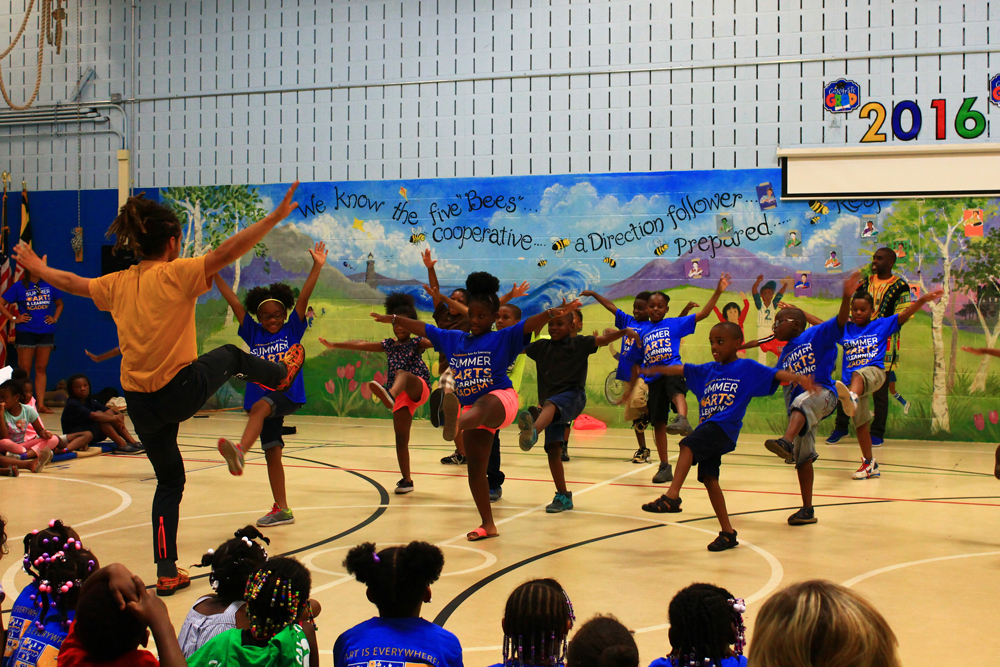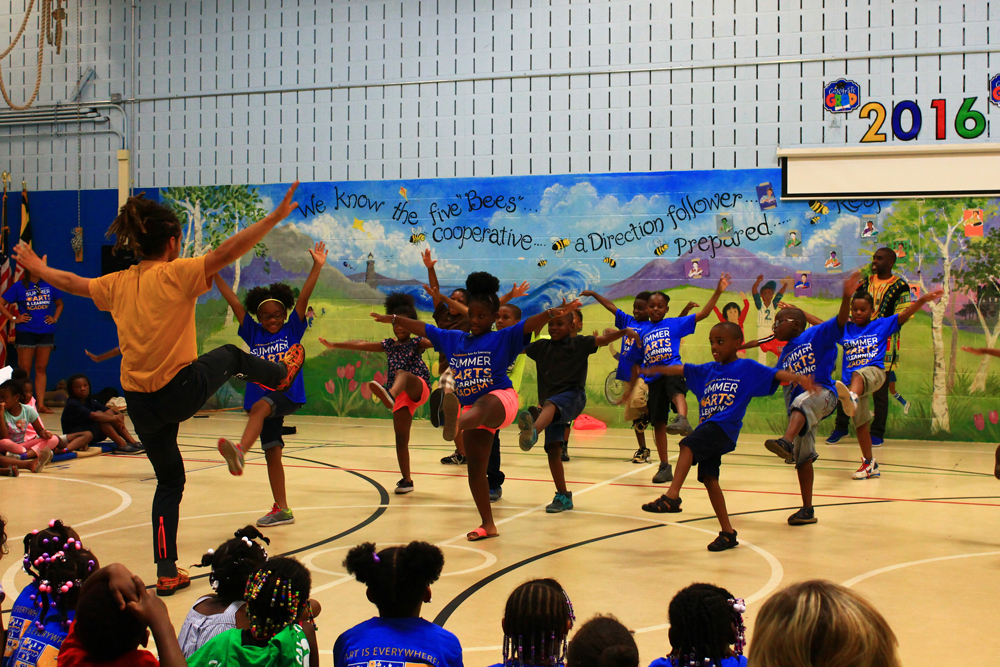 107 Maryland Schools Partnered with Young Audiences to obtain funding for Arts in Education Residencies through the Maryland State Arts Council Arts in Education initiative.
At Young Audiences, our philosophy is simple: the more arts-integrated learning experiences we can provide Maryland students, the better. We are thrilled to be doing just that with help from the Maryland State Arts Council (MSAC) 2017 grants! We teamed up with 107 Maryland schools to write MSAC Arts in Education Initiative grant applications and secure more than $124,000 in funding for Young Audiences artist-in-residence programs in the coming year.
MSAC grants help fund up to 30% of the cost of a Young Audiences residency program. With 194 total MSAC grants distributed this year, more than half were secured with support from Young Audiences!  We couldn't be prouder.
And the fit couldn't be better. Like Young Audiences' mission, the MSAC Arts in Education initiative is designed to promote, strengthen, and enhance the arts and arts education in Maryland's elementary and secondary schools. The grants will help fund Young Audiences artist-in-residence programs which bring professional teaching artists into classrooms to work alongside teachers and students. Teaching artists integrate their art form into the curriculum with hands-on, intensive arts workshops that engage students in creative experiences and bring joyful learning into the classroom.
The Young Audiences residencies resulting from these MSAC grants will be found in private, public and charter elementary, middle and high schools in counties that include Baltimore City, Baltimore County, Anne Arundel, Dorchester, Harford, Frederick, Montgomery and more. The art forms vary too, including residencies focused on dance, poetry, improv, steel drums, theater, music, sculpture, and photography.
For a full list of MSAC-funded Young Audiences residencies, click here. To learn more about Young Audiences artist-in-residence programs, click here.
Interested in bringing a Young Audiences artist-in-residence program to your school? We may be able to help you apply for grant funding! Email [email protected]


The Arts Education Partnership, a national network of organizations, is dedicated to advancing the arts in education through research, policy, and practice. Its annual conference, Arts Education Partnership National Forum: The Arts Leading the Way to Student Success, Oct. 5-7 in Denver, Colo., draws some of the nation's most influential arts and education leaders. Attendees convene to explore arts-centered solutions as states across the country implement higher learning expectations aimed at ensuring America's young people leave high school ready for college, careers, and citizenship.
The AEP National Forum provides a valuable platform for examining rigorous research, promising education policy, and effective practices designed to significantly improve student outcomes, both during the school day and out-of-school time. Young Audiences/Arts for Learning of Maryland and Arts for Learning/Miami are joining the Wolf Trap Institute to present Beautiful Surprises: Reaching Learners with Special Needs through Arts Integration to attendees of this year's conference.
During the session, panelists from Wolf Trap and Young Audiences will share the short-film "Beautiful Surprises," explore the substantial benefits of early childhood arts integration for learners with disabilities, and provide ten steps to designing an inclusion program. Panelists include:
Jennifer Cooper
Director, Wolf Trap Institute for Early Learning Through the Arts
Kurtis Donnelly
Director, Maryland Wolf Trap
Chief Operating Officer, Young Audiences of Maryland
Betsy Mullins
Director, South Florida Wolf Trap
Artist Services Director, Arts for Learning, Miami
Sue Trainor
Master Teaching Artist, Wolf Trap Institute for Early Learning Through the Arts
Arts integration is a valuable tool for reaching multiple learning styles across the curriculum and is linked to enhanced academic outcomes and social/emotional development, including for children with special needs. Wolf Trap Institute affiliates Young Audiences/Arts for Learning of Maryland and Arts for Learning/Miami are both making great strides in their communities by providing intensive inclusion training for teaching artists.
Learn more about our work in early childhood education through the Maryland Wolf Trap program. Get more information on the Arts Education Partnership (AEP) National Forum: The Arts Leading the Way to Student Success and join the conversation online with #AEPNF16.
 
A reflection from Valerie Branch, professional dancer, master teaching artist, and YA roster artist, on the triumphs (and challenges) of teaching Summer Arts and Learning Academy kindergarteners math and literature through dance with her teacher partner, Sara Myers.
"If we stay true to our art form, and what we know about our art form, then the students have an active and engaging educational experience where they are learning, processing, and applying information.
At this year's Summer Arts and Learning Academy, I was partnered with elementary school teacher, Sara Myers, at William Pinderhughes Elementary/Middle School in West Baltimore. Together, we taught kindergarteners math and literacy through dance and movement. I love working with this age group because it reminds me that we are all multi-sensory learners, it doesn't just take one mode of teaching/instruction to help students learn.
In our arts-integrated math lessons, we created Number Bonds in motion to help the students gain a higher understanding of addition and subtraction. Students were able to break the number apart to figure out what two numbers it would take to create / get to that number; they were also able to put two numbers together and process the final product.
It's a fun and magical thing to watch the brain work and watch the students process and apply information learned. I saw students raise their hands for an answer – give the wrong answer – and not be afraid to use their brains to ultimately find the correct answer. I saw students learn about and apply their knowledge of contrasting words in their physical bodies, and they created dances that were a representation of these words.
Working with Ms. Myers was an awesome experience for me as a Teaching Artist. I loved that she always had new fresh ideas, and wasn't afraid to try new things with our students. It's so important to trust your teacher partner and build a strong collaborative relationship. If the students sense that you are not able to work together and respect one another, they will continually challenge that relationship. Be open, but also don't be afraid to give your ideas and to take risks.
"When we're fully engaging with the students, moving throughout the room, using all of our resources and allowing the students to take ownership of their learning — that is when we are having the best time together, and when the students are learning the most.
When we're fully engaging with the students, moving throughout the room, using all of our resources and allowing the students to take ownership of their learning — that is when we are having the best time together, and when the students are learning the most. I appreciated that Ms. Myers was open and willing to have those experiences with us! However, it was important for us to be in tune with the needs of our students, to challenge them to push beyond their comfort zone, but also to know when they simply needed a break.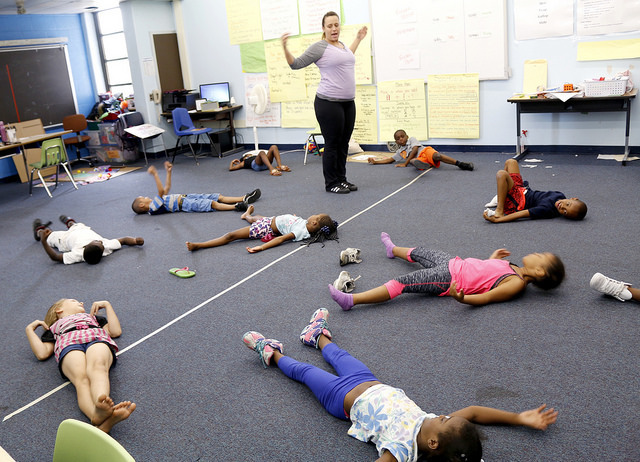 In the afternoon, Academy teaching artists have the opportunity to share their art form with students during artist-led Arts Explorations classes. These daily classes gave students the chance to delve deeper into dance and movement.
Zoe, a student from my last Arts Exploration class, came to me very shy and almost afraid to shine. I challenged her to push past her comfort zone and be proud of her individuality. There were times during class when she would simply shut down. However, I continued to work with and encourage her, and it was amazing to see her classmates also supporting her.
Our ultimate goal in this Arts Exploration class was to create a dance about friendship, a dance we would later perform during a culminating event on the last day of the Academy. Through perseverance and her ability to trust herself, she was able to obtain a starring role in the dance, working together with another student to create a duet that began the whole dance.
As with any live performance, even though you make a plan, you simply do not know what is going to happen on the day of the show. On the day of our culminating performance —and in front of dozens of other students, parents, teachers, and artists — Zoe truly rose to the occasion and was a star performer. I was so proud of what she was able to accomplish and to see all our young students working together to create dances. They collaborated, engaged in meaningful discussion with one another, and were able to activate their short-term and long-term memory skills to process information and produce work.
"As with anything we do in life, in our careers as artists, etc., we face challenges. It's how we deal with those challenges that define the person we are and are striving to be."
Every day there was a challenge at the Academy, whether it was too hot in the building, students having a difficult time adjusting, creating an effective lesson structure that engages all students, or making sure that I remained as neutral and open as possible. I think what was remarkable about this whole experience is that we — myself, my teacher partner, and our students — always started each day with a fresh, clean slate. We continually found ways to improve the course of our day and the success of each child.
We encouraged our students to continue to rise above the challenges and try their best in all things. It was simply an awesome experience walking into or leaving the building and have students call out to say "Good Morning" or "Goodbye," and run up to you to give a hug. You know you've positively impacted a child simply by the way they engage with you — even if the events of the day brought some challenges.
Learn more about Valerie Branch or schedule a program
——–
The mission of  Young Audiences' Summer Arts and Learning Academy is to provide Baltimore City Public School students with an opportunity to spend a summer learning from the best teachers and teaching artists in Maryland. Through a dynamic and supportive environment, students developed an understanding of the creative process and 21st Century Skills with an exploration into arts integration that focused on math and literacy. Students had a fabulous culminating event, showcasing their skills in visual art, songwriting, spoken word poetry, dance, piano, drumming, playwriting, fiber art, and filmmaking.
The Academy is funded by Baltimore City Public Schools, The Abell Foundation, The Family League of Baltimore with the support of the Mayor and the City Council of Baltimore, The Alvin and Fanny B. Thalheimer Foundation and individual contributions to Young Audiences. All participants are students at a Title I Baltimore City Public School.
We spoke with several parents of Young Audiences Summer Arts and Learning Academy students for their take on the experience.
What a summer! As we head back into classrooms for this school year, we can't help but reminisce about such a wonderful Young Audiences Summer Arts and Learning Academy. July's free, five week program encouraged 800+ Baltimore City students grades K-5 to explore creation and expression through arts like painting, poetry, dance, filmmaking, songwriting and visual art. Students used arts integration to build skills in language arts and math while exploring and developing their artistic interests.  

Not only did we and our students love the experience, but their parents did too! We spoke with parents to get their take on the Summer Arts and Learning Academy and its benefits for their children:


Albert Fluker, Father of Uriah, incoming 5th grader: A big fan of Summer Arts and Learning Academy, Albert would recommend the program to any parent, highlighting how it encourages free self-expression in public while also allowing for parent-child bonding.

The children get to partake in something they really enjoy and parents have the opportunity to bond  with them while doing it. Together, Uriah and I learned to build a walking robot and attended  a workshop with dancers. It was awesome. I even attended the Artscape performance, where kids had the flexibility to express themselves. They overcame fear and shyness and build confidence to perform in public."


Nikia Smith, Mother of Bailey, incoming 1st grader: Nikia liked the arts-integration and visual approach to teaching at Summer Arts Academy. It helped her daughter open up and focus on topics she was less excited about.
I really like the way the arts were integrated into the academics like math and reading. Bailey is a visual  learner, and she was very excited knowing something fun was coming up at the end of the day. It helped  her focus and practice her math and reading. Additionally, the collective style of teaching and  learning – lots of dancing and singing – had Bailey opening up more throughout the year. I think that's  because of the arts. It really opens the mind!"  
Lorna Ajala, Mother of Tiffini, incoming 6th grader: Lorna and her daughter Tiffini can't get enough of the Summer Arts Academy. She praised how integrating the arts opened her daughter's mind to new possibilities and built confidence.

Summer Arts Academy truly brings out and introduces new possibilities to a child. Tiffini has always  enjoyed artsy things, but she would constantly say she wanted to be a lawyer. Then, when she  experienced Summer Arts Academy and was introduced to various art forms, it really sparked something in her. Now, she wants to be a designer. She was so amazed that she could have these opportunities. I am so glad this program came about!"
Hearing this amazing feedback is why we do what we do. The arts can have a life-changing effect on a child, and integrating them with education has benefits in and out of the classroom. It builds confidence, encourages expression, and introduces kids to new possibilities.
See more photos from the Summer Arts and Learning Academy on our Flickr!
To learn more about the Summer Arts Academy or how Young Audiences can reach your child or classroom, click here. 
Young Audiences of Maryland is excited to offer a new and innovative program from one of our roster artists, Alden Phelps, called Singing, Reading & Writing Songs: an Interactive Assembly. Alden Phelps' new assembly combines the inspiration and fun of a live concert with an extended hands-on time for students to participate in songwriting.
It's a show and it's a workshop: Silly Songster Alden Phelps plays guitar and sings his original children's songs, then leads students step by step as they design their own musical couplets in teams. This hands-on experience is designed for an entire school grade to enjoy together.
Why is this program so special?
Not only does this program combine the best aspects of an assembly and a classroom workshop, but it also uses a thoroughly engaging inspiration for writing: magnetic words. By physically manipulating magnetic words, roadblocks that inhibit participation (spelling, handwriting, etc.) are removed; new vocabulary is expanded and stimulated; students at different levels can engage meaningfully and achieve writing success in activities that build language skills. Guided exercises, along with teacher support, help students try their hand at lyric writing. Most importantly, it's a whole lot of fun! The assembly ends as students transform Alden's opening song into their own original creation. This Interactive Assembly is designed for up to 100 students or one full grade. The assembly is 45 minutes long and is suited for grades 3-5.
How does it work?
Alden sets up 25 magnetic easels in your gym (or suitable space) and 50 of his original boxes of magnetic nouns, verbs, adjectives, prepositions, and rhymes. The program begins with Alden singing an original silly song for the students. He then explains his songwriting technique and breaks down the lyrics to the songs' chorus on two large magnetic boards. Students are invited up to get creative and rewrite Alden's rhyming couplet.
In the second half of the program, all the students move to the magnetic easels and continue to get creative, rewriting Alden's lyrics. Alden circulates through the room, helping students and celebrating their successes by singing along with their newly created lyrics.
The differentiation is built in: basic & special needs students succeed by plugging in verbs, nouns, and rhymes, and the supplied dry-erase magnets allow advanced students to push their writing beyond Alden's selection of words.
Common Core Connections: CCSS.ELA-Literacy.L   CCSS.ELA-Literacy.RF
100% Participation!
Alden has spent months developing this new Interactive Assembly, and in its initial performances, every single student in the room participated every time! And not just participated, but gleefully dove in to write their own song lyrics!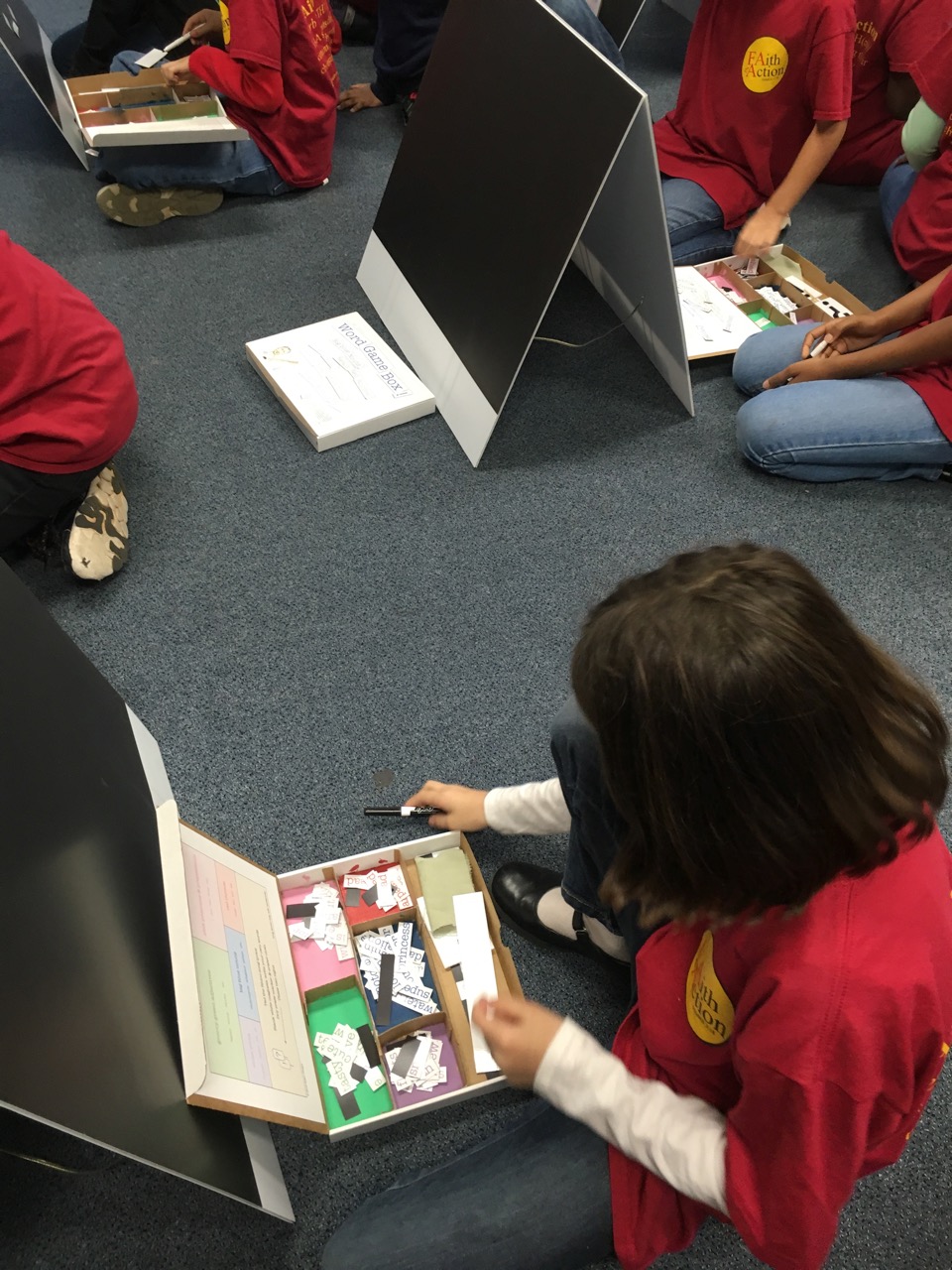 Mr. Phelps did an excellent job getting even my least interested students involved in this program!  Some of my students who hate to sing REALLY enjoyed this program!! The students were singing their song lyrics for the rest of the day. I highly recommend this program at any school!!"   –Frederick Adventist Academy, March 2016
Every single kid that participated LOVED IT!"   –Sandymount Elementary School

Alden's rapport with the kids and level of enthusiasm is contagious! It all channels our students' focus and involvement in the content he delivers."   –Thunder Hill Elementary School
Q: Who is this Interactive Assembly for?
A: Singing, Reading & Writing Songs: an Interactive Assembly is designed for grades: 3-5, up to 100 students, or one whole grade.
 Q: What about K – grade 2?
A: I'm working on adapting this for beginning readers using magnetic rebus. I think it's a great idea!
 Q: What about a longer version of this like a residency?
A: I'm working on it! I hope very soon this will be a multi-day residency too!
Arts Integration in Action! Young Audiences' Summer Arts & Learning Academy 2nd graders learned math and multiplication through the arts with teaching artist Mama Rashida of Wombwork Productions.
The Art of Science Learning (AoSL), a National Science Foundation (NSF)-funded initiative, spearheaded by its Principal Investigator, Harvey Seifter, has released its newest report, titled The Impact of Arts-Based Innovation Training on the Creative Thinking Skills, Collaborative Behaviors and Innovation Outcomes of Adolescents and Adults. The report was written by Audience Viewpoints Consulting, the independent research firm AoSL retained to conduct the study. The effort compared the impacts and outcomes of arts-based innovation training with more traditional innovation training that does not incorporate the arts.
"With this research, we now have clear evidence that arts-based learning sparks creativity, collaboration, emotionally intelligent behavior and innovation in both adolescents and adults," Seifter said. "The implications for 21st Century learning and workforce development are profound."
Working with Worcester, MA high school students and early career STEM (Science, Technology, Engineering and Math) professionals from San Diego, the results were compiled through a series of experimental studies testing AoSL's hypothesis: that integrating the arts into STEM innovation training results in enhanced individual creative thinking skills, increased collaborative behaviors, and more robust team innovation outcomes.
The research yielded compelling results; a strong causal relationship does indeed exist between arts-based learning and improved creative thinking skills and innovation outcomes in adolescents, and between arts-based learning and increased emotionally intelligent and collaborative behavior in adults.
The study divided participants into control and treatment groups. Both groups used a hands-on project based approach to learning innovation. The treatment curriculum replaced 9 hours of the traditional innovation pedagogy used in the control curriculum with 9 hours of arts-based activities designed to achieve the same learning objectives. The study lasted five weeks.
"Our research provides quantitative evidence that validates what artists, inventors, scientists, technologists, educators, entrepreneurs and humanists have known for thousands of years," Seifter said: "discovery and innovation happen at the intersection of art, science and learning."
The research demonstrates that arts-based learning directly strengthens many key 21st Century learning and workforce skills, a finding with numerous immediate and longer-term practical applications for K-12 and post-secondary education, informal learning and workforce development.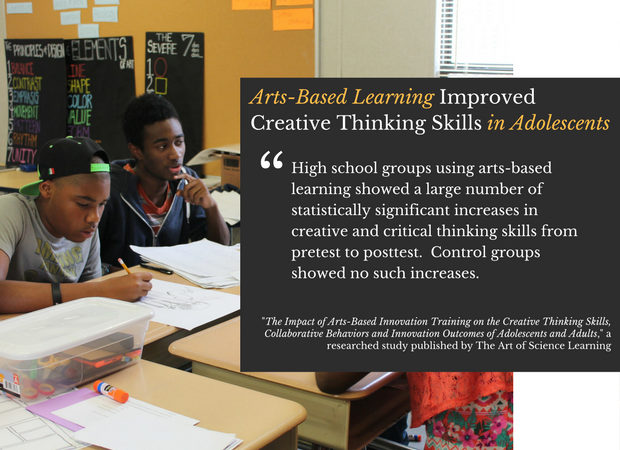 The data strongly suggests that arts-based learning can help STEM companies to spark high performance innovation teams among a new generation of professionals, and that schools, museums and science centers can create environments that foster creativity, collaboration, innovation and engagement by integrating the arts into STEM learning.
Read the full report and its key findings
——–
About Harvey Seifter
Art of Science Learning was founded by Harvey Seifter 2008, and grows out of his decades of work at the intersection of art, science and learning. In addition to his research work, Seifter brings his arts-based approaches to innovation, leadership development and high performance teamwork to dozens of global corporations, and serves as Visiting Associate Professor of Design, Arts and Cultural Management at Pratt Institute in New York City. He is also a classically trained musician with a 25-year career at the helm of several distinguished arts organizations including Orpheus Chamber Orchestra and the Magic Theatre of San Francisco. During his tenure these organizations garnered 5 Grammy Awards, 24 Obie and Critics Circle Awards, and the Kennedy Center Award.
About The Art of Science Learning
The Art of Science Learning (AoSL) is a National Science Foundation (NSF)-funded initiative, founded and directed by Harvey Seifter, that uses the arts to spark creativity in science education and the development of an innovative 21st Century STEM (Science, Technology, Engineering and Math) workforce. AoSL's national partners include The American Association for the Advancement of Science, Americans for the Arts and The Association of Science-Technology Centers.
All text Republished with permission from the Art of Science Learning (AoSL)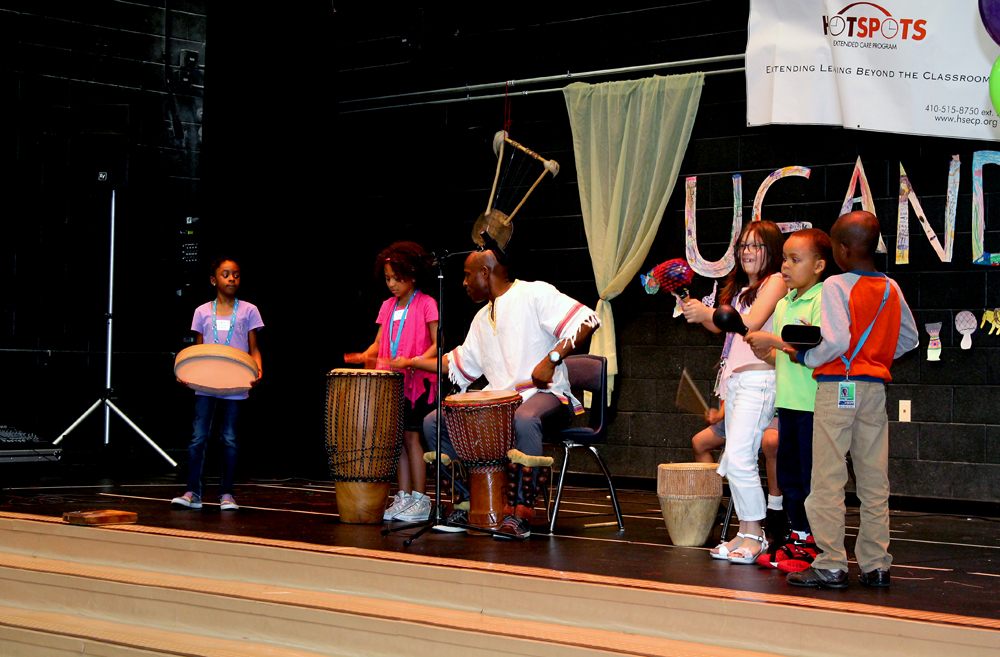 At Young Audiences, we're always building partnerships with great organizations to help enrich our children's lives through arts and culture. Hot Spots, a before and after school extended care cultural enrichment program, was a perfect match to do just that. This past spring, Young Audiences partnered with Hot Spots to bring Ugandan culture into the hands and hearts of the entire student body at Lyons Mills Elementary for a special performance dubbed "culminating".
Traditionally, Hot Spots offers artist residencies for students after school. For this partnership, an effort was led by Hot Spots Executive Director, Emily Gordon, to bring in-depth knowledge and meaningful craft-making to every student and teacher in the school for an entire day of culminating activities!
To facilitate this huge endeavor, Hot Spots chose Young Audiences Teaching Artist and Ugandan native, Ssuuna, a dancer, drummer, singer, and songwriter, to share significant cultural aspects of his home country with the entire school community. Hot Spots' ultimate goal with YA for the next year is to make these kinds of culminating performances an access point that will reach far beyond a school.
We spoke with Emily Gordon about this unique experience:
"We chose Ssuuna because he is an artist and performer who brings these experiences to life. He shares such enthusiasm and energy and encourages our students to be active learners, not passive. It's really important that we continue to work with artists who understand how to connect with children at their individual levels as opposed to simply teaching to the masses."
More from our interview with Emily:
"This partnership is different from how we've worked with Young Audiences in the past. The majority of our past work has been for students who participate in after-school programs and residencies. A culminating performance typically happens only with the students in the program. We are thrilled to be expanding that reach.
For this residency, we sent out lesson plans to every educator in the school with pre-assembly activities to support the experience with Ssuuna. Students memorized Ugandan vocabulary, researched facts about Ugandan every-day life, and learned about the musical instruments they would build in tandem with the performance later that day.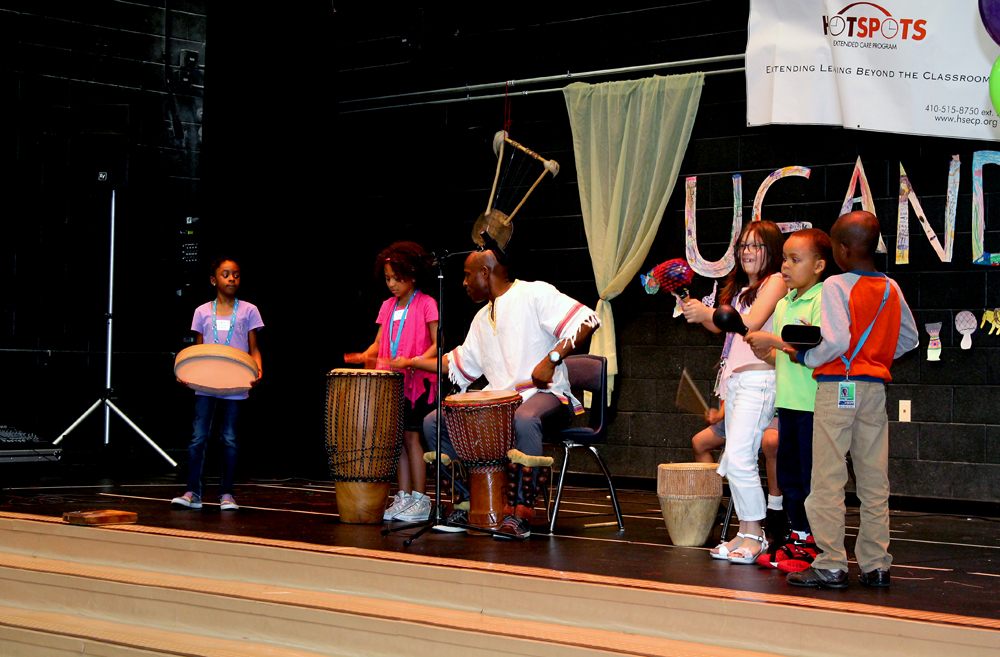 "This wasn't a 'come drop off your students at an assembly' type of day."
Teachers made sure they understood what the assembly was about and prepared questions for Ssuuna to answer. We didn't only focus on Ugandan music and dance; while grades third through fifth began the assembly watching a solo dance performance by Ssuuna and preparing questions, students K-2 sat down in small groups with Hot Spots teachers to create an Ensaasi, a Ugandan shaker. Rather than having them simply color in a pattern, Ssuuna identified forms of tribal art with cultural significance for design inspiration. From there, third through fifth-grade classes went back to the classroom and created Ugandan jewelry from different types of tribal wooden and plastic beads.
The success of this culminating day of activities reflects a desire to engage students differently with Teaching Artists. With assemblies, students are not able to stop and ask questions during a performance, and later they get forgotten. After Ssuuna had performed for 30 minutes, there was a fantastic Q & A session! Kids could ask Ssuuna anything based on what they had seen or read earlier in the day. We wanted to give them that forum, letting them express what they didn't understand. Ssuuna is such an amazing artist who can explain and relate to students not only his experience in America but his roots in Uganda. That unique connection helps reveal why his story is so relevant and compelling for students.
Another big part of this new model is encouraging not only our students, but the parents, families, and neighborhood to get involved. How do we make sure this experience can be expanded into the home? To extend our outreach, we shared photos and videos of the performance and activities in a short newsletter blast to every parent in the school. Included in the newsletter were extension activities and follow-up questions like this social media challenge:
Teach your family how to make Ugandan jewelry and take a picture of you and your family wearing it! Then, take a video of you and your family playing your shakers!
We really appreciate this unique opportunity to partner with Young Audiences. YA is a critical component of our efforts and we are excited to replicate and improve this program next year!"
 
Growing Up Green: Hip-Hop Poetry and Composting
Teaching Our Youngest Learners Environmental Citizenship Through the Arts
Part 2: Local Ecosystems
This Spring, Young Audiences wrapped up the initial phase of its pilot programming for Prince George's County Public School District's new arts integration initiative, Growing Up Green. We introduced the program in an earlier blog post, but here is a refresher for those who missed it:
The initiative is part of an exciting new partnership between Young Audiences/Arts for Learning and Prince George's County Public Schools and is funded in part by a BGE Green Grant and the Chesapeake Bay Trust. The program engages kindergarteners in meaningful and authentic outdoor experiences that help connect them to their local ecosystems and inspire them to learn more about protecting our environment. The arts provide the vehicle that the students use to demonstrate and communicate their understanding to the greater learning community of their school.
Bomani, a Young Audiences Teaching Artist, began his pilot program by using poetry to investigate the process of composting with five groups of Kindergarten classes at three different schools: John Hanson Montessori, Oxon Hill Elementary, and Benjamin Foulois Creative and Performing Arts Academy. Over 80 kindergarteners had the opportunity to literally get their hands dirty in hands-on learning while understanding everything from what type of trash can be composted to why we need to grow food. Read on to hear more about Poetry and Composting from Bomani:
"Growing Up Green was a learning experience for me. I had done residences with kindergarteners before, but never where the final project had to narrate a sequence. Usually, when I'm working with kindergarteners, we are having fun working with rhyming words, and we can make up definitions for them and write like Dr. Seuss, creating an imaginary world.
This workshop offered something new, a tangible, in-your-hands experience that's different from my usual history- or social studies-based residencies. But what is the root of this imaginary world for this particular workshop? We start with a shared experience.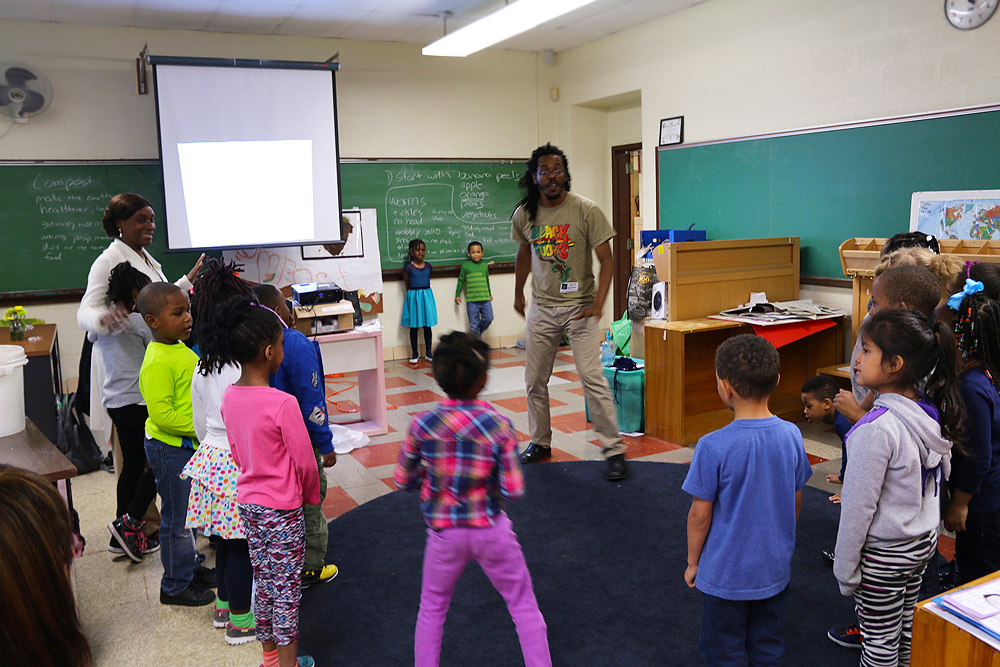 Students learn the ingredients and components to the composting process. I asked the students what they already knew, and then we would question and discuss the most important things. It doesn't really matter what the subject is, as long as kids have a shared experience to draw from, all getting to feel, touch, smell, discuss; when we start throwing out ideas, we can better interact with each other.
One of the reasons I love group creative-writing sessions is because the conversations that go on in a group setting are the same internal conversations that go on in a writer's head. Showing that process to young people in a physical way, where they are acting out how ideas are communicated — 'what about this idea, what about that idea, we should take this back, we should add that in there!' — helps them to better understand complicated topics like composting.
One student would forget one part, and another would remember and say, 'Oh you forgot the part about adding the paper!' And they would all respond 'oh yeah!' and a conversation about the process of composting would develop further, which would inevitably lead to other discussions surrounding composting, like 'Why do we need more trees? Why do we compost in the first place? Why and where do we grow food?"
The writing process began with the teachers and I adding the "odd" lines — the first line — and then students brainstormed the second line for the couplet, coming up with the rhyming components. At first, I was worried about how heavy-handed the adults in the room would need to be for it to make sense, but the students came up with some amazing things! Here's a great example:
"Put holes in the bin so the worms get air,
Holes in the bin show worms you care,
Put strips of paper and some leaves,
Paper and leaves come from trees,
Add food scraps and coffee grinds,
You just need some time
Put the top back on, they don't like sun,
Composting is very fun!"
Usually, there's one student in every class that starts off really nervous about moving their body, using their voice or raising their hand. One young lady at John Hanson Montessori was very quiet at first but over the course of the class, her teacher came up to me and said, "She's completely opened up!" With younger students, they typically have less fear than older kids, but for many of these children, English is a second language so it's sometimes hard to communicate quickly or expressively.
This one student was able to open up because I kept repeating, 'someone tell me a bad idea' or 'someone say something that's not exactly right yet, but you think it's almost there.' Giving the young lady that freedom made it easier for her to open up. She would raise her hand and say something, and I would say 'Oh! That's not quite right, but please keep trying, I love where you are going with that! Rethink that, talk to your neighbor and come back to me.' She got used to the idea of not being afraid of the wrong answer because we are all collectively looking for the right set of words.
There's a line in one of the songs where they rhymed the word "word' with "serve" as a near-rhyme. The teachers all agreed that "serve" was not the easiest to rhyme with, but when we asked the kids to vote, they picked "serve," so we went with it! I prepped the kids for this more difficult rhyme, saying 'you know, if it doesn't work out, it's okay, we can always back-track, but since you all voted on it, we'll try it out and see how it works.' I let them huddle up, and I got back a whole bunch of excellent ideas about how to use the word 'serve'! Below is the final line we used in the poem:
Composting is how we serve, and we use this rap to spread the word!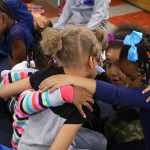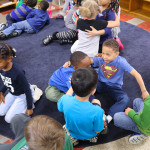 One of the side effects of this workshop, let alone the main idea of composting, is that it gets kids really excited about words and about articulating thoughts. Kindergarteners were constantly trying to find ways to tie in words to create new ideas, really stretching themselves and questioning the meaning of words.
In all honestly we probably did underestimate the ability of one 6-year-old to use 'serve' in a rhyme, but with 30 of them together all talking about it, they figured it out! Each rap came out really well!
——
Teaching Children Not to Be Afraid of Giving the Wrong Answers
Ever wondered why kids say they're bored at school, or why they stop trying when the work gets harder? In this essential video on Fixed vs. Growth mindsets, Educationalist Carol Dweck explains how the wrong kind of praise actually *harms* young people. This short video is essential viewing for everyone — from teachers and education workers to relatives and friends — which promotes GROWTH rather than "fixed" mindsets in students.
——
Help Fund This Program!
Your tax-deductible donation will help support programs like Growing Up Green.

A post from Young Audiences Executive Director, Stacie Sanders Evans
Today, we visited one of our Summer Arts and Learning Academy sites at William Pinderhughes Elementary Middle School. The first classroom we entered had this statement on the board:
Every morning at 9 a.m., a teacher, an artist and their students gather in a small "Crew" as part of Young Audiences' commitment to helping children build relationships and community with one another and their teachers.  It is called Crew because it is based on the belief that we are not just passengers on this "ship," but we are "crew" members playing a role in where we go and how we get there. Crew gives our kids and teachers an opportunity to talk, to listen, and to connect as people.
The violence happening in our city and other cities is not going unnoticed by our children.
At our Academy, we strive to give our children the tools they need to express themselves, push for what they believe in, and build the communities they envision. We believe arts integration helps continue that process.
Young Audiences is not a political organization, so it feels inappropriate for me to make statements on behalf of Young Audiences about our City's and nation's current struggles. However, I will say this:
We are committed to creating safe places for children to reflect, to express themselves, to learn and to grow as people (artistically, academically, socially, and emotionally) through the arts.
Our Academy artists and their teacher partners are providing safe and nurturing places for some of our most vulnerable children to imagine, to create and to realize their full potential.
The posts we have been sharing on Facebook about our work have been inspiring others to reach out with words of encouragement. From one commenter:
"In a time when our society seems to be crumbling before our eyes, the hope and joy created by YA cannot be overstated.  Everyone at Young Audiences should be incredibly proud of being beacons of light to so many children in our community."
There are so many ways that you can be more than a passenger in this city — you can be a part of a "crew" to provide transformative learning opportunities for our young people.
If you would like to learn more about our Summer Arts and Learning Academies, the artists involved, or where the academies are located, please contact Lisa Fritsch at [email protected] or register to attend a one-hour tour of our offices and mission (what we call our On the Bright Side Tour) this Thursday, July 21 at 5:30 p.m.
______
Young Audiences' Summer Arts and Learning Academy is funded by Baltimore City Public Schools, The Abell Foundation, The Family League of Baltimore with the support of the Mayor and the City Council of Baltimore, The Alvin and Fanny B. Thalheimer Foundation and individual contributions to Young Audiences. All participants are students at a Title I Baltimore City Public School.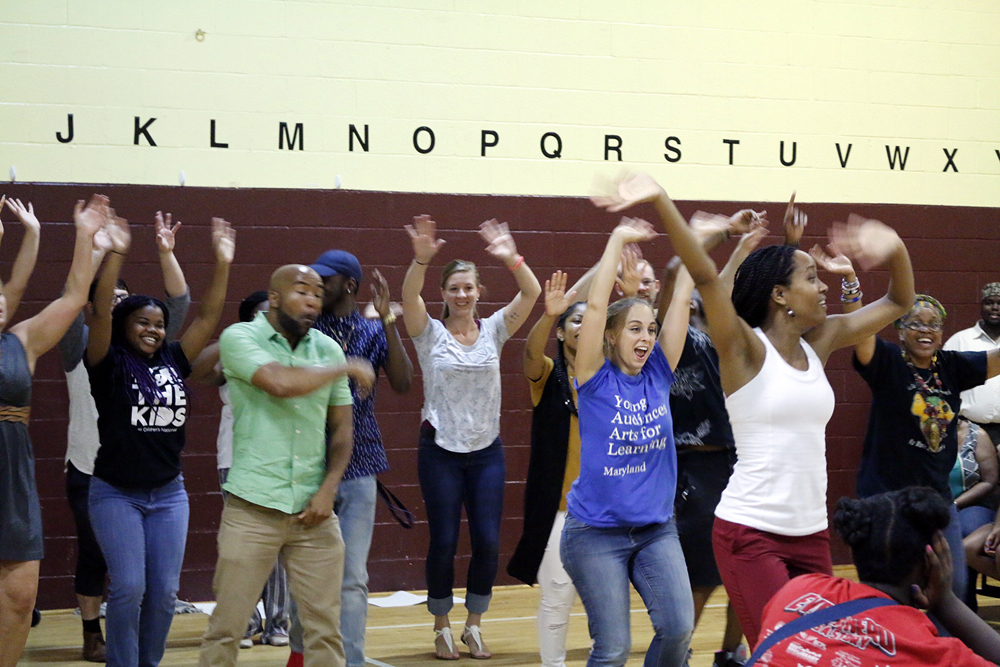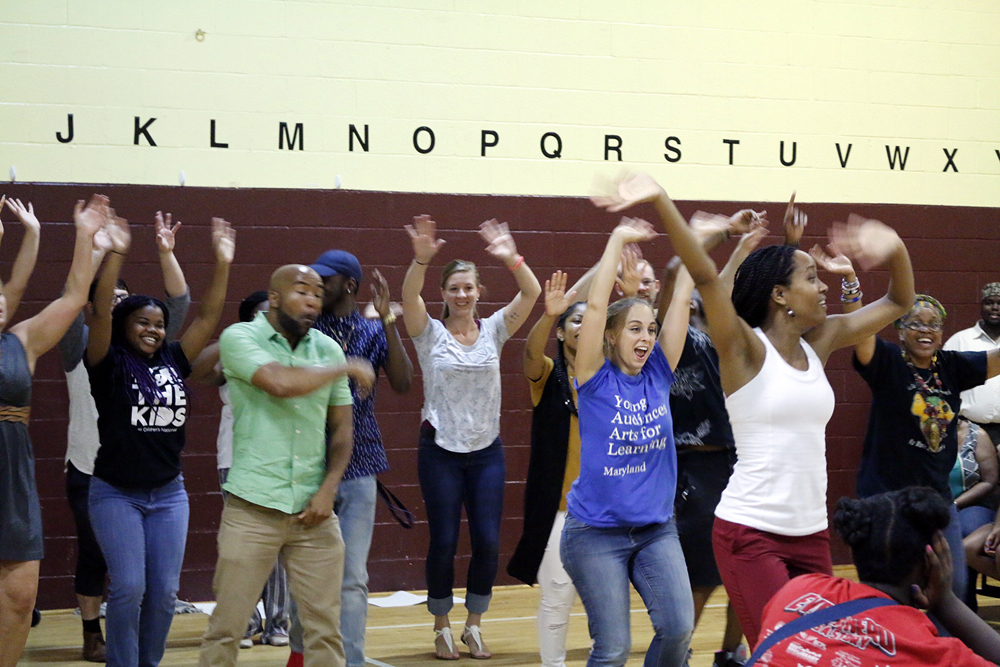 This morning, we kicked off our expanded Summer Arts and Learning Academy – a free, five week program immersing 900 City students in a variety of art forms taught by 36 locally-based professional artists. The full-day program welcomes students grades K-5, encouraging imagination, creation and expression through the arts, such as painting, songwriting, spoken word poetry, dance, piano, singing, visual art, sound production, playwriting, fiber art, and filmmaking.
Our kickoff this morning was a blast – welcoming students and their parents to the Academy's four sites with high-energy performances, live music, and vibrant interactive art demonstrations – giving them a preview of the truly unique and empowering experiences to come throughout the next five weeks.
Due to last year's success; with academic gains by students drawing from 93 different city schools—the district asked us to expand the Academy to four sites: Thomas Jefferson Elementary, William Pinderhughes Elementary, Gardenville Elementary and Fort Worthington Elementary.
Working with kids as they discover passions, refine creative processes and integrate arts in their everyday learning is an inspirational experience we and our Teaching Artists look forward to every year. We spoke with a few participating Teaching Artists about their plans and why the Summer Arts Academy is such a great opportunity for students and artists:
Scott Paynter, reggae singer:
I wanted to teach at this year's Summer Arts and Learning Academy to gain more experience working with Baltimore's greatest resource…it's children. My art form helps students express themselves through lyrics, it introduces them to cultures and people they've never encountered before, and it brings life to a classroom environment. Music is like a force of nature. It's everywhere you are if you pay attention."
Bridget Cavaiola, Baltimore Improv Group:
This is such a unique experience to provide our students with collaborative and engaging arts experiences that they may not get to during the school year. The mood and energy are contagious as you get to watch the students engage themselves in something in which they have passion."
Alden Phelps, musician:
My focus has always been on playing with words and the joy of language. Language is the foundation of how we communicate and function as human beings. Students who practice manipulating language, expanding their vocabulary, using rhymes, and counting syllables will better succeed in their regular academic work. Creative thinking opens up new pathways in our brains. There's also a wonderful freedom when a student can express an idea creatively. They synthesize their academic knowledge with skill in the arts, such as using color or figurative language, and the result is far more engaging to them."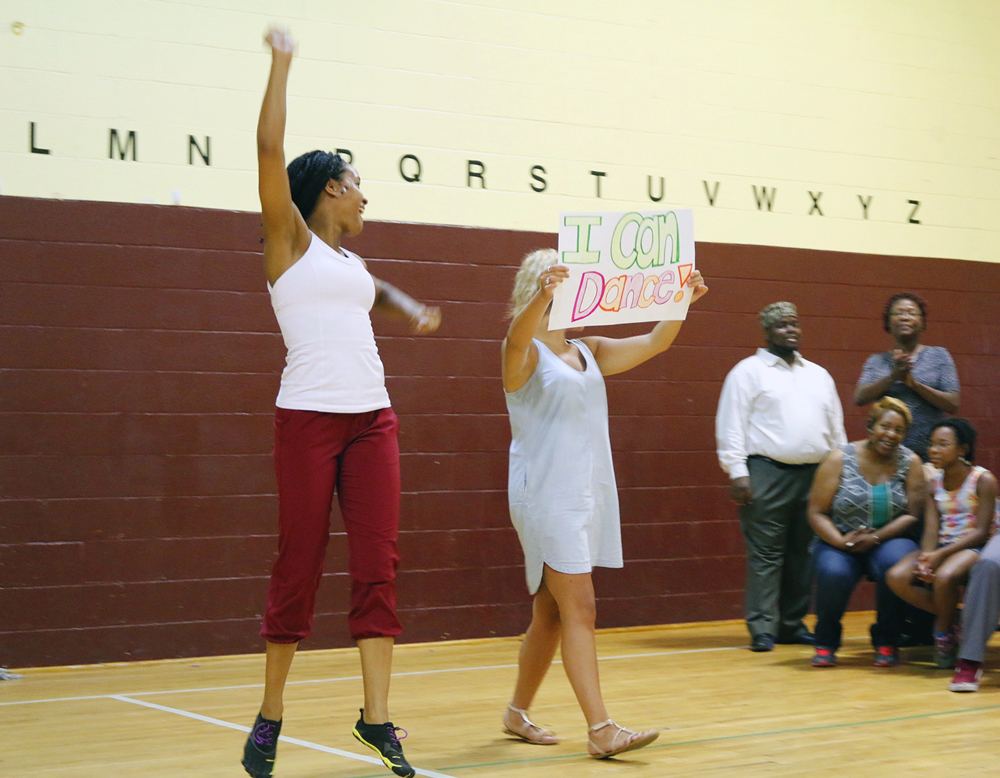 Students will imagine, create and express themselves through the arts, with a chance to concentrate on two art forms. The students even show-off their talents at Artscape, at pop-up performances in mobile art galleries around the city and at the August 5 final culminating event. We can't wait to see the students perform!
After this morning's successful kick-off event, led by teaching artists Valerie Branch and Sean Roberts, at William Pinderhughes Elementary, one parent said:
"I am just so excited to get to see my child perform soon. Seeing what the [teachers and artists] did just now, I know they are in trusted hands. It made me look at my daughter and think yes! This is going to be different, we are so excited! She LOVES art! I can't wait for the workshops too!"
Kicking off YA's Summer Arts Academy at #TJEMS with Femi the Drifish @BaltCitySchools #yamdsummer #SummerLearning pic.twitter.com/C8HwIkJ6MS

— Young Audiences MD (@arts4learning) July 5, 2016
Young Audiences' Summer Arts and Learning Academy is funded by Baltimore City Public Schools, The Abell Foundation, The Family League of Baltimore with the support of the Mayor and the City Council of Baltimore, The Alvin and Fanny B. Thalheimer Foundation and individual contributions to Young Audiences. All participants are students at a Title I Baltimore City Public School.
Categorized:

News

Tagged:

Alden Phelps, arts integration, Baltimore City, Baltimore City Public Schools, Baltimore Improv Group, ceramic art, creative learning, dance, Femi the Drifish, fiber art, filmmaking, Hip Hop, movement, Music, painting, percussion, Piano, playwriting, poetry, singing, songwriting, sound production, spoken word poetry, STEAM, Summer Arts Academy, Summer Arts and Learning Academy, summer learning, summer learning loss, summer learning slide, teaching artists, theatre, Valerie Branch, visual art