Articles by Month:
December 2015
by Ken'Niya Baltimore, Young Audiences Summer Arts Academy student
My name is Ken'Niya Baltimore. I am 13 years old and in the 8th grade at Henderson Hopkins. During the summer, my mother told me that I was accepted into Young Audiences' Summer Arts Academy. My face was puzzled because I had no idea I was even signed up. But after I started to learn more about the program, I could not wait for it to start. Before it started, I would take my 5-year-old sister to school and come home. My father was at work, my mother was in school, so I was at home alone, watching TV, bored out of my life.
Before I started the program I did not know there were celebrities here in Baltimore that should be in Hollywood with Taraji P. Henson or Beyoncé — artists like Femi the DriFish or Black Root. These were my teachers!
When I first arrived at the Academy I did not want to talk out a lot or share any ideas that I had in groups. I took poetry, theatre, and hip hop dance.  In my hip hop dance class, I had to dance differently in front of the class which I was not comfortable.  I had to realize that I need to get myself together and be more confident.  Confident.  That word helped me out a lot.  In all the classes I took I had that word in my mind — I kept telling myself that I can do it. I can do it just keep going. In dance class, I told myself I cannot do it, but I knew that, in life, I will always have to try something new so I danced a solo at the Academy's final performance!
My poetry class was my favorite. Femi the DriFish was my favorite teacher because he helped me a lot through my writing by giving me examples and showing me his awesome poems. The most challenging and rewarding thing I did in the Academy was my poem "I am Baltimore." It was emotional because of what was going on my city. I wanted to quit and switch classes but I realized I was the oldest in the class and the younger kids were having the same problem. So I told myself if you quit, they will too. So I pushed myself and everyone else, and made sure we were organized and ready to perform.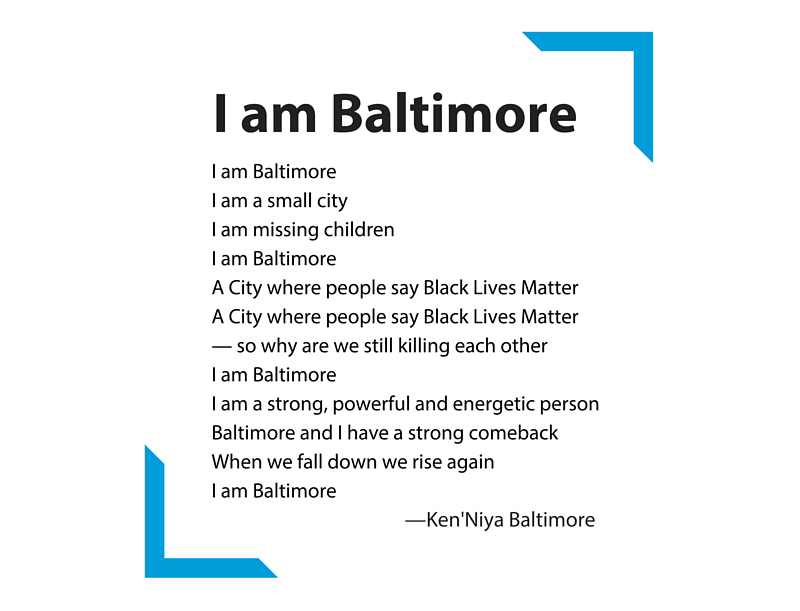 I performed that poem at Artscape.
When the program ended I did not want to leave. I wanted to cry and stay longer. I asked the teachers, "Can I come back next year and help as a youth worker?" I already knew that wasn't an option because I would be in the 9th grade and too old for the program, but I told my parents I would find a way to get back there. This experience has impacted my life so much. I now feel great about speaking to a crowd. I feel confident about my tomorrow. I am going to attend City College or Baltimore School for the Arts. I am going to be an actress, writer, producer, and lawyer…and maybe in my spare time a singer.
I hope many kids have the same experience I did at the Summer Arts Academy; it will change their lives too.
by Stacie Sanders Evans, Young Audiences/Arts for Learning Executive Director
I was reminded of my friend Deborah Bedwell, the former executive director of Baltimore Clayworks, this week when I visited my daughter Virginia's classroom to observe a workshop led by Tori Bertocci of Synetic Theater. Deborah wrote an article back in 2001 called "Measuring Joy," which detailed her journey of trying to arrive at measurable outcomes in her work while remaining true to the spirit of her organization or, as Deb put it, "not lying" to the funders who were increasingly asking to quantify the impact of Baltimore Clayworks on humanity. Deb decided the best course of action was to come up with a way to measure the joy created by touching clay. I was new to Maryland and to Young Audiences when I came across this article.
"How rebellious!" I thought and I went on my way and on my own journey of trying to establish a connection between our work and academic outcomes. Deb's evaluation tool and the article that accompanied it, has stuck with me for more than a decade—through No Child Left Behind, the adoption of the Common Core and new standardized assessments and teacher evaluations. When it came time to select a school for my own child, I ignored test results and walked through many school hallways and sat in many classrooms…simply looking for joy.
The second graders at Virginia's school are currently studying fairytales so we thought it would be a good time to bring in the Washington, D.C.-based group Synetic Theater for a classroom workshop. Synetic Theater specializes in physical theater, blending elements of gymnastics, dance, improvisation, mime, and acting. Through teaching the four elements—body, emotion, focus, and imagination—they brought different interpretations of the classic fairytale "Cinderella" to life.
"They are SO happy!" Virginia's teacher said to me. "Even the kids who aren't happy are happy." I looked at my daughter's amazing teacher, and while she is always happy, and beloved by her students and their parents, she was especially happy that morning relishing the joy she saw on her students' faces. At that moment I wished I had Deb's observation tool with me because the joy in that classroom was off the charts.
While I believe, and research shows, that the arts positively impact student achievement, I understand that part of the secret sauce of learning in or through the arts is the simple joy that it creates. The joy these students experience give teachers and parents that same feeling of joy when witnessing this act, and this in turn creates a joyful learning environment. It is in this environment that kids and adults alike are more likely to look beyond any constraints and envision—and act on—something better for themselves and each other.
Richard Deasy, the founding director of Arts Education Partnership, has told me many times, "You can't make a learner learn. It is the decision of the learner." What Young Audiences teaching artists and teacher partners do is offer approaches in which the student wants to learn. We saw that in Virginia's class of 26 students who were opting into learning at that moment because of the joy derived from physical theater.
Let's imagine something better for our children in public education –something better but something also very basic — joyful learning environments — where kids, parents, and teachers are eager to engage. YA aims to do this every year through its mission. Won't you join us in the cause?
———————————————-


The Teaching Artist Institute (TAI) has developed two new three-hour professional development workshops designed for both new and established artists and teaching artists.
The winter 2016 workshop will be led by TAI Co-facilitator (TAICO) Laura Zam and focuses on helping teaching artists navigate the Common Core. The spring 2016 workshop, led TAI Co-facilitator (TAICO) Valerie Branch, will give artists the tools to keep art in the classroom by improving teacher-student relationships and classroom management.
February 10: Making the Common Core Friendly, Meaningful and Fun
At the heart of a teaching artist's practice is a personal relationship to the art itself. And yet, this often feels compromised as they conform to schools, standards, and testing. Can school-based work be more artistically satisfying—not just for students, but for the teaching artist? On February 10, 2016, TAI Co-facilitator Laura Zam aims to answer this question during Making the Common Core Friendly, Meaningful and Fun, a workshop designed for new and established teaching artists. Laura will break down the Common Core—making it much easier to master—and help teaching artists connect this content to the deepest levels of their artistry.
May 16: Classroom 101: Breaking Down Your Art Form
On May 16, 2016, TAI Co-facilitator Valerie Branch will guide artists through the elements within their respective art form and demonstrate how art can improve classroom management and teacher-to-student relationships. In Classroom 101: Breaking Down Your Art Form, artist participants will learn how to break down their art form into simple, yet powerful strategies that allow the flexibility to work with students and teachers of varying abilities. Artists will leave with the tools for keeping art in the classroom—and have their teacher-partners embrace it!  
– – – – – – – – – – – – – – – – – – – – – – – – – – – – – – – – – – – – – – – – – –
Both workshops are limited to 20 participants. The cost to attend each workshop is $25 for non-YA artists and free for YA roster artists. Tickets are available on a first-come, first-served basis. Registration is required.
Get Tickets:
Making the Common Core Friendly, Meaningful and Fun
When: Wednesday, February 10, 2016 from 12:00 PM to 3:00 PM
Where: The Dream House – 1430 Carswell St, Baltimore, MD 21218
Classroom 101: Breaking Down Your Art Form
When: Monday, May 16, 2016 from 12:00 PM to 3:00 PM
Where: The Dream House – 1430 Carswell St, Baltimore, MD 21218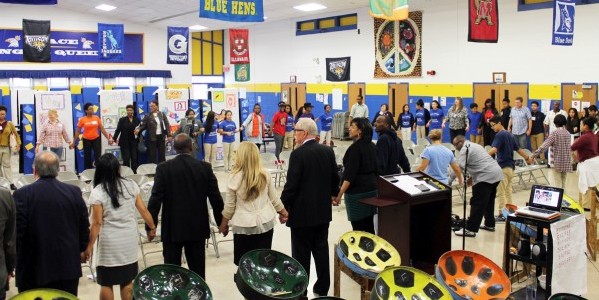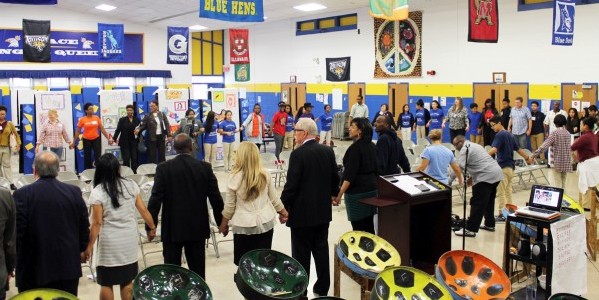 By JOHNATHON CLINKSCALES, Originally published on www.somdnews.com

In an effort to expand teaching opportunities and transform the lives of all students through the arts, Young Audiences/Arts for Learning of Maryland and Prince George's County Public Schools celebrated the launch of a new arts integration partnership on Nov. 17 during a kick-off performance at Oxon Hill Middle School in Fort Washington.
"The arts represent the ability to teach children, help children be imaginative, innovative [and] creative and I think we need that," PGCPS Chief Executive Officer Kevin Maxwell said. "[It's about] engaging the whole child and having kids able to do more than just left brain functions of memorizing and computing, [which is really important in bringing out their] creative and innovative sides."
John Ceschini, an arts integration officer for PGCPS, said the arts integration pilot program is currently offered at 41 schools in the county. Oxon Hill Middle was chosen because it reinforces education in a different way by integrating arts with the science, technology, engineering and mathematics disciplines.
"Oxon Hill [Middle] is STEAM school, which is STEM across the arts," he said. "They do a lot with the integration of science, technology, engineering and math with the arts."
For Ceschini, he supports the research related to student participation and academic achievement.
"There's a lot of research that says that the arts impact learning, improves student retention and also increases student engagement," he said. "So why wouldn't we bring something like that [which] can contribute to student achievement."
As the nation's largest arts-in-education network commemorating 65 years of service, Young Audiences of Maryland ensures all students are given the best circumstances for learning by working in partnership with schools and school districts to provide arts integration professional development for educators, according to the YA website.
"We envisioned a day in Prince George's County where every student has the opportunity to imagine, to create and to realize their full potential through the arts," said YA Executive Director Stacie Evans. "We believe that artists can be catalysts in our schools. Through their art form, they can develop new approaches to teaching the curriculum. They inspire children and they help reach some of our struggling learners. It's because the arts and the self-expression and the creativity required of the arts brings meaning to learning."
YA's Chief Innovation Officer and Education Director Pat Cruz said she is impressed with the work that PGCPS had done to restore arts education in the classroom.
"It is an honor to serve such dedicated and hard working educators who, despite all the challenges they have, are truly going above and beyond to provide their students with the best learning experience as possible," she said. "We've tried to support that work in four ways in Prince George's County. First, it's … by providing quality cultural arts programs that are connected to the curriculum and provide grant writing assistance to bring them into the schools. … Second, we're working with John Ceschini's office to provide professional development and expertise to the new arts integration schools. … Third, in partnership with New York City's American Place Theatre, we're proud to present the Literature to Life theatre experience … to discuss issues of society such as racism and inequality."
As a result of YA's efforts, Evans said more PGCPS students have benefited from the arts integration program.
"Young Audience's mission is to transform the lives and education of youth through the arts," she said. "We're very committed to reaching out to children across the state and in fact, we've reached children in every single county and impacted the education of 182,000 students."
Evans also said YA will expand its outreach thanks to Maxwell's dedication to the arts.
"This year, we're going to increase our reach by nearly 5,000 students [compared to] the year before," Evans said. "It's really because Dr. Maxwell is committed to the arts and he's creating opportunities for us to try and integrate the arts across the curriculum."
For Oxon Hill Middle School Principal Wendell Coleman, the arts integration program promotes the school's motto of PEACE — positive energy activates constant elevation.
"The partnership with Young Audiences has been a critical opportunity for our kings and queens," Coleman said. "Arts integration is a big part of our school … [and exposes them] to the beauty of the arts and what it can mean for them for a lifetime. … It's so fulfilling to come to work every single day with [a] great dedicated group of educators. Nothing happens without solid teaching, nothing. We value our teachers as much as possible."
Originally published on www.somdnews.com
Do you have a favorite childhood arts experience? Do you believe the arts should be a part of every child's education?
Consider #GivingTuesday as an opportunity to support Young Audiences/Arts for Learning as a way to provide thousands of Maryland students—from Pre-K to 12th Grade—with inspiring, engaging, and transformational arts experiences.
Young Audiences' roster of more than 100 professional teaching artists provides thousands of arts learning experiences to more than 450 schools and community organizations in every corner of Maryland, reaching over 180,000 students.

Support Young Audiences of Maryland with your tax-deductible donation.
Your support of Young Audiences ensures that we can: 
Bring the arts into schools all year long by partnering with dozens of professional artists who live in our very own communities, whether they are musicians, dancers, actors, playwrights, poets, or potters, and giving them the opportunity to do what they do best—perform, create, and inspire.
Reach schools in rural counties and urban areas, and schools that serve students with special needs by creating access to the arts and lowering financial barriers.
Train artists by helping them understand how to use their art as a tool to teach children of all abilities and how to work in different settings—from preschool to high school, in school or after-school.
Train teachers of all subject areas to use the arts as a way to engage students in the learning process and reach different kinds of learners with proven arts integration techniques.
Learn more>> What Your Gift Supports
Consider Joining the Solstice Club
Join the Solstice Club as a Monthly Donor
Through monthly donations, the Solstice Club provides Young Audiences with a consistent and reliable source of funding that allows us to plan ahead—bringing light all twelve months of the year.
When you join the Solstice Club, you will join a special group of people who provide a monthly donation—of $10 or more—to support arts programs for students and professional development for teachers.