Articles by Month:
January 2015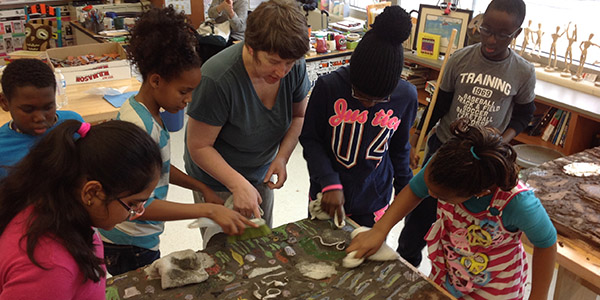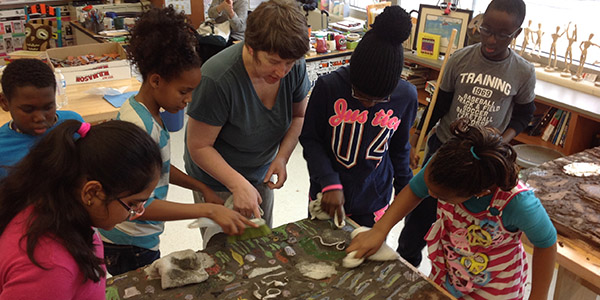 By Lori Mellendick, fifth-grade art teacher at Ducketts Lane Elementary
This December, my fifth-grade students gathered around a table functioning as young archaeologists, researchers, and artists. Their collaborative clay mural sat before them covered in grout waiting to be exposed. As my students began to buff the dried grout away, the ceramic animals they sculpted and arranged in the mural earlier in the fall began to pop through. My class had been working toward this moment since Young Audiences visual artist Amanda Pellerin first arrived as our artist-in-residence in October.
The massive four-by-eight-foot panels of the mural took up the entire floor. I didn't realize how busy my classroom could be as we built something so large. Slowly, a vast food web stretched across the mural revealing the entire habitat network of the Chesapeake Bay.
On this final culminating day, my students experienced what we like to call their "Aha!" moment. They took a step back and discovered harmony behind their mural as a collaboration. The looks on their faces expressed the "now we get it" type of feeling. They ended by celebrating each other by giving and receiving compliments of their work. The positive energy in the room was out of control!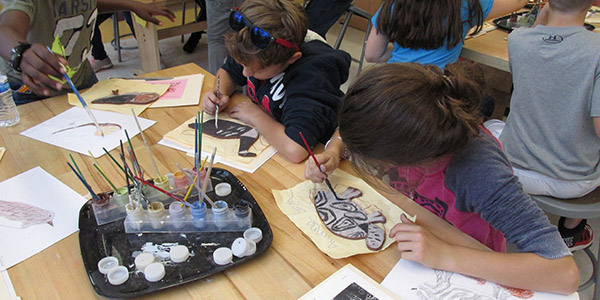 In October, my students had spent five days conducting research of Maryland animals surrounding the Chesapeake Bay as a theme. They built an understanding of how these animals survive depending on their diets. The students also investigated the Chesapeake's surrounding habitat by studying the water cycles, plants, and local natural resources. In order to display these facts on a visual web, the students had to be imaginative. This is where Amanda's expertise came in. Amanda guided students through the necessary steps to creatively assemble this piece of work.
There were times when kids pondered whether or not they should take an artistic risk by making verbal decisions in front of a group. When energy subsided, some surprising moments occurred when a few particularly shy students stepped up to the plate and made executive decisions for the group. It was a wonderful chance for students to express creativity in ways that they didn't expect to, especially within the subject of science.
I wanted to find a meaningful residency that would integrate the arts into the subject of science. I knew that this was the perfect opportunity to find a project that could cover environmental research in a creative way. Knowing Amanda's experience as a Young Audiences roster artist, I knew that the kids would get a lot out of the program.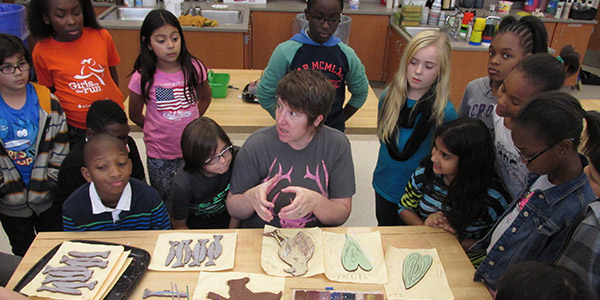 It was important to bring in an outside artist because it gave some of our teachers an understanding of how the artistic process works. Teaching children artistic behaviors is important because it demonstrates tasks such as researching, modifying, and executing that energy into a product. It doesn't work like a magic trick where *poof*, a beautiful piece of artwork suddenly appears. It takes work. It's similar to the scientific process. You formulate a hypothesis, test your theories, and then provide a conclusion statement in the end. In this case, our conclusion was a mural that demonstrated a deeper understanding of the Chesapeake Bay.
Using a tactile form such as clay, gave students a substantial gift in the end. Since these fifth graders will be going onto middle school very soon, I wanted to give them an opportunity to leave their mark upon the school. In April, there will be an unveiling of the mural in a reserved space across from a beautiful fountain. Strong light filters into this area which will give the mural the perfect spotlight that it deserves. We can't wait to put it up!
When you are studying something across the board of a curriculum, it resonates with children. It hits on so many different content levels. These experiences give so much more meaning to the students than you would expect. I immediately go back to my own experiences and remember the impact that resident artists had upon me in school. I wanted to give my students that same opportunity.
Learn more about Amanda and her programs for schools at yamd.org.
In July 2014, Young Audiences adopted its new five-year strategic plan, "Transforming the Lives and Education of Our Youth." In the coming weeks, we will profile our four strategic directions and our exciting plans related to each. To kick off this series, Stacie Sanders Evans, Young Audiences executive director, wrote about how the plan was created and the exciting work that is to come.
More than 300 volunteers contributed to Young Audiences' strategic planning process, spanning May 2013 to July 2014, to build an ambitious new strategic plan that sets the organization's course for the next five years to significantly grow its reach–ultimately impacting the education of 50,000 more young people across this state every year.
During the development of the plan, Young Audiences worked with two consultants to conduct an external and internal review of the organization; more than 50 board members, staff members, artists, teachers, organizational funders, and school administrators gathered for a day-long strategic planning retreat; and smaller working groups composed of artists and educators spent two months exploring six strategic areas that came out of the retreat's discussions and developed goals for the plan. It was an honor to co-lead this work with Bill Buckner, chair of the Strategic Planning Committee and Young Audiences' immediate past board president. Our new plan was adopted by our board in July 2014 and since then our staff and board have been laying the foundation necessary to take on the challenges laid out in our plan.
Some of you may not be aware that Young Audiences is the nation's largest arts education network and it began in Baltimore in 1950. During our 64-year history, the Maryland affiliate of Young Audiences has continually expanded its services to Maryland students, teachers, and artists to give more students the opportunity to experience and learn through the arts. We are proud of our rich history and roots as an organization focused on exposing young people to the arts. Yet, we are increasingly excited by our evolving role as an education organization that is transforming the lives and education of young people by building communities of educators, professional artists, and parents and enabling them to help our children realize their full potential through the arts.
The Next Five Years
Our vision remains the same as it did five years ago: "One day, every student in Maryland will have the opportunity to imagine, to create, and to realize their full potential through the arts." Our mission also remains unchanged: "To transform the lives and education of youth through the arts by connecting educators, professional artists, and communities."
What has changed is that now, more than any other time in our history, Young Audiences is poised to realize this vision and achieve this mission for all Maryland children.
During the next five years we plan to significantly increase Young Audiences' transformative impact on students and on education, and to accomplish this by:
Expanding our school district arts integration partnerships
Investing in and growing our teaching artist community
Building and sharing evidence of our impact
Strengthening and expanding our programs
Through a series of blog posts, I will dive deeper into each aspect of this plan and share updates on our progress. I welcome your feedback and participation in our work.
We are excited about the power of the arts to improve educational and life outcomes for students, and we are proud of our plans and the community we are building to leverage the arts to have the greatest impact possible on our students. We hope you will join us in this work!
– Stacie Sanders Evans, Young Audiences Executive Director
You can read the full plan at yamd.org.
To learn more Young Audiences' mission and our work, we invite you to join us at one of our upcoming On the Bright Side Tours. Learn more and sign up online.
In our January smART Tip, Young Audiences musician and percussionist Steve Cyphers shows how you can easily and inexpensively create bucket drums for your students with materials found at your local hardware store. Get started by pressing play below.
[youtube http://youtu.be/rWIGPp_NTOs?list=PLUssR-3GtBZfiKXpU72zQAkgXh3wBcBzQ]
smART Tips is a monthly video series sharing tips for educators who are interested in new, creative ways to use the arts in their classroom with students. See all smART Tips to date here. Interested in a specific topic? Let us know!
Young Audiences' roster of artists continues to grow to encompass new artists, ensembles, and art forms, from slam poets to improvisers to Capoeira masters.
We'll be regularly posting interviews with our artists, giving them a chance to share more about themselves and their experiences bringing their Young Audiences programs to schools. We recently sat down with Dianna Cuatto of Ballet Theatre of Maryland.
How did you first hear about Young Audiences?
My predecessor joined Young Audiences before I came to Ballet Theatre of Maryland 12 years ago, and it was my first experience with the organization. Other dance companies that I worked with hadn't done anything like it, so I did my research and found that I really liked Young Audiences' mission statement and philosophy. When I completed my first Teaching Artist Institute (TAI) seminar, I found it very helpful for connecting education with art to help students better their lives.
What has been the most memorable part of the programs you've brought to students with Young Audiences?
Seeing the impact the arts can have on so many lives is the most memorable part. When we go out to schools, we see how it touches the lives of the students we are able to either perform for or work with during an arts-integrated artist-in-residence program. We have learned so much from Young Audiences and have gained tools that we use in our other educational program offerings, too.
There are a lot of students who have never had exposure to ballet. Do you find that bringing classical ballet to schools can be a unique opportunity for students?
Absolutely. Whenever I ask a school what they hope the students will get out of a program, they want their students to have that exposure to a real ballet. One thing that Ballet Theatre of Maryland does that's different from other ballet companies I've been a part of is that we actually bring a real ballet to the students so they can have that experience. It's very rewarding and our dancers enjoy doing it. The students express how much they love it. Some students may never have known that they enjoy ballet if they hadn't been exposed to it during one of our programs at their school.
How does your art form connect students to what they are learning in school?
We do a lot of literary and historical pieces. For example, our assembly "Pirates of the Chesapeake" is based on pirate history. We also have an assembly, "A Midsummer Night's Dream," and other programs that may relate to what they are studying in school. There is also the production of excerpts from "Excalibur" which we call the "Medieval Festival." We mirrored it after a mini-Renaissance festival so students get experience with coats of arms and other material they learn about from that time period through dance.
How do the lessons and skills you teach students through your art form apply to their everyday lives outside of the classroom?
It seems that everything we do relates to their everyday lives. Our most popular assembly, "An American Journey through Dance," teaches students about the many different cultures in our country. They are able to experience aspects of those different cultures through dance. There is something about the emotions and passions through the expression of dance that provides tools to understand each other, which is a very powerful thing for all of us. There is a culture embedded in all of the art that we do, and it is our place to pass it on.
What is the most rewarding aspect of being a Young Audiences roster artist?
One aspect would be the opportunity to see what other colleagues are doing, and how they are using the arts to impact children. Just being a part of the roster and being involved with different schools to see what children are able to gain through our programs is so rewarding. When you put all of the roster artists together, it creates a great tapestry of wonderful things students are able to experience in all of our different areas.
Why do you believe dance specifically–or the arts in general–is important for every student to have access to?
Our motto is: "Dance is a language more powerful than words." No matter what language children speak, they can understand what you're saying through dance. This is true for many art forms. We can communicate and break down barriers through that powerful language. It's not just that studies show how art impacts students and helps them learn, it's that we know the arts engage students in all of the senses, allowing them to experience it first-hand so they learn more intensely. When something engages all of your senses, it is easier to remember and apply it to other areas or circumstances. Art provides all of the learning tools that different children need because they learn in different ways.
Learn more about Ballet Theatre of Maryland's offerings through Young Audiences.
Keep an eye out for more artist interviews! See all artist interviews to-date here.