Articles by Month:
October 2014
Young Audiences has launched smART Tips, a monthly video series sharing tips for educators who are interested in new, creative ways to use the arts in their classroom with students. Each month, we bring you a new video tip from a Young Audiences roster artist, ensemble, or teacher partner to demonstrate a short activity or a resource to make it easy to incorporate the arts into learning for students.
Check out our first smART Tip, from Young Audiences ensemble Baltimore Improv Group!
[youtube https://www.youtube.com/watch?v=mpkSC6SZKtA]
Be sure to check back for more smART Tips in the coming weeks. Interested in a specific topic? Let us know!
By Kwame Opare, High Point High School Dance Teacher and Young Audiences teaching artist
I have had the privilege to work with a diverse group of learners in the Prince George's County school system so far this school year. As ​a​ dance teacher for all grades at High Point High School, I have been faced with a challenge not yet experienced throughout my years of bringing my craft to the classroom as a teaching artist. High Point's population is largely immigrant and first-generation American young people and English is often not the first language (or even second language in some cases) for many of my students. This has compelled me to modify, and even synthesize new instructional methods, to ensure the transfer of knowledge.
What I've noticed in this short but meaningful time is that no matter where you are on Earth, young people want to learn, they crave information. They will test you as the adult to see if you really care whether or not they get it, or if they even show up. I care, and in this short time, I believe that I have convinced my students of this. Now that I "got 'em," the onus is on me to make sure they know that they have the right to learn and that they must take the process of learning into their own hands. Creating an environment where students feel confident and enabled to take ownership of their learning is essential to their growth as students and beyond. We as educators must only provide a framework of knowledge and wisdom that comes from study and experience in a safe environment so that the true capacity for brilliance can be nurtured in our young people.
What do the arts have to do with all of this? After all, it's just dance. Through dance, I have seen the strengths and weaknesses of my students and have used them both to fortify my instructional methods. The brilliance of all my students is evident, but is often locked away beneath external and internal distractions​, ​such as s​elf-doubt​, embarrassment, worries about​ what peers w​ill think, ​or ​problems at home. Through dance, we can successfully weed through these distractions. Some of my students at High Point tell me their stories and in response I just ask them to please keep coming to class because they are a part of something now. Their growth from the first day of class to today has been a joy to observe and I feel so fortunate to bear witness.
At first they came in scared, terrified, some not knowing the English language, and nearly none of them knowing the language of dance. Though the proficiency levels vary, the feelings of frustration from the challenge is shared. Yet, we are starting to build a community of support and understanding with confident souls that know they CAN! Some of those who stood in the back of the class at first are finding their way to the front and are becoming leaders, helping others and welcoming newcomers.
In dance, the process often begins with what I refer to as the ugly duckling syndrome. "Feeling 'stupid' and looking 'stupid' is OK," I tell my students. I remind them that we all looked "stupid" when we were learning to walk as babies but the alternative was to never run and we wouldn't have that! The process is what makes art making so fulfilling and ultimately what makes a teaching artist so effective. Artists know and respect the strength of the process because we are immersed in it daily. Effectively bringing the idea of process into the classroom has a positive and lasting impact on students.
It is through these processes that students are engaged where they may otherwise be distracted or lack interest. The process instills in young people the ability to effectively gather resources, question, problem-solve, and persevere to see something through to the end, whatever challenges they may face in academy and beyond.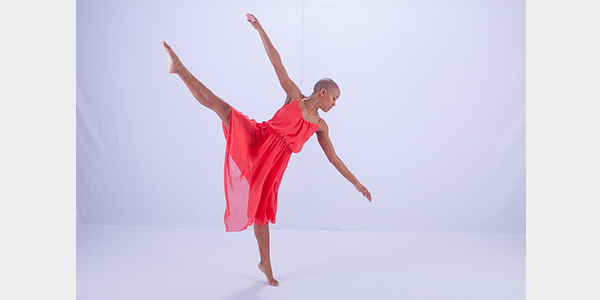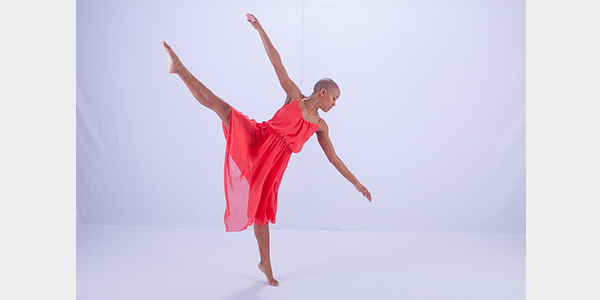 During the last two years, our roster has grown in size to encompass new artists, ensembles, and art forms. From slam poets to improvisers to Capoeira masters, these new artists are undeniably unique.
To introduce audiences to our new artists, we'll be posting interviews with those who recently joined our roster, giving them a chance to share more about themselves and their experiences with Young Audiences so far.
What is your background as an artist?
I graduated from University of Maryland College Park (UMCP) with a Bachelor of Arts degree in Dance. Since graduation, I have been at the forefront and background of different dance organizations and have traveled around the world as a result of my passion for dance.
The first company I danced with was Lesole's Dance Project, a traditional South African dance company where I was able to hone in on my leadership, creativity, organizational skills, and learn and appreciate a new form of dance. I served as rehearsal director, administrative and fundraising support staff and learned how to make a dance company successful. The Director and I worked together to create and organize an edu-dance program for young students in South Africa, which we were successful in implementing two years in a row.
In 2011, I was invited to Copenhagen, Denmark as a visiting artist to explore the country's culture and art. As a result, REVISION dance collaborative (a company in which I co-directed its first season) had the opportunity to perform in and be part of the Kids Euro Festival where we performed in locations throughout Washington, DC.
How did you hear about Young Audiences?
I heard about Young Audiences through Laura Schandelmeir, who had partnered with Young Audiences through the Maryland Wolf Trap program as a teaching artist. Laura was one of my professors at UMCP and is a wonderful dance educator, and someone whom I have had the opportunity to be inspired by.
You recently completed the Teaching Artist Institute (TAI) Seminar this spring. What was your favorite part of the program? How has that experience changed your approach to a program or your teaching practices?
Saying that I loved the TAI program is an understatement. Though I have been working with students within and outside of the classroom for years, I felt that this program truly changed the way I think about and approach my lessons, teachers, and students. I really appreciated Karen Bernstein, the dance facilitator on staff. Karen truly guided and provided me with advice so I could grow. I felt that Karen was the true support that I needed. She gave me feedback when I needed it; let me struggle in order to figure out what I needed to do; and was there when I needed encouragement. So often in programs like this, artists just receive a generalization of arts education/arts integration and then have to figure out: "What should I do with my art form and where do I start?" It was helpful to receive a plethora of examples from different artists. I enjoyed that the staff was fun and made the experience fun.
What made you decide to become a YA roster artist?
I initially joined Young Audiences as a Maryland Wolf Trap Teaching Artist serving preschool classrooms. In my first year on the Young Audiences roster, my opportunities have grown tremendously to reach older students and I am appreciative of that. Being part of the Young Audiences organization, I truly feel like I am growing and developing as an artist–where I am right now in my career is exactly where I want to be. Taking this journey has allowed me to focus on my career, taking everything that I have learned and witnessed throughout the early stages in my career, and create something new.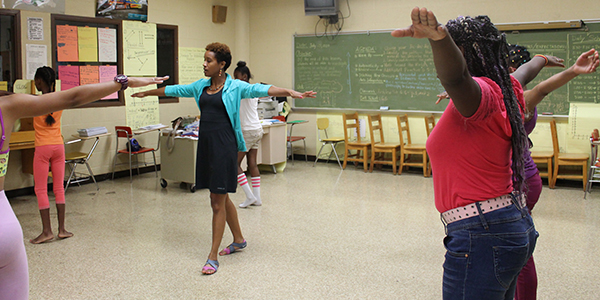 Have you had any programs through YA yet? If yes, what was the most memorable part? If no, what are you most looking forward to?
I love teaching within the classroom and working with the teacher and the students to explore learning and understanding subject matter through movement. I am really looking forward to assemblies!
Why do you believe art is important for every student to have access to?
Children need to be allowed to think creatively and develop their own opinions. They need to develop their critical thinking skills at an early stage so that they have a clear understanding of why they think the way they do and why they feel a certain way about different situations. They have to develop their own understanding of how to accomplish tasks. The arts provide a creative outlet by allowing them to explore, imagine, and test new ideas. The arts target a different area of their brain, and once students have this experience it opens them to new possibilities. It allows them to take risks in the classroom that they may have been shy to before an arts experience. The arts help to develop self-confidence.
What does your art form in particular teach students?
Self-confidence, patience, respect for self and others, and focus. It also gives them an understanding of their own bodies–they find out new and exciting things that their limbs can explore, plus they learn their own limitations and to appreciate what others can do.
Learn more about Valerie Branch Dance Ensemble's offerings through Young Audiences.
Keep an eye out for more interviews featuring our newest roster artists! See past new artist interviews here.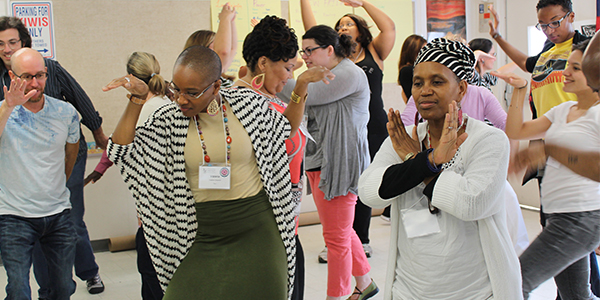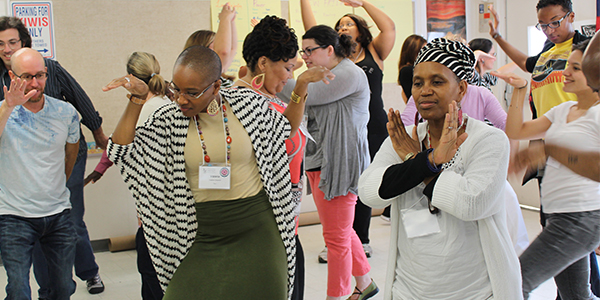 The 2014-2015 Teaching Artist Institute (TAI) Seminar is already underway, but we wanted to share some reflections from artists who have graduated from the program. Here's what they had to say about the experience:
As a full-time preservationist of acoustic Delta Blues from the 1920s and 1930s, I must make my history of Blues show academically relevant to the curriculums of Maryland and Virginia schools. I completed the TAI training program in 2009, and the course completely transformed my understanding of how I can support the current teaching standards in schools with my music programs.

As Young Audiences knows better than anyone, all the arts are under tremendous pressure to prove their relevance to school systems that are struggling to meet national testing standards in different disciplines. What I learned from my TAI training is that the arts serve a valuable role in preparing students with the 21st Century thinking skills they need for their future success in our rapidly changing world.

By creating a residency with a language arts teacher as my partner, I was able to use songwriting to teach students figurative writing skills. Without the TAI training, my school music programs would not be as academically relevant to the school's goals. This connection is critical for the arts to survive in our schools, not as a reward for difficult academic work, but as a means to help students meet their academic goals.

The TAI program is well-run by dedicated educators and artists. It is challenging, rigorous, and exposes artists, teaching artists, and professional educators to each other's thinking styles. This program deserves support, and I hope it continues to transform serious performing artists into skilled teaching artists.
– Curtis Blues, Blues Musician, Exploring Math and Music by Making a One String Guitar
I had never thought of myself as an educator, at least not in the traditional sense. Musically, there is always an underlying truth or teachable moment I try to impart. However, now I needed to do so in a structured, educational format. Although the curriculum was challenging, I am ever so grateful for having gone through the process. The fellowship with the teachers and other artists truly cannot be measured. As an artist, mentally you have to re-wire your brain to remember that it is not about you or a performance; it is about what the children learn and take away from the experience. A few months later I had the opportunity to return to the school for a musical performance for a general assembly. My class was so excited to see me and the feeling was more than mutual. For that reason alone, it was a journey worth taking.
– Uncle Devin, Musician and "Drumcussionist," Uncle Devin's World of Percussion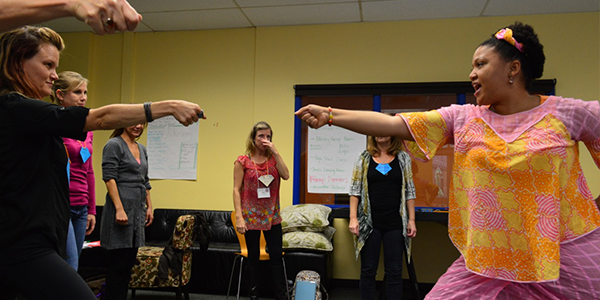 TAI gave me such an appreciation for the life of the classroom teacher. Not only did I learn how to plan and sequence a project into realistic, meaningful lesson plans, I learned a whole new vocabulary and some best practices of a strong teacher as well. Field testing my lessons with my teaching partner gave me real world practice in collaboration, classroom management, solid preparation and flexibility.

TAI is also a rare opportunity to work and learn side-by-side with artists from other disciplines. I met so many energetic, thoughtful, creative people who are not only committed to their art, but also to making a difference in the lives of children. It was incredibly valuable to me to be stretched and out of my comfort zone. As a visual artist, I found that experiences in music, dance and drama helped me move out of my head and in to my body. I learned that this whole body engagement is something that I want to bring to students when I lead them in the visual arts.

On the last day of TAI we were asked to say one word that summed up our experience. My word was "ALIVE." That pretty much says it all.
– Pam Negrin, Visual Artist, Transformative Textiles: Weaving Together Math, Literacy and History and
Collaborative Stitching: Connecting and Inventing with Needle and Thread
TAI is an amazing opportunity where artists, educators, and staff truly collaborate to help process, define, and designate the importance of art in the classroom. I loved the guided lessons, hands on experience, and being around such amazing, talented individuals. I feel like this experience helped to shine a new light on my own experiences as a classroom teacher and now a teaching artist.
– Bridget Cavaiola and Michael Harris, Baltimore Improv Group, Life is Improvised!
The staff and artists who coached us through TAI opened a whole new level of integrated content, planning, and instructional skills to us. The opportunity to develop new programming for excited young artists, alongside engaged education professionals in so many unique environments has grown our vision as an organization. This fall, three more team members will begin TAI. Best professional development around!
– Matt Barinholtz, FutureMakers, It's Alive: Kinetic Creature Lab!
I really felt like I was re-energized in my way of thinking and the facilitators brought a plethora of knowledge to the table. I appreciated their ability to listen, answer questions, and make the experience fun, interactive and simply enjoyable.
– Valerie Branch, Modern Dancer, Exploring, Creating, and Dancing with our Friends!
This week, Washington Post reporter Valerie Strauss wrote about why the arts are, more often than not, the first budget cut at public schools serving predominately low-income students–even though much research has supported why the arts are critical to a child's development. These schools' tight budgets force them to prioritize the subjects covered in standardized tests that both measure students' achievement as well as teachers' ability. Ms. Strauss argues that the focus on testing has forced educators to ignore what they know about the positive and transformative impact of the arts in the classroom.
Less fortunate children have been on the receiving end of what I'd call an emergency-room approach to education —one that addresses only the parts of a child thought to be in most dire need of attention. Their curriculum may consist solely of reading, writing and mathematics – the subjects tested on high-stakes exams.
Ms. Strauss notes how, for privately funded and operated schools, the approach to the arts can be starkly different. These schools proudly highlight the arts and their importance to developing well-rounded students and individuals. With adequate funding, arts learning opportunities are not only available but celebrated.
Young Audiences has seen this disparity in access to the arts in Maryland and is striving to close the gap so that all students have the chance to learn in and through the arts. Since its launch in the winter of 2009, our Access for All Initiative has subsidized programs for students in low-income Baltimore City Public Schools to ensure that all students have equitable access to the best artists and educational arts experiences that our state has to offer. The initiative offers three rounds of grant funding each school year to schools that serve a majority of low-income students and do not have regular arts programming.
Young Audiences awarded a total of $29,600 in funding to 16 Baltimore City schools in the first round of Access for All grants awarded earlier this week to start the 2014-2015 school year. These funds will be used to bring Young Audiences artists and ensembles to students through arts-in-education programs this fall. Schools can choose from a steel drum assembly, creating a ceramic mural during an artist-in-residence program, an African drumming workshop, and many more.
Ms. Strauss summarizes why the arts are critical to the education process, writing:
Arts transport. It's often said they are an essential part of what makes us human – and an element of that is the ability to imagine another reality, apart from the one we are living, a skill essential to resilience and ambition. Children already living a in a narrowed world need more access to the arts, not less.
Young Audiences agrees. One day, every school–no matter its resources–will value the arts for their ability to inspire and engage students in learning. Until then, we will be working to increase access to the arts so that Maryland students have the opportunity to imagine, create, and realize their full potential through the arts.
Learn more about the Access for All Initiative and the next grant application deadline.