Articles by Month:
July 2014
During the past few weeks, nearly 150 middle school students have dived into math and science concepts through the arts at the Young Audiences and Baltimore City Public Schools 22nd Century Pioneers Arts-Based Summer Camp. Students have learned how ratios are used in photography and how the physics of sound affect each note played on a steel drum. Through these art forms, and many more, students have been engaged in learning this summer so that they are prepared to hit the ground running this school year.
While most of the learning goes on inside the school, students have also had the opportunity to take their knowledge beyond the classroom walls on field trips. These excursions allow students to continue their hands-on learning in a new atmosphere, applying the skills and knowledge they've acquired throughout the summer.
The first trip was a visit to the Baltimore Museum of Industry, where students learned the ins and outs of technology and put their own engineering skills to the test. In one activity, students worked together in small groups to create a track that would carry a wooden ball and drop it into a can. This required them to go through the five steps of solving an engineering problem: plan, get materials, build, test, fix, and re-rest. Students were forced to adjust and readjust their designs before finally reaching their goal, usually resulting in loud cheers.
Students received another challenge: creating an artistic interpretation of the word industry. Groups joined together, combining their knowledge and creativity to come up with dances, skits, and songs that showed what they had learned that day.
See more photos from summer learning!
The following week, students traveled to Baltimore's Artscape, America's largest free arts festival organized by the Baltimore Office of Promotion and the Arts. Surrounded by artists of all disciplines, the students put on a show of their own at the Station North Stage, showcasing what they've been working on during their arts enrichment classes. The show opened with a lively Hip Hop dance performance from Jamaal Collier and Alicia Shaw's Hip Hop class. After the performance, one student explained the four pillars of Hip Hop, the most important one being knowledge. Next, Valerie Branch and Heather Tuttle's dance class got the crowd cheering with a dance set to Ariana Grande and Iggy Azelea's "Problem." Kevin Martin and Kevin Older's students also got to show off their steel drum skills.
Even those who didn't perform on stage took part in their own form of art-making. Throughout the day, Christina Delgado's photography students captured Artscape from behind the lens, while Danyett Tucker's illustration students filled up their sketchbooks with drawings of everything from festival attendees to graffiti on buildings.
Bridget Cavaiola's improv class performed an exercise called "Improv Everywhere." All over the festival, they held compliment battles, gave flowers to strangers, and posed as wax statues, making them the target of many curious stares and even a few pictures. See this group in action in the video below!
[youtube http://youtu.be/hg-sdwpGYQg]
Read more about the arts-integrated learning happening at the Young Audiences 22nd Century Pioneers Arts-Based Summer Camp site and see photos here.
Categorized:

News

Tagged:

22nd Century Pioneers Summer Camp, arts integration, Artscape, Baltimore City, Baltimore City Public Schools, Baltimore Improv Group, Baltimore Museum of Industry, Bridget Cavaiola, Christina Delgado, creative learning, Danyett Tucker, field trip, Jamaal Collier, Kevin Martin, Math, middle school students, science, summer learning, summer learning loss, Valerie Branch

By Stacie Sanders Evans, Young Audiences/Arts for Learning Executive Director
Last week I visited the classroom of teaching artist and improv master Bridget Cavaiola and science teacher Heather Tuttle, who are teacher partners in our 22nd Century Pioneers Arts-Based Summer Camp in West Baltimore. Like in all of our classes, these two teachers were "starting with the art" by warming up brains and bodies with the drama game "Big Booty." This particular game required kids to call on each other using a number instead of their name, and the goal of the game was to keep the it going as long as possible and as quickly as possible, without someone "messing up" by forgetting who had what number. (I realize this description doesn't explain why this game is called Big Booty but just stick with me here…)
The first time a student messed up in Big Booty, everyone clapped. I wasn't sure what was going on but smiles ensued and the game started over. Quickly another kid forgot which number they were and when their number was called, the game stalled. Once again everyone clapped and Bridget looked over at me to clue me in and said, "We celebrate our failures in here." The game continued, and as the kids' brains warmed up and the fear of making a mistake in front of their peers dissipated, the need to clap wasn't as frequent. When they did clap, they laughed, they shrugged it off, and they quickly moved on.
When it came time to move on to the science lesson, the teachers wanted to recap the lesson from the day before about the engineer design process. Bridget realized she had mistakenly erased the board which had listed all the key terms shared yesterday and Heather realized she forgot her notebook for reference. Oops! I don't think the situation could have been better orchestrated, in that moment Bridget and Heather, modeled "the way" by shrugging off their mistake and asked the class, "What can we do?"
See more photos from the Young Audiences arts-integrated summer learning site!
The kids immediately started calling out the key terms they learned the day before. "Imagine!" "Investigate!" "Test!" In a quick minute all the key terms were there. I noticed each term was delivered with a gesture. The day before, the students came up with a move that conveyed the essence of each word. This lesson recap evolved into sixth-grade boys and girls (remember those awkward years?) moving their arms, hands, and heads in space as they defined the engineer design process.
Bridget and Heather and their sixth-graders are onto something. The simple act of celebrating failure creates a safe space for trying something, even if you are unsure if you are right or if you might look silly. Just imagine what is possible when you remove that fear–real opportunities for exploration, experimentation, reflection, and growth emerge.
Read more about the arts-integrated learning happening at the Young Audiences 22nd Century Pioneers Arts-Based Summer Camp site and see more photos here.
By Lindsay McLaughlin, Alternative Therapies Coordinator, The Pathways Schools
The Pathways Schools held its third annual Student Art Show on April 30. The event is a showcase for student creativity and artistic expression and is an opportunity to recognize standout partners, such as family members, Pathways staff and board members, businesses and agencies who employ or provide internships for our students, teaching artists who carry out residencies at our schools, and many others. This year's Community Partner of the Year was Young Audiences teaching artist and musician Kevin Martin of Rockcreek Steel Drums for his dedication to bringing steel drum music and the vitality of Caribbean culture and history to our students.
During his residencies with students, Kevin teaches the basics of the steel drum, melody, rhythm, and so much more. Our students learned about another culture and saw a different way of seeing the world and themselves. Kevin has an ability to connect with students through music. That ability, along with his patience and consistent encouraging attitude, has made Kevin a sought-after teaching artist here at Pathways.
A couple years ago, our Pathways teachers and therapists were looking for ways to bring music into our schools so I asked Young Audiences staff to recommend a musician who could connect with our students. Thus Kevin came to us. He has completed no fewer than five residencies at Pathways in four of our six schools during the past two years. Next year, he is scheduled for a residency at a fifth school.
We are very grateful for Kevin, his commitment and talent, and also for organizations like Young Audiences that advocate for and make it possible for artists to come into our schools, work with our teachers and staff, and enhance the education and indeed the lives of our students and staff.
There's a bigger picture here as well. As Pathways educators, we know that the best learning often doesn't take place behind a desk. Our students thrive in a variety of learning environments, including museums and libraries, to job sites, such as ships sailing the Potomac tributaries and production studios at local television stations. Similarly, they learn best using a variety of means, like while playing a steel drum or molding a mosaic tile. This is because as human beings we need many avenues to take in the world and to release the prodigious power of our imaginations. This is what art does for us. It is an accessible way for us to connect our minds to the world that surrounds us. It gives us a way to communicate who we are–our ideas, thoughts, new understandings, and what we perceive
This is why it is critically important that we keep the arts vibrant in our schools for our students. How much better it is to experience the vitality of Caribbean culture through a steel drum compared to a textbook. How much better it is to feel the edges of a mosaic piece and use it to create an image with personal significance than look at a geometry chart or the dictionary entry for "symbol." Art is how information becomes tangible and how knowledge becomes understanding. This is the sort of transformation that artists who come to work with our students facilitate every day. In turn, they are supported by dedicated arts educators and advocates who ensure that they are able to do what they do, particularly local and state arts councils and nonprofit organizations like Young Audiences.
Art–human expression in all its forms–should never be on the margins, whether we are talking about our communities or our schools. Thanks to the efforts of artists like Kevin and organizations like Young Audiences, it isn't. Congratulations to the Pathways Community Partner of the Year Kevin Martin.
Learn more about Kevin and his program offering for schools.
By Azya Maxton, 22nd Century Pioneers Arts-Based Summer Camp Arts Integration Facilitator
Summer Learning is off to a great start. Our sixth-graders are studying coordinate grids and the engineering process. Seventh- and eighth-graders are learning about run off in science and ratio in math. It's so exciting to see them learning their math and science through arts integration and hands-on projects. Students have been designing roofs, buildings, and even cities! Last week, we got to explore the engineering process, and learn about science and industry during a field trip to the Baltimore Museum of Industry. Students were also given an opportunity to test water from the Chesapeake Bay for phosphates, dissolved oxygen, pH, and Chlorine. Today, students participating in arts enrichment classes will have the opportunity to present their work at Baltimore's Artscape while students in robotics go on to a citywide competition!
We'll continue to keep you posted on the wonderful learning of our middle school students throughout the next few weeks!
Read more about the arts-integrated learning happening at the Young Audiences 22nd Century Pioneers Arts-Based Summer Camp site and see photos here.
My name is Amanda Sessa and I am a student at the Institute of Notre Dame (IND) in Baltimore City. I am a member of the Shalom Club, a worldwide high school organization dedicated to peace. At IND, the Shalom Club partners with local charities to raise money for them.
For as long as I can remember my father, Thomas Sessa, has been on the board of Young Audiences/Arts for Learning. So, when the Shalom Club was looking to partner with a new organization, I automatically thought of Young Audiences. When I told the other members of Shalom Club about the work Young Audiences does to bring arts experiences to Maryland students, they jumped at the opportunity to partner with them because we believe that education is a gateway to peace in the world. Additionally, IND has focused on expanding its arts programs and its use of the arts to more fully develop the education of our students. Therefore Young Audiences was a perfect partner for IND and the Shalom Club.
On April 2, 2014, IND held a fundraiser called Bread and Soup Day organized by the Shalom Club. Prior to Bread and Soup Day, Young Audiences staff members Pat Cruz and Jess Porter (who is also an alumna of IND) came to our school to educate the students about Young Audiences and its mission. The response was overwhelming. On Bread and Soup Day we sold lunches to IND students and donated all of the proceeds (approximately $400) to Young Audiences.
I am very excited that I was able to connect IND with Young Audiences, especially because both organizations are dedicated to maximizing student achievement in Baltimore City and beyond. In addition to introducing Young Audiences to IND's 400 students and its faculty, I learned a great deal about the role that Young Audiences plays in educating Maryland's students, especially students of limited means.
I am lucky. I have always had an arts program in my school and assumed that all other students were also exposed to the arts. Pat and Jess showed me that many students–who often could most benefit from arts programs–do not have the chance to learn with the arts in school. I saw that my participation in middle school theatre performances and IND's Choral Performance class should not be taken for granted. These experiences have been some of the greatest educational opportunities for me but are not available to thousands of students throughout Maryland.
My teachers have used the arts, including music and dance, in so many ways. I learned the alphabet through the ABC song, danced to a song warning me about talking to strangers, and continue to use music and song to recall words in Spanish. In English class this year my teacher had us act out the plays we read so we could see the events as the author intended. When we were not reading, she would have us draw pictures of settings, characters, and symbols to depict the text in a different way. The arts make learning fun and interesting and these were some of the best assignments I was given. It saddens me that they are not available to everyone.
The Shalom Club and the IND community hopes that our donation will help fund the important work of Young Audiences. We hope that our efforts will allow Young Audiences to reach students who otherwise would never experience the power of the arts educationally or in their lives outside of the classroom. I am proud to have been able to make a contribution to Young Audiences' important work. I hope that IND and Young Audiences will continue to be partners for years to come.
Many thanks to Amanda Sessa and all the members of IND's Shalom Club for their support of Young Audiences and increasing access to arts-in-education programs for all Maryland students!
The school year may have ended, but for Young Audiences, that doesn't mean the fun, arts-integrated learning stops. Young Audiences has again partnered with Baltimore City Public Schools to bring arts enrichment activities to seven Baltimore City 22nd Century Pioneers Arts-Based Summer Camp sites. In addition, for the first time Young Audiences is also managing an eighth completely arts-integrated camp site at Edmondson Westside High School. The 22nd Century Pioneers Summer Camp is free to Baltimore City Public Schools middle school students.
At the Young Audiences camp, nearly 150 students will explore math and science concepts through the arts in classes and arts enrichment activities led by Baltimore City teachers and Young Audiences artists during the five-week program. Students can select the art form they will focus on during enrichment sessions, with choices including dance, photography, illustration and mural painting, theatre, Hip Hop, steel drum, or VEX robotics.
Because this is the first-ever Young Audiences arts-based summer learning site, we thought it deserved an equally spectacular kick-off event. As students arrived, what better way to greet them than with the arts?
On Monday, June 30, as students walked up to the school for the opening day of camp, the first thing that hit their ears was the sound of a steel drum being played by Young Audiences roster artist Kevin Martin of Rockcreek Steel Drums. Kevin has been building and playing steel drums for more than 20 years; this summer, he will show students how the instrument connects to math.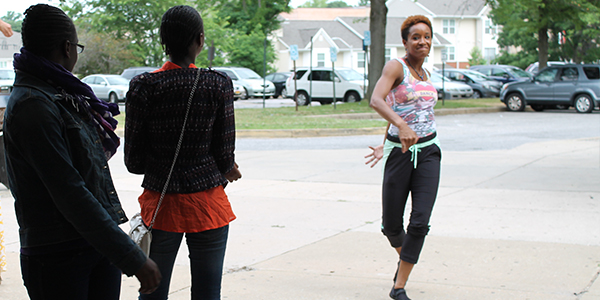 See more photos from the Young Audiences arts-integrated summer learning site!
On the way into the building, students passed the dancing Valerie Branch, a new Young Audiences artist whose energetic moves caused many to stop and watch. Valerie will get students moving while studying science this summer. Those walking in also got to witness the Hip Hop talents of musician Jamaal "Mr. Root" Collier, who will use his skills to bring math to life. Bridget Cavaiola of Baltimore Improv Group used improvisational theatre techniques to direct students inside the building. With her help, students will learn how theatre can make abstract science concepts concrete.
The excitement wasn't just at the front of the school. Once inside, students had the opportunity to take part in photographer Christina Delgado's photo booth, dressing themselves in hats and glasses before striking poses. Students will have the chance to go behind the lens with Christina to learn the art of photography and its connections to math. Visual artist Danyett Tucker will link illustration to science. As students looked on, she created a colorful mural with images of various art forms incorporated into the design, from music notes to microphones to Polaroid pictures. Students were invited to create murals of their own, as each table was decked with markers and a giant sheet of paper.
All children, regardless of their resources or where they live, lose some math skills during the summer. Studies show that economically-disadvantaged students also lose literacy skills during this "summer learning slide." Experts believe that the achievement gap between middle- and low-income students not only grows during the summer—it exists largely because of the summer.
Programs like 22nd Century Pioneers provide students with a safe place to go during the day, access to free healthy meals, adequate adult supervision, and positive, educational activities. This summer Young Audiences artists will connect students with new experiences through the arts as they learn about math and science in a new way and build their self-confidence as they gain knowledge and skills.
Check back in with the Young Audiences blog throughout July as we look at how these artist and teacher pairs are using arts integration in their classrooms.
Happy summer and happy learning!
Categorized:

News

Tagged:

22nd Century Pioneers Summer Camp, achievement gap, arts integration, Baltimore City Public Schools, Baltimore Improv Group, Christina Delgado, dance, Danyett Tucker, Edmondson Westside High School, Hip Hop, illustration and mural painting, Jamaal Collier, Kevin Martin, photography, Rockcreek Steel Drums, steel drum, summer learning, summer learning loss, summer learning slide, theatre, Valerie Branch
Last month, the National Coalition for Core Arts Standards introduced the new National Core Arts Standards. Developed through the collaboration of arts organizations, teaching artists, teachers, and practitioners, these standards aim to uphold the quality of teaching and learning.
Originally published in 1994, the National Core Arts Standards were the nation's first guidelines for arts education. Since then, they have led arts education through growth in design, delivery, and assessment. Recent surveys, however, had shown that priorities of education policy as well as instructional resources and practices of arts educators have significantly changed since the standards' initial publication, leading to a need for revision.
Thousands of artists, teachers, and arts educators, as well as three reviews from the public, helped to create the new National Core Arts Standards. We are proud to note that the Young Audiences Arts for Learning National Office played a significant role in writing the standards. Young Audiences also managed the creation of the new standards' website.
After two years of development, the new standards and website were officially launched on June 4. While the newly implemented standards were closely built off of those published 20 years ago, they also show significant growth. The revision includes an emphasis on communication and collaboration, two 21st Century Skills now stressed by higher education and employers.
The new Core Arts Standards also supplement the original four artistic disciplines of dance, music, theatre, and visual arts with a fifth: media arts. This encompasses such mediums as film, animation, and gaming or interactive- and computer-based art making. The new standards also support the development of artistic literacy by encouraging students to independently take part in four artistic processes: creating, performing/producing/presenting, responding, and connecting. These processes can be seen in the 11 Anchor Standards that are common across all five art forms.
Questions about the new standards? Visit Young Audiences' National Core Arts Standards FAQ.