Articles by Month:
February 2014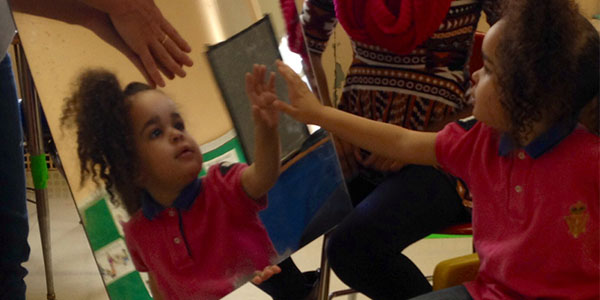 By Morgan Lyons, Kindergarten Teacher, William S. Baer School
When I first heard that an artist-in-residence program was coming to my school, William S. Baer, I was excited. I learned about arts integration while I was studying education in college and wanted to find a way to use the arts in my teaching, especially when I decided I wanted to teach special education. I feel that the arts are an amazing pathway, particularly for kids who might not necessarily understand the material when taught in a more traditional way. When I found out that this opportunity was being offered at my school, I was thrilled; I jumped at the opportunity.
As a relatively new teacher, I knew I wanted to integrate the arts into the curriculum in some way, I just didn't know how. Our curriculum is structure- and task analysis-based and there did not seem to be a lot of room for the arts, but Sue Trainor, the Wolf Trap-trained artist who I worked with during the 16-session residency, taught me how to make arts integration work for our program and how it could help our students.
The program began with Sue showing me her lesson plan, which we used for our first session with students. We continued to use Sue's plans for a few weeks. After every lesson we talked about how it went–what the high point was and what we could work on for the next session. As the program went on, it developed and changed so that I was giving more feedback and Sue was asking me more questions. I began to take more of the lead, and I grew from a consultant role on lesson plans, to writing the lesson plans with Sue, to creating the whole lesson myself. This was a great way for me to learn because I got to watch Sue, I collaborated, and then it was all me.
Sue taught me a lot of arts integration techniques that I continue to use every day in my teaching. We incorporate music and visual representation throughout the day which makes for more engaging activities. We sing through transitions and when we're teaching new material, such as shapes, letters, colors, and numbers.
One thing Sue and I collaborated on was the idea of using a mirror with my students. My students are kindergartners with autism. Students with autism often have a skewed perception of themselves and have a hard time making a mind-body connection. The mirror's reflection serves as an additional visual for them and provides a form of visual feedback. Rather than me just saying, "Touch your head," they actually see themselves do that motion and make the connection.
Sue also taught me what has become the go-to opening sequence for our classroom. It's a series of two or three short songs that integrate body movement, beat, and tone. This new practice has had a huge effect on my students, but it had an enormous impact on one student in particular.
See a sample arts-integrated lesson plan created by Morgan and Sue here!
Brittany was new to our school this year. She had never had a school experience, and she was very quiet and kept to herself. Sue came in and introduced the song and movement sequence to the students, and she asked them to mirror her actions. When Sue told students to "Show me your hand," students were asked to mirror Sue by raising their hands like she had raised hers. Brittany took to that, and she was soon asking for the song specifically by using sign language, which she had no exposure to before. Brittany was communicating and expressing her desire for the song; she was actively participating and engaging with her eyes. Had Sue not introduced this activity, Brittany may not have engaged with the group for quite some time. She has really benefited from the social lessons Sue brought to our classroom during this program.
My hope is that this experience and opportunity is available to as many teachers as possible, regardless of their academic area, because it has helped my classroom beyond words. I'm not only a personal advocate for the arts but an advocate for the arts in special needs programs.
We, as teachers, are here for the students, and whatever can benefit the students is what's most important. My kids are changing in front of my eyes because of what I've learned through this residency program. Because I gave it a chance and put in a little extra planning time, I have arts-integrated activities that keep my students engaged and entertained while they are learning.
To other teachers: Give it a try and you won't regret it.
In response to feedback from our school partners throughout the state, Young Audiences has expanded the resources available on its website for schools and community organizations looking for additional funding opportunities to bring valuable arts experiences to Maryland students.
In preparation for our five-year strategic planning process, Young Audiences conducted community interviews with leaders in education, arts and culture, philanthropy, business, government, and higher education. We also surveyed our current school and community organization partners, as well as those schools we have not partnered with in recent years. These surveys and interviews helped us understand what thought leaders in our field see as the biggest challenges in education and how our community views the role of the arts, artists, and Young Audiences in the education of our children.
Here were some key findings:
More than three-quarters of our surveyed partners said they would like to increase the amount of Young Audiences programming in their schools! Our school partners are also more aware of the array of arts-integrated programs Young Audiences offers, such as professional development workshops for educators.
While both partners and non-partners alike believe in the importance of arts-in-education programs, many schools said that barriers to the arts still exist–the most prohibitive being cuts to school budgets. Half of the surveyed schools noted that their discretionary funds for arts/cultural programs from outside providers have decreased. Many of our partners suggested that Young Audiences offer additional grant opportunity information, so we have compiled an even more comprehensive list of grants and resources for schools. Visit our website to take a look!
Despite these financial obstacles, we found a promising consensus that the arts play an important role in the education of Maryland students and in meeting educational priorities.
Young Audiences partners with several generous individuals and foundations to make our programs accessible. While many of our donors have specific sites that they wish to sponsor, if you are in need of funding to bring one of our programs to your area, please contact us at 410-837-7577. We may be able to help.
By Kevin Adekoya, Young Audiences Development Assistant
This month, 51 artists and teachers completed their final Reflection Day of the 2013-2014 Teaching Artist Institute (TAI) Seminar. During the past five months, artist and teacher pairs have worked together to create new arts-integrated assembly and residency programs that will engage students in learning through the arts. To celebrate this accomplishment, one Young Audiences staff member shared his thoughts on TAI and what is possible when artists and classroom teachers work together to improve education.
Witnessing collaborations between artists and teachers during the Teaching Artist Institute (TAI) Seminar is like getting a behind-the-scenes look at how artists think and operate. There is a circus of artistic expression in all its forms—music, dance, theatre, and visual art—all with the power to inspire and beguile. During the past five months, carefully-crafted performances and interactive arts activities co-created by participating teachers and teaching artists have become new assembly and artist-in-residence programs for students in Maryland. Each program shows the deep personal commitment of each participant to educating students throughout the state.
It was just a few short months ago when these artists and teachers from across the region met at City Neighbors High School for the TAI Presentation Workshop.  Each artist and classroom teacher partner was present to share their plans for an arts or STEAM (Science, Technology, Engineering, Arts, and Mathematics) program. Different classrooms throughout the building were devoted to different art forms so participants could present their lesson plans to their peers for feedback. Within each room you saw groups of people listening intently as each artist and educator explained their plans and how their approach would help students connect to the curriculum in a new way.
In each room hands shot into the air to provide praise, ask questions, and suggest new ideas—all in the name of creating innovative arts-in-education programs that will inspire and excite students. Feedback, given freely between artists and educators, formed a bond that was tangible. Everyone's focus was on finding ways to address the curriculum through the stimulating lens of the arts.
One of my favorite moments was being able to participate in a sample lesson from the residency "Culture Kingdom Time." Jessica Smith, founder and lead teaching artist of Culture Kingdom Kids, is the Culture Queen who, through interactive song, dance, and movement, highlights historic African American role models for fifth graders. For example, Barbara Hillary, who became the first African American woman to reach both the North and South Pole at the age of 79. Or York, who, with Lewis and Clark, journeyed to unchartered western territories of the U.S. from 1804 to 1806. These stories and others connected with what students were learning in History class and focused on themes of overcoming obstacles–something all students can relate to on a personal level. Throughout her lesson, Jessica's goal was to show children that they too could be future pioneers by remaining curious and pushing beyond their comfort zones.
Young Audiences brings together skilled professional artists and classroom teachers to create programs that combine the knowledge and expertise of both parties. By integrating the arts into the curriculum, teachers are able to engage students with curricular content and artists are able to tap into a student's true potential.  What a great experience it was to take part in!
Learn about the next TAI Seminar and how to apply here! 
Click here to be added to the TAI listserve and stay up-to-date on future TAI seminars and workshops.
We started 2014 off big: moving into a brand new space in the restored former tire shop at 2600 North Howard Street in Remington.
Everyone has been talking about our big move (the Baltimore Sun recently featured the new development), but we want to give you a firsthand look at what's really going on inside our spacious new home. Check out this short virtual tour for a glimpse into our new offices, and a look back to how far we've come since the organization's start in 1950!
[youtube http://www.youtube.com/watch?v=LkL6Jgh-ggE]
Come see us in person at our Open House event on Sunday, February 16, from 1 to 3 p.m. There will be Young Audiences staff and roster artists on hand to provide interactive and artistic entertainment as well as impromptu tours of the space. The whole family is welcome! RSVP here if you plan to attend. Stay updated on the schedule of events and entertainment by joining the Facebook event.
While you're here, you can also see our neighbor (and roster ensemble) Single Carrot Theatre's final matinée performance of "The Flu Season" at 2:30 p.m. Learn more about the show and buy your tickets online. Discounted tickets are available for $10 by using the coupon code YAMD. Tickets are expected to sell out quickly for this final show, so please purchase your tickets early! (Please note: This particular show is best suited for theater-goers 18 years and older.)
Not able to make it on February 16? Sign up for one of our monthly On the Bright Side tours to see our new space and learn about our programs and their impact on Maryland students. You'll get the chance to talk with one of our teaching artists, our executive director, and a member of our board, all while learning more about our work of bringing the power of the arts to Maryland students and educators.
Hope to see you soon!