By Sue Trainor, Young Audiences artist and singer/songwriter
In 1998, I sang for the first time in a classroom for and with children who have profound special needs. That 45-minute gig rocked my world: the children may not have been "typical" physically or cognitively, but their connectivity was palpable and potent! I still get goosebumps thinking about it. Ever since, my motto has been, "meet people where they are," because you miss out if you don't reach out.
This spring I had the opportunity to work with William S. Baer School in Baltimore City, another school attended by children with profound special needs. During my eight-week residency at the school I worked in four preschool classrooms with children who were three to five years old, but were approximately 12 months old developmentally. Many of them were very fragile medically, most were non-verbal, and some were non-locomotor. Several were blind and/or deaf.
This residency followed the Wolf Trap 16-Session Literacy Residency model. I have been on the roster of the Wolf Trap Institute for Early Learning Through the Arts since 2003, and I'm thrilled that Young Audiences has just joined the Wolf Trap family as the Maryland sponsor of Wolf Trap programs! In the Wolf Trap model, the teaching artist's primary goal is to provide professional development for the classroom teachers by modeling arts-integrated strategies and coaching the teacher to practice the strategies in the classroom with students. It sounds serious and technical, and it is in some ways, but didn't we just have the best time ever!
I'm a musician, so the artistic interest for me is the exploration of my art form's fundamental expression and interpersonal connectivity. What does it mean, for example, to sing with someone who is non-verbal? It's not singing in the traditional sense, but what is it that makes singing together work? Can we still engage in a more basic element of joined vibration? We can, and it is joyful—all the more so because it's usually a brand new experience for the children and the response is profound.
I think fondly of Sean, a four-year old student at Baer. He is blind and non-verbal, and he loves music. I would play my ukulele and he would belt out his sounds. It was delightful! One day while we were waiting for the class to assemble, I sat face to face with him and joined his vocalizing, using his sounds. He was surprised at first, but he leaned in, kept "singing," and together we created a joined sound-space and a profound connection. Now his teacher understands and can do this as well.
One of my favorite lesson experiences that came out of this residency was "Funky Duck." The children were learning shapes, and the traditional math teaching strategies had them focusing on a specific shape which was velcroed to a felt board. The student's task was to pull the shape off the board (or focus on the shape with their eyes if they were immobile). More advanced students were supposed to choose a specific shape from a small group of different shapes
I used the same fundamental teaching strategy, but I transferred it to a puppet that I dubbed "Funky Duck." I velcroed shapes on the puppet's chest, taught the teachers basic puppet manipulation, and created a chant for them to recite to a steady beat:
"I'm Funky Duck, hey hey
I'm Funky Duck, hey hey
I want to know, can you find
My circle today?"
We had 100% success—the children loved the puppet, focused intently and reached out to pull off the shape. The teachers promptly scoured their classrooms for puppets of their own that they could adapt to this and other purposes, including lessons about numbers, colors, and letters.
I look forward to returning to Baer School this fall, to reconnect with my preschool friends and to develop new connections in classrooms with older students.
Click here to learn more about Maryland Wolf Trap residencies. To schedule a program, please contact Young Audiences at 410-837-7577.
By Kevin Martin, Steel drum musician
Young Audiences artists and teacher partners have written case studies documenting their work in schools and their exploration of one essential question. Each study provides a snapshot of how the artist or teacher works with students to integrate the arts into the curriculum and provide opportunities for students to imagine, create, and realize their full potential through the arts.
Project or Program Summary
For the Harford County Public Schools Title I STEAM Institute in July 2012, four Young Audiences artists were brought together to work with a group of Harford County teachers to help them develop their arts integration skills.
I taught a two-session program called "The Physics of Steel Drums." Each session combined a steel drum rehearsal and a science lesson. I worked with the group to show how learning the steel drums could be combined with understanding the science behind the drums, working through basic wave theory. The program ended with a group performance of two songs on the steel drums and with small group demonstrations of wave theory using arts integration.
Purpose and Rational
As part of a year-long program to bring arts integration learning to all five Harford County Title I schools, this program showed teachers how to bring music into their classrooms by helping them begin to see themselves as musicians. By empowering the teachers with the ability to play and the confidence to perform music while learning science curriculum objectives, we can help empower them to bring that same experience to their students.
In order to develop their ability to use arts integration in their teaching, it's important for teachers to develop the confidence to take on arts projects that are new to them. The question that was explored with each group of teachers was: "Are you a musician?"
Surveys were taken at the beginning and end of this program to measure the change in how teachers felt about performing music and whether they can view themselves as musicians, even if this was their first musical instrument experience.
Analysis and Outcomes
What are your overall conclusions regarding the documentation gathered for this case study?
This program was successful in its goal of empowering teachers to have the confidence to use music performance in their classroom teaching. Specifically, this project helped to change their view of themselves as musicians and decrease their anxiety of performing in front of others as well as taking on other art projects in which they have no background.
What conclusions have you drawn from the responses to the assessment tools you have developed?
Teachers work hard to become experts in the field of study that they teach. It is part of "what they stand on" when they teach. One of the barriers to bringing arts-integrated STEAM (Science, Technology, Engineering, Arts, and Mathematics) lessons to the classroom without the aid of a teaching artist is that teachers can be uncomfortable teaching something in which they are not an expert. Many described it as feeling vulnerable.
By learning to play songs on the steel drum while learning core curriculum science objectives, the teachers agreed at the end of the program that it would be fun to try to incorporate other art forms like painting, acting, and dancing without having to be excellent at the art form themselves.
Back to the initial inquiry question, can it be answered?
Yes. When looking at the question "Am I a musician?" we started by listing what it would take for each teacher to answer "yes":
Be able to play songs well enough to perform.
Have the confidence to play those songs for other people.
Express oneself through music.
Each teacher, by successfully completing the program and through feedback given on a conclusion survey, achieved all three goals.
Summary and Conclusions
What was learned?
Teaching using arts integration is a great way to bring core subject material to life in the classroom and reach all types of learners. For classroom teachers to write and teach arts-integrated lessons, it is essential that they have the confidence and ability to take on projects that will require them to learn an art form with their class or even to be guided in art forms by their students who have specific art skills. By teaching teachers to play music and to see themselves as musicians we can achieve this.
What can be done differently in the future?
In the future, this program can be taken one step further by working with teachers with the instruments that they can get their hands on at their school to use in their classroom. During this program teachers learned how to play the steel drums and this is not an easy instrument to get a hold of for classroom work.
To help address this issue, Young Audiences has prepared a box of musical instruments that each of the five Harford County Title I schools can have access to for arts-integrated lessons.
I also would like to build into the program a final section where teachers can create a musical demonstration or activity for a subject of their choice.
How will this inform the work moving forward?
In February 2013, I worked with four of the five Harford County Title I schools whose teachers were trained at this program. I was able to work one-on-one and in small groups with teachers to help them start writing their own arts-integrated lesson plans using these instruments as well as those that the classes can make themselves.
Curriculum Connections
Music
Multidisciplinary Arts
Science Technology
STEAM
Learn more about Kevin and Rockcreek Steel Drums'  assembly, residency, and professional development programs.
Read other case studies written by Young Audiences teaching artists and teacher partners. 
By Curtis Blues, Young Audiences artist and one-man Blues band
Her face was hidden under rows of tiny, tight braids with small colorful beads on the ends. "Would you like to join the class and learn to play guitar?" I asked. Keeping her head down, she gave me no eye contact and shook her head "No." "I'll leave it here next to your seat, and if you decide you want to try it, you can pick it up."
Leaving the guitar next to her, I went back to the front of the room and led the rest of the class in the guitar lesson. After about 10 minutes, when I looked over at her, the guitar was in her hands. She was playing the rhythm I was teaching, along with the rest of the class. "Nice job, that's it, keep it up, you've got it," I said. A tiny glimpse of white flashed from behind the braids for the briefest second. It was a start.
Every school has students who are having trouble keeping up with their school's classes for serious personal reasons. Sharp Lendenhall is a school that exclusively serves students with special educational needs. It offers unique challenges and rewards for a teaching artist.
Elaine Tucker, the music teacher, invited me to perform for the small school in Baltimore, Maryland, last year with my assembly program on the history of acoustic Blues. Based on the students' enthusiastic response, Ms. Tucker invited me back for a more ambitious project: teaching guitar to third through fifth graders in a four-day residency. Elaine is an inspiring teacher and tireless advocate for her students' welfare. She had secured the rare treasure of beautiful guitars for the school through her personal effort in getting grants to buy guitars for the school. These children really need someone like her in their court.
Four days to teach guitar! I was intrigued by the challenge.
The first step was to help the students feel the work-song rhythm of the Blues in their bodies before even picking up a guitar. We all tapped our feet and swayed our bodies to the natural rhythms that gave rise to the Blues. Despite the students being antsy about getting guitars in their hands, I asked them to sing a call and response Blues song with me first. When they were ready I brought out the guitars.
I tuned the guitars in a traditional Blues "open" tuning which means that when you strum the strings you get a perfect chord. I was convinced that these students needed to hear a pleasing, full sound right from the start. With the more common standard tuning, the students must first master the difficult task of forming chords with their fingers before the guitar sounds "right."
To my delight most of the teachers picked up guitars and learned along with the students. This modeling was a huge asset to my program's success. Their participation demonstrated that learning new things is fun, and they were not afraid to look silly as beginners in a new task. We started slowly by transferring the beat from our bodies to the guitars with a rhythmic strumming pattern. From time to time I let them go wild like little rock stars, strumming patterns of their own choice, and teaching the rest of the class, including me, the patterns they had discovered.
While they strummed the guitar in the Blues rhythm, we sang our Blues song, which is the story of getting up in the morning, feeling upset, and then turning our day around by addressing the Blues and taking the power of our emotions back. It was the perfect description of what I saw in the transformation of the faces in the classroom:
When I woke up this morning, there was Blues all around my bed,
Went to eat my breakfast, there was Blues in my bread,
I said "Good morning Blues, Blues how do you do?"
"I'm doing all right, how are you!"
At the end of the residency, every class performed for the whole school. It was moving to see their pride in performance. Before I left the school for the last time, I asked the students, "Who believes that you can become a guitarist if you continue to practice?" When their hands shot up, I knew that this experience had changed how they saw themselves. Each had become the kind of person who can succeed at learning challenging new things.
Learn more about Curtis Blues' assembly, residency, and professional development programs here!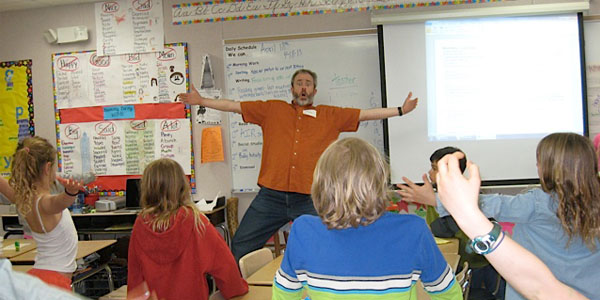 By Karen Baratz, Parent of a Westbrook Elementary third-grader
Even if I had not been a classroom volunteer at Westbrook Elementary this year, I would have heard about Young Audiences teaching artist Alden Phelps' residency program from my son and his classmates who talked about the program with an enthusiasm that I don't often hear about schoolwork.
As a parent helper in the classroom, I got to observe Alden in action. He had a remarkable way of engaging the children so that everyone wanted to participate in the songwriting process and his ability to get students to collaborate and come to a consensus on lyrics and ideas was impressive.
From the minute Alden walked into the third grade classroom, he had a captive audience. He instantly connected with the students through his songs, humor, and gentle manner. He used a creative approach to engage students in activities so that they could better understand the songwriting process and what a parody was before they began to compose a parody song of their own. Alden is a natural with children and came well-prepared with popular melodies that the kids could adapt with their own lyrics. The fact that the students got to sing their own version of current songs they hear on the radio took the children's enthusiasm for Alden's residency way up!
Alden was able to adapt his program to the curriculum, tying in what he does with what the students were studying in class—geographic regions of the U.S.—for a more in-depth learning experience. He had a game plan in place to help three third-grade classes quickly compose meaningful (and funny!) songs about their respective geographic regions which they were so proud to perform for the school and their parents at the end of the program.
This was an amazing opportunity to get a window into my child's school life. So often, parents don't get many details of what goes on during the school day but this experience provided me the opportunity to work side-by-side with the children and watch learning in action.
The bottom line is that Alden made learning fun. In our competitive society where education standards often place a greater emphasis on subjects like reading and math at the expense of the arts, I feel that our children are being shortchanged. The arts play such an important role in helping students see the whole picture and they can help make learning fun! I can think of no better example of this than the fact that my son was so excited about songwriting and parodies after Alden's residency ended, that he wrote one of his own. He created a music video about geometric shapes to a popular tune and couldn't wait to share it with his teachers and classmates. If that isn't proof of the power art has to boost academic performance—I don't know what is.
Learn more about Alden Phelps' assembly and residency programs here!
By Curtis Blues, One-man Blues band
Young Audiences artists and teacher partners have written case studies documenting their work in schools and their exploration of one essential question. Each study provides a snapshot of how the artist or teacher works with students to integrate the arts into the curriculum and provide opportunities for students to imagine, create, and realize their full potential through the arts.
Project or Program Summary
My co-teacher and I met with Arts Integration Specialist Maria Barbosa to create a lesson plan that connected fractions to Blues music. We aimed to create a lesson that was aligned with the state math and fine arts curriculum as well as the Common Core Standards. Specifically, we wanted to address how music arises from a person's cultural context. I immediately thought that the first Blues instrument, the single-stringed diddly bow, might serve as a great physical model for a number line fractions lesson.
The diddly bow was created by Delta blues musicians in the South before they could afford six-string guitars. It was usually put on the side of a barn door and played with a bottle, but my classroom model is a single string on a board, using the resonance of metal jar tops to project the sound. It is a piece of musical history that shows students the ingenuity of the men and women who invented Blues music.
Maria went to work to figure out how to put versions of this instrument in the students' hands. She came up with a brilliant cardboard and rubber band version of the diddly bow that each student could play. Maria felt that the strength of the lesson was in having the students not only see and hear my instrument, but to play their own.
I started the class off with the art form, playing a Blues song on the diddly bow while the students clapped the work-song Blues rhythm with their hands. The students were fascinated with the instrument and understood how the Blues arose from the context of African Americans working on farms without access to instruments other than homemade ones like the diddly bow.
My co-teacher reviewed the material about fractions and number lines, and then it was time for the students to make their own instruments and apply their knowledge.
After attaching the rubber band to their cardboard, students marked the fractions along the number line below the string. This was their first experience of comprehending the relationship of fractions on a number line physically. Students were eager to get this right because they knew that only after filling in their number line correctly, would the real fun begin!
Purpose and Rational
My fine arts goal for the lesson was to show the students how Blues music was invented in the context of real people's lives. This is how art emerges within cultures all around the world. I believed the diddly bow instrument would be an appropriate metaphor for the number line fractions lesson, but was not sure how to get the students involved beyond a demonstration.
The challenge was to create a lesson to help students who were having trouble remembering the relationships between different fractions, as well as being able to accurately place them on a number line. This difficult cognitive jump was a perfect candidate for an arts-integrated lesson to help students really own these distinctions by looking at them in an original way.
Analysis & Outcomes
What are your overall conclusions regarding the documentation gathered for this case study?
I think the strongest part of this project was the description by my co-teacher of how students used the diddly bow model as a conceptual tool for their tests. I would like to be able to follow up with test scores in the future.
What conclusions have you drawn from the responses to the assessment tools you have developed?
It was obvious through our final assessment of the students that they had mastered the material through this project. Students who could not tell us which was bigger, one-quarter or one-third, at the beginning of the class could answer the question correctly at the end of it. They also answered questions on the music objectives correctly at the end of the lesson, demonstrating a deeper understanding of how humans invent music within their culture and daily lives.
Back to the initial inquiry question, can it be answered?
The initial inquiry was whether or not teachers can use building a simple, single-stringed Blues instrument in their classrooms to help students better understand the relationships of fractions on a number line. The answer is a definite "Yes."
Summary & Conclusions
What was learned?
There were many different examples of what was learned for each of the participants. The students learned how to build a simple instrument and then they learned the proper placement of fractions on a number line. Students overcame their natural cognitive challenges of conceptualizing abstract fractions in a concrete way. They learned the proper answer to questions like "Which is bigger: 1/4 or 1/3?
My co-teacher learned how to use an arts-integrated approach to help students master material. I learned how to manage a classroom during such a project from my teacher partner.
Combining my co-teacher's classroom management skills with Maria's innovative ideas made this lesson possible. Now because of their help, I can bring this powerful lesson to other classrooms. I have learned the skills I need to guide the students to get the most out of the lesson. My teacher partner can use this tool in her classes when I am not there, to help future students grasp abstract principles with something concrete and experiential.
How will this inform the work moving forward?
I am better prepared to deal with the specific logistics of classroom management during a craft building project. My co-teacher now has more tools for achieving the testing goals for the class. The students gained a conceptual tool for mastering abstract concepts that they can continue to use in their tests.
Curriculum Connections
American History
Music
Math
Common Core Standards
21st Century Skills
Learn more about Curtis and his assembly, residency, and professional development programs.
Read other case studies written by Young Audiences teaching artists and teacher partners.
By Jennifer Brumbalow, Imagine Discovery Public Charter School music teacher
In my experience as the music teacher at Imagine Discovery Public Charter School, a Young Audiences artist-in-residence program is a once-in-a-lifetime experience for teachers, the school community, and students. The in-depth program, which includes a series of sessions with a Young Audiences professional teaching artist, benefits students in ways you cannot imagine, including building self-esteem, developing critical thinking skills, and instilling a love for new cultures and art forms. It makes your school's existing music or arts program stronger as your students take ownership of their own education.
Imagine Discovery was awarded a Maryland State Arts Council (MSAC) Arts in Education Artist-in-Residence grant thanks to the grant writing assistance and expertise provided by Young Audiences in November 2012. The grant helped us fund a steel drum residency with Young Audiences artist and steel drum musician Kevin Martin. To kick off the program, Kevin performed an inspiring assembly to teach all students about Calypso music.
Our goals for this residency were to educate students about a new culture and expose them to a new type of instrument not traditionally used in our school. We hoped students would develop an awareness and appreciation for the steel drum and a desire to play and listen to Calypso music.To prepare for Kevin's residency, our students studied the history and evolution of the steel drum since its invention in Trinidad.
During the course of several weeks, third-grade students worked with myself and Kevin during five sessions. Kevin helped students learn to play six Calypso songs on the steel drum. Kevin also taught students about the various types of steel drums—which he makes himself—as well as other indigenous instruments of Trinidad. Kevin covered the history of Calypso music which traces back to the traditional "talking drums" of Africa.

Some of the most rewarding and exciting skills that the students gained during this residency were how to improvise to music and take pride in their work as they practiced—which took both hard work and patience. Pairs of students were assigned to each drum and learned to collaborate to prepare for the culminating performance of the residency.
As a conclusion to the residency, the third-grade students performed during a school assembly in November. Parents, staff, community members, and students were invited to attend this special performance. Some students overcame their stage fright and performance anxiety to experience the value of sharing a new-found skill with their parents, classmates, and community. It was amazing to see the deep personal connection that some of our students had to the music since they have parents or family members who are from, or live in, the Caribbean. This gave them a sense of pride in having their heritage represented in a positive and meaningful way.
As an arts teacher and the primary music teacher at Imagine Discovery, I feel that our parents and community showed an outpouring of support for the arts and this residency because of music's power to touch each person's life in a profound and personal way. Music and the arts can transcend all social, economic, and cultural barriers individuals may face.
A heartfelt thanks to the amazing third-grade teachers at Imagine Discovery who showed support and enthusiasm by encouraging their students during each step of the residency. They participated in all sessions and activities and provided critical help and feedback to myself and Kevin during classroom instruction. The continued support of the Imagine Discovery administrative team made this residency a greater success for teachers and students. Thank you to Imagine Discovery's PTA who matched funds with our Maryland State Arts Council grant to make sure this educational privilege could come to our school. Our students would not have been able to participate without the generous financial support of our PTA and its members.
Young Audiences can help your school apply for a MSAC grant to bring a program just like this to your school. Learn more about our grant funding opportunities here.