Young Audiences Hip Hop poet Bomani recently visited Empowerment Academy Elementary/Middle for an assembly and workshop to teach students the elements of writing Hip Hop music and its parallels to poetry- and essay-writing while also addressing the subject of anti-bullying. Following the assembly, Open Mic, students worked with Bomani to use the techniques demonstrated in his performance to write their own Hip Hop poem about how to handle bullying inside and outside of school. One teacher shared: "Students were pleasantly surprised at their ability to write poetry, and became more adamant about stopping bullying."
The assembly and workshop were made possible through the Young Audiences Access for All Initiative which makes Young Audiences artists and programs available to high-need Baltimore City Public Schools at up to 80 percent off of the cost. This opportunity helps principals with limited resources provide hands-on learning in the arts that supplements and enriches the curriculum.
The following day, three students volunteered to share their finished poem with the student body over the school intercom. Read the full poem below!
No Bullies!
When there is bullying, don't just be a bystander,
Better not mess with a Marylander!
Find an adult who is trustworthy,
So the bully will not continue to hurt me!
There is verbal, physical, cyber, and exclusion,
Don't do any of these. Use inclusion!
Bullies cause a lot of confusion,
Everyone must help to find a solution!
This is just one example of how Young Audiences artists connect fine arts, the curriculum, and important 21st Century skills to impact how students see themselves and relate to others.
Learn more about Bomani's assembly and residency programs here!
The following content first appeared in the December 2013 edition of Uncle Devin's Drum Beat Newsletter:
For four days in November, it was my pleasure to conduct an artist-in-residence program with a first grade class at Germantown Elementary School in Annapolis. The program was my field test that I am required to complete as a student of the Teaching Artist Institute (TAI), developed by Young Audiences, the Arts Education in Maryland Schools Alliance (AEMS), and the Maryland State Arts Council (MSAC).
TAI is a comprehensive professional development program for teaching artists that builds the artists' capacity to contribute to student learning in and through the arts. The program trains teaching artists in the use and understanding of the state curriculum and the Common Core Standards, as well as arts integration strategies to assist the artist in engaging teachers and students.
Through TAI, I was paired with Judith Pirela, a first grade teacher at Germantown Elementary School and, for four days (at least 45 minutes per class), I went into her class to test my residency plan entitled, "The World of Percussion!" After developing my residency plan, I then had to develop four separate lesson plans. My four days of lessons taught children how:
To classify classroom instruments by sight and sound, such as wood blocks, triangles, rhythm sticks, maracas, guiros, jingle bells, sand blocks, cymbals, tambourines, and hand drums;
To compare musical sounds (i.e. fast/slow, loud/quiet, long/short, high/low);
Different cultures created codes to communicate through beats and rhythms; and
To make their own percussion instruments.
It was great working with Ms. Pirela, her students, and all of the staff at Germantown Elementary School. I want to also thank TAI Music Specialist Sue Trainor, who guided me through the entire process and provided me with excellent feedback. The TAI program ends on February 1, 2014 with a Program Evaluation and Reflection event, at which time I hope to become one of the newest graduates of TAI.
Read the rest of Uncle Devin's December enewsletter here. You can learn more about Uncle Devin on Young Audiences' website and at www.theuncledevinshow.com.
By Colette Krebs, sophomore at Annapolis High School's Performing and Visual Arts Magnet Program
I want you to think of your life right now. Think about who you work with. There may be that one person who loves movies or sports or drawing. Everyone you work with, you put a label on. Not necessarily bad, just who they are in your mind. That girl over there, she's a reader. You, you are a church goer. We all label people and we're all labeled.
My name is Colette Krebs. I am 15, a sophomore in the Performing and Visual Arts Magnet Program (PVA) at Annapolis High School in Anne Arundel County.
If you asked me what my life would be like without art, my answer would be simple. Empty. It would have to be because I can't remember life without it.
From my first memories of school –including preschool at Creative Gardens—the arts have always been part of what I do. I'm speaking today because I want you to know the impact art can have.
Before art was seriously introduced in my life in the Wiley H. Bates Middle School PVA program (I was in the first year of students to attend), I was a bit of a loner. That was my label. I was the girl who would spend lunch reading Harry Potter rather than hanging out with friends.
In PVA, work was collaborative, so you became vulnerable as you opened up. Through this process, especially in theatre, I was able to communicate better, I made friends, and I learned ways that art can be used to succeed outside of art classes.
All of my classes, even science and even math, were arts integrated. One of my favorite memories was in my eighth grade geometry class. We were drawing a city landscape, keeping the buildings proportionate with geometric measurements. Young Audiences made that moment possible by training our teachers and by providing professional artists who came into the school to teach us.
In theatre, when we are given monologues, we are only given a part of a character and we have to fill in all the details. So when it came to science and math, where my classmates struggled, I had no issue memorizing the vocabulary and formulas, analyzing situations, and finding creative solutions.
My arts training also taught me how to work under pressure, which really helped me with homework. I am in school from 7:17 a.m. until 4:45 p.m. because of the extended arts day. And, until recently, I added even more time, as I played a dynamic role in Electra so I couldn't start homework until 8:00 at night.
Unlike many of my art friends, I wasn't aggressive in getting the lead, I wasn't emotional about relationships or projects or Angelina Jolie. I preferred to stay inside my head, making observations, but PVA didn't allow me to do that. It pulled me straight out of my shell. At first, I felt scared; I had been yanked out of everything I've known in front of complete strangers, but almost immediately, I loved it. These weren't regular kids, these were artists. Loud, obnoxious, funny, opinionated, rambunctious, and everything else you could want in a friend. I didn't want to go back to the way it was and they certainly weren't about to let me.
It has always been my dream to grow up and incorporate the arts in my life, but I thought it was black and white. I could dance, sing, act, or be an artist.
But art isn't about exactness. In art there are a lot of gray areas that you get to fill in with all the colors of the rainbow, pirouettes, and C major chords.
When you experience art, something changes inside you and all of a sudden, you're able to see the world in a new way.
I found my own way through life with the help of art, the support of my parents, Bates and Annapolis, and Young Audiences. Without this, I wouldn't be here today. I know that I am lucky to have these experiences and I hope that through Young Audience's work, many more kids will be just like me: building their dreams around a future that is hopeful. I don't know what my future holds, but I know that with art it will be beautiful and full of hope.
When I was young, I was labeled a loner. Now that I'm older, I'm proud to say that I'm not a loner. I am an artist.
Colette shared how the arts have affected her life inside and outside of school at Young Audiences' Impact Breakfast in November.
By Staci Taustine, Fifth Grade Teacher, F.L. Templeton Preparatory Academy
During the course of my fifth-grade class' six-day Hip Hop residency with Young Audiences artist Jamaal "Mr. Root" Collier, walls were broken down, confidence was built up, and the entire context of my classroom changed for the better.
As an educator I work hard to provide my students with diverse learning opportunities that give each child a chance to shine. However, I did not anticipate how effective Mr. Root's strategies would be for the many different types of learners in my class. I went into this experience hoping that Mr. Root might be able to give a fresh perspective that would help my students summarize and internalize autobiographical texts. By the end of the residency, I knew that my students gained abilities far beyond that, having learned more deeply about how they express themselves and their story along the way.
Our time with Mr. Root began with an interactive assembly where he introduced the history of Hip Hop and taught students about the five components of this complex art form. Mr. Root motivated students by giving them the opportunity to participate in making beats and validated their contributions by recording and using their input right there on the spot. The students cheered and looked on as he mimicked some of their favorite Rap musicians.
The real magic happened when Mr. Root returned to our classroom and engaged with the students in a more intimate setting for a series of workshops. In a classroom of 20 students he quickly learned everyone's name and became part of our classroom community. The kids shared with him that we were reading "The Narrative of the Life of Frederick Douglass" and he began to teach them how to summarize the content through the use of rhyming couplets. This strategy challenged students to return to the text over and over (an academic demand that is typically frustrating to them) to fish out the most important information. They reflected on the value of certain facts and determined which details could combine to most effectively summarize the text.
Together the class wrote a rap that brought the story of Frederick Douglass to life. It was truly amazing to see students who are usually self-conscious about participating come to the front of the room to offer input on better ways to write a line or to question if the number of syllables in a line would be best for the flow of the rap. The class later performed their work for the whole fifth grade during our culminating assembly at the end of the residency.
This was their final product:
Frederick Douglass was born a slave
Maryland-born he knew to be brave
1817 when he was born
When his ancestors left him he was torn
Owned and leased by several masters
Forced to work he had to work faster
Thought they were happy when slaves sang songs
But they sang about pain… Slavery was wrong!
After discussing the components of autobiographical writing in reference to our work with Frederick Douglass, we turned our focus to the need to know oneself in order to write an authentic autobiography. Students shared that sometimes people act certain ways to get attention but this behavior doesn't necessarily accurately represent who they are as a person. Students brainstormed a number of ways that people wear "masks" on a daily basis to cover up how they are really feeling or to alter the way that the world perceives them.
Mr. Root led the students in an essay-writing exercise about how the "masks" each of them wear impact their relationships with others. Each student considered what they wanted to show the world through their actions and their autobiographical writing. To accompany their essay, students also created actual masks with construction paper, which were proudly displayed at the school-wide literacy fair in October.
In the end, my students learned how to be vulnerable with one another, brave enough to share their feelings, and empowered to use their voices to express everything they learned. Whether through singing their Frederick Douglass rap, expressing their ideas visually with their masks, or by simply having the confidence to think creatively, each and every one of my students came away with a unique perspective on who they are as individuals.
Going forward, I am excited to continue incorporating the components of Hip Hop to benefit my students' learning and I am so pleased with this incredible learning experience. Thank you, Mr. Root!
Learn more about Jamaal "Mr. Root" Collier's assembly and residency programs here!
By Lucy Coyle
Lucy Coyle recently completed a summer internship at Young Audiences and wraps up our series on Young Audiences' summer learning programs–and their importance for students who would otherwise have limited opportunities to stay active and engaged during the summer months.
If you've seen Jack Black's teacher impersonator role in the comedy School of Rock then you've seen a glimpse of how the arts can engage students in the classroom. In one memorable scene during the movie, Black sings to his class about fractions to come across as a productive and innovative teacher. While in Black's case the fractions song is all part of a larger scheme to teach students how to rock and not about math, putting mathematic equations to melodies is certainly one way to engage kids in the subject. If you, like me, learned the song "Fifty Nifty United States" at any point in your adolescence–and can still recite all of the states in alphabetical order–you know that arts engagement works.
I had the pleasure of visiting a Baltimore City Public Schools Summer Learning Academy classroom this past July and experienced much more than arts engagement–I saw arts being integrated into the curriculum. Young Audiences again partnered with Baltimore City to provide rising fifth- through eighth-grade students with arts-integrated learning opportunities during the summer months. Through generous funding provided by the Hoffberger Family Philanthropies, Young Audiences was able to expand its role at 10 Summer Learning Academy sites to provide arts enrichment sessions and arts-integrated math and STEM lessons at each site. During my visit to William Pinderhughes Elementary I witnessed how impactful arts integration and summer learning can be when combined.
Young Audiences artist Arianna Ross is a champion for arts integration. She'll tell you openly that "it's kind of my thing." I watched Arianna lead an arts-integrated lesson in a science classroom where students were learning about the concepts of compression, tension, and gravity, which gave me more insight into arts integration and its power to transform classroom learning.
Arianna's lesson demonstrated that the bounds of arts integration are almost limitless. For Arianna, it's not just about putting the names of the states or fractions to music, but rather it's about expressing various concepts in as many ways as possible.
Although Arianna is listed in the Young Audiences' Resource Guide as a storyteller, she is the first to dismiss traditional storytelling methods when a dance activity or a poetry-writing session better serves the subject at hand. For Arianna, arts integration is about adapting every day to fit the curriculum. It's about bringing arts terms into the classroom and using them on a regular basis.
I saw Arianna use various dance and theatre terms during her lesson on physics. Students began by standing in mountain position–the actor's resting position. They paired off and created physical representations of the concepts being discussed in the class: gravity, compression, and tension. While they explored different poses that communicated these concepts, the students physically connected to the importance of strong foundation and balance. Their choreographed dances helped them make abstract physics concepts concrete, and they were more eager to participate and share what they had learned by performing for one another.
Baltimore City Public Schools Summer Learning Academies were designed to give students five weeks of additional math support during the summer. Many of these students come from low-income backgrounds and are in danger of summer learning loss, the well-studied phenomenon of students losing two to three months of math and science material learned the previous school year during the summer when intellectually engaging activities are not as readily available. As an incentive, the Baltimore City program also gives students free access to opportunities in the arts, sports, and robotics.
While the arts are an incentive for students to join the program, arts integration is doing much more than encouraging students to attend–it is helping students understand tough concepts by engaging them in new ways.
We want to hear from you!
Have you ever taken part in or led an arts-integrated activity in a classroom? Did using the arts challenge your mind to make nontraditional or creative connections in a traditional subject? Do you think the arts can help students gain agency when studying math and science?
Read more posts about Young Audiences' summer learning programs here.

Lucy Coyle is a senior at Johns Hopkins University, majoring in International Studies, and recently completed a summer internship at Young Audiences.
The Teaching Artist Institute (TAI) is made possible in partnership with Young Audiences, Arts Education in Maryland Schools Alliance (AEMS), and the Maryland State Arts Council (MSAC). TAI partners and generous sponsors, like the Robert W. Deutsch Foundation, provide funding and support that make this training opportunity accessible to all qualified artists.
Taylor DeBoer, Communications Manager for the Deutsch Foundation, joined us for the first day of the 2013 TAI Seminar retreat last week and shared his experience on the foundation's blog. Check it out!
See more photos from the TAI Seminar retreat.
Earlier this week, Kurtis Donnelly, Young Audiences Program Director, shared his experience visiting Stadium School to watch Young Audiences artist Max Bent lead the class in an arts-integrated math lesson this summer. Max also recently posted about his time at Stadium on his blog Outside the Box. 
Stadium was one of 10 sites where Young Audiences artists worked with classroom teachers to co-teach arts-integrated math and STEM lessons and offer arts enrichment programs as a part of Baltimore City Public Schools' five-week-long Summer Academy program.The program aims to fight summer learning loss by keeping students active and engaged during the summer months.
Read more about Max's experience on his blog, Outside the Box. Click here to see more photos from this summer's arts-integrated programs on Flickr.
Photo by Max Bent
The 2013 Teaching Artist Institute (TAI) Seminar kicked off with a three-day retreat at Southwest Baltimore Charter School last week. The 2013 TAI class boasts being the largest in the program's seven-year history. More than 50 teachers, artists, and staff from other Young Audiences affiliates around the country learned how to integrate the arts and STEAM (Science, Technology, Engineering, Arts, and Mathematics) into the curriculum through an arts residency. During the course of the next several months, each artist will work with a classroom teacher partner to co-create an arts residency and field-test the program with students. The TAI program provides valuable professional development training to artists and teachers and aims to foster a community among artists, empowering them to use their talents to inspire students in the classroom.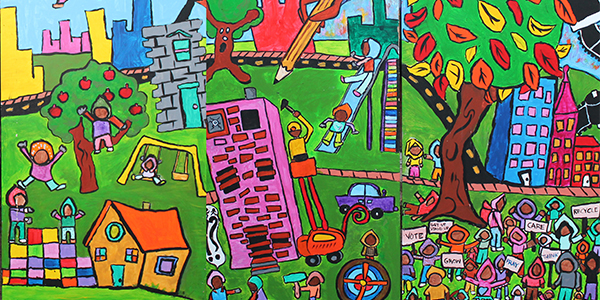 By Danyett Tucker, Young Audiences visual artist and illustrator
Do you think there is a difference between listening and hearing? One of my professors once asked me to illustrate Jimmy Hendrix's song "Voodoo Child." The project made me see art in a new light. I don't think I've ever had to listen to lyrics as hard as I did to really hear Jimmy. After hitting repeat over and over again, I finally heard Jimmy and realized the power of his music. I realized that music has the power to unite us by telling stories that we can all identify with and illustrating themes of what it means to be human.
This summer I worked with Baltimore City middle school students at Rognel Heights as a part of Young Audiences' partnership with Baltimore City Public Schools Summer Academies which brought Young Audiences artists to 10 sites throughout the city. In the mornings I partnered with the
sixth-grade science teacher to incorporate arts integration with the summer science curriculum, and each afternoon my mural painting class was one of the choices offered to students for arts enrichment.
Summer programming is a valuable resource for Baltimore City students. Many Baltimore neighborhoods are deprived and neglected. Many lack basic necessities, such as access to fresh groceries or safe places for children to play and the community to gather, preventing individuals and families from thriving. Challenges related to gun violence, poverty, public health, and family structure are obstacles for students in these communities to remain focused and committed to their education. These challenges can also make summer the scariest time of the year for students in the inner city. Without a regular school schedule, these children lack access to school lunches, a safe place to spend the day, and activities that keep them intellectually engaged.
My goal for the summer learning program was to show my students how music combined with a public work of art can play an important role in restoring a community's broken spirit. I wanted to encourage them to uplift each other through the powerful lyrics and positive messages that we shared during our mural project.
To guide the project, I selected a series of songs that spoke to community concerns. We started with one of my favorite songs of all time, Lauryn Hill's "Everything is Everything." I began by demonstrating how illustrators turn words into pictures. We illustrated the chorus together and then students had the chance to pick a verse of the song that painted the clearest picture in their mind and illustrate it.
Next was Cat Stevens' "Where Do the Children Play?" which introduced students to creating depth in settings. The environmental references in this song are so profound and led to deep discussions about the physical conditions of our communities. I talked with students about using public spaces to promote a cause or message and how music and art combined can move a community to action.
The next songs on the soundtrack were Bob Marley's "Get Up Stand Up" and "One Love." Imagine the vibe in the classroom as we collectively realized that gun violence wasn't just something in the news–many of us had friends or family who had been affected by gun violence. We listened to Bob's words of peace, love, and his call for all to move to action and reflected on the social commentary of the times.
As we continued work on our mural, we began focusing on the people depicted and drawing proportions. The students wanted to create a piece with a lasting legacy that would awaken civic responsibility in all viewers of the mural.
The final 12-panel mobile mural portrayed people coming together and holding up signs that displayed community declarations. Places to play, to honor loved ones lost, and to highlight every day community heroes were interwoven throughout our visual testimony.
Click on the images above to see the "A" and "B" sides of the completed mural.
We ended the project on a personal note and illustrated Emily King's, song "Walk in My Shoes," because let's face it, if we could walk in each other's shoes we would spend less time judging, hating, and bullying others.
The students were inspired by the music and were so expressive in the images they created. They were singing along with the songs by the time we started painting. They couldn't wait to get to my class every day and they didn't want to leave. The work we created was magical and the five C's–culture, comparisons, connections, communication, and community–were covered in this socially conscious endeavor. Every student was carrying their community on their shoulders and felt a civic responsibility to represent the voices of many through their art.
I could not have been happier with the outcome. The confidence of each student soared during the five-week program, and I know they will listen harder to the music they hear from now on and think about the messages that are received and sent. One voice, one love, and one heart! Let's get together and feel all right!
See more photos of the completed mural and other photos from this summer's arts-integrated programs!
Arts Education in Maryland Schools (AEMS) Alliance is hosting the September Maryland Arts Integration Network (MAIN) event on Friday, September 27, from 9:30 a.m. to noon, at the 149-acre Center for Maryland Agriculture and Farm Park in Baltimore County. The focus of the morning will be on environmental education and the arts. AEMS, the Maryland Association for Environmental and Outdoor Education (MAEOE), and Young Audiences are partnering to offer this program. The program will include strategies for integrating fine arts and environmental content, a networking session, and an opportunity to tour the facility and the park.
The networking discussion will be crafted to address the interests of arts and arts integration educators and science/environmental educators.
Registration:
A $10 donation will be asked for all MAIN Events. These monies will go to the host venue for light breakfast fare and any remaining monies will be donated to the host site to support programs in arts education.
Event details:
MAIN Event
Friday, September 27, 2013
9:30 am to 12:00 pm
Center for Maryland Agriculture and Farm Park
1114 Shawan Road
Cockeysville, MD 21030
To request a registration form, please contact Alexa Milroy at: [email protected].
By Kurtis Donnelly, Young Audiences Program Director
This summer I went and observed one of our artists, Max Bent, working with students at Stadium School as a part of our partnership with Baltimore City Public Schools Summer Learning Academies. Max is truly a master of arts integration–combining his artistic knowledge and his understanding of the curriculum–having been a public school science teacher for eight years.
Max is primarily a beatboxer, but is talented in many different artistic disciplines. As I walked into his class, it was unlike any math class I had ever seen before. It was evident all around the room that there was a strong connection between math and art happening there. Here is a picture of a graph the students created (graphing was a math skill they focused on during the first week of the program) in which students graphed the pitch and beats of the song "Twinkle, Twinkle Little Star":
Across the room were data sets like the one seen below. As Max taught students the elements of beatboxing–Bass, HiHat and Clap–they also worked on proportions.
Students also were working on a new project that Max and his partner classroom teacher had created together. Max used his experience in visual art and design to create a project where students were designing their own beverages, all while continuing the class' study of proportion, scale, volume, and fractions. Students were able to use elements of design to create the visual aspects of the drink, and, by plotting their bottle designs on graph paper, were able to study scale.
During the five weeks of Summer Academies, Young Audiences artists like Max co-taught arts-integrated lessons with Baltimore City teachers each morning, and provided an in-depth study of an art form as an enrichment activity each afternoon. The arts both incentivized students to attend school during the summer and helped combat summer learning loss for Baltimore City students who might not have the opportunities to stay active and engaged during summer vacation. Lessons like Max's expanded students' knowledge of music and sound but also made abstract math concepts relatable and fun.
Learn more about Max and his assembly, residency, and professional development programs.
Every day, Young Audiences artists, teacher partners, staff, board members, and supporters work to fulfill our mission of providing opportunities for Maryland students to imagine, create, and realize their full potential through the arts. In addition to our monthly enewsletter, this blog will share the stories of our work in Maryland schools and examples of the profound impact the arts have on learning.